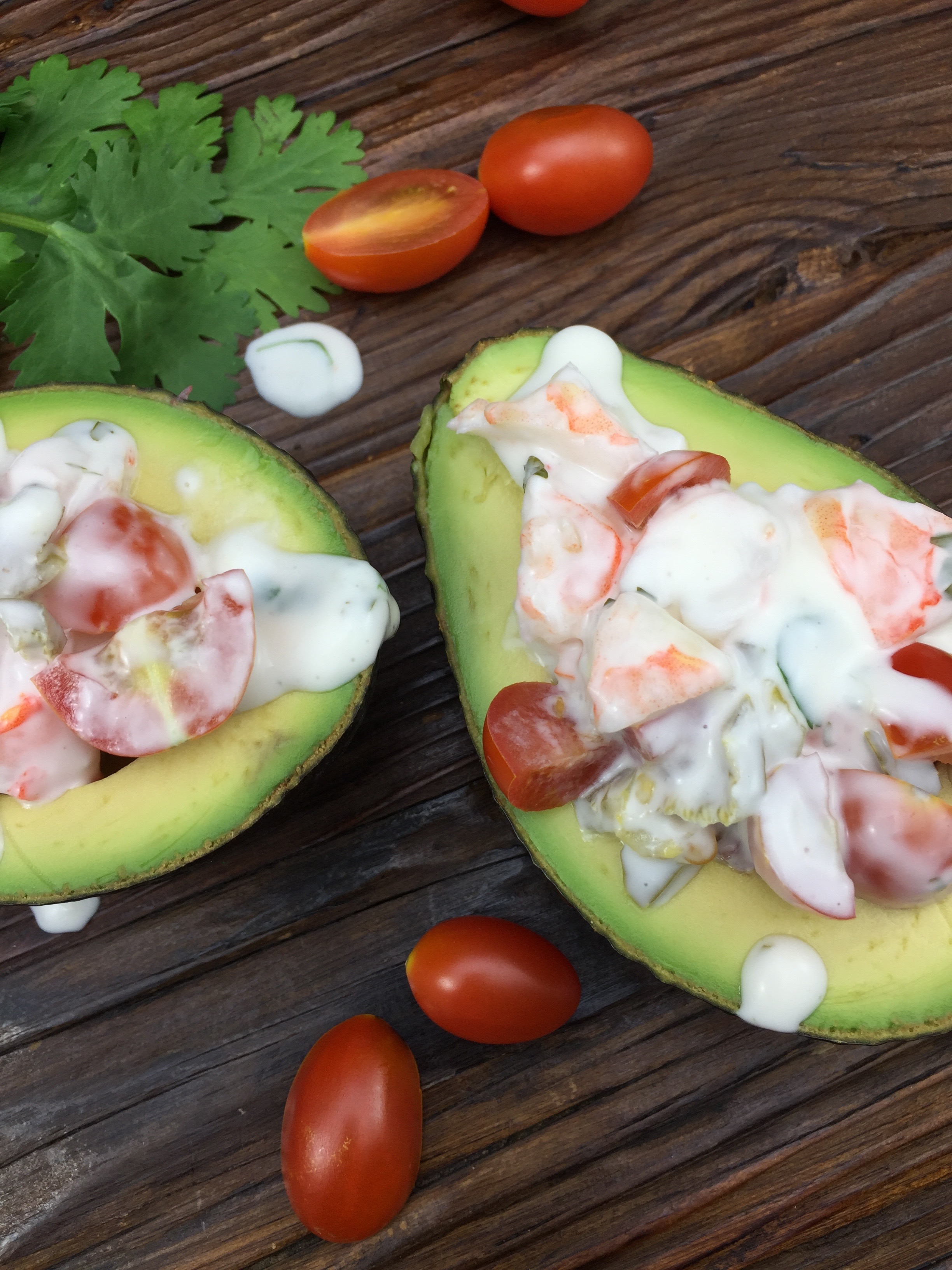 Add iceberg lettuce to that grocery list –  we are headed for a heat wave!  Stay cool this weekend with these no-cook Shrimp-Stuffed Avocados.  They are super easy to make and are perfect for the sweltering days ahead.  This recipe makes 4 stuffed halves, but can be easily doubled, tripled, or even halved if you just so happen to find yourself trapped indoors alone.
You can use the tiny, pink bay shrimp that are so popular in Washington and Oregon, or use larger shrimp and chop them.   I went the vegenaise route, but you can use mayonnaise and sour cream, or even just the mayonnaise on it's own, if that suits you.  You can make these in an easy, breezy 5 minutes, and if you use precooked shrimp, you can shun your stove.
Serve the stuffed avocados immediately, or cover and refrigerate the filling, and save the final step of stuffing the avocados until closer to serving time.  Add sweet potato chips and some frozen fruit and you've got yourself a chilled out evening.  Best of all, you can stand in front of your freezer for a few glorious minutes while you look for the shrimp.
Shrimp-Stuffed Avocados
2 green onions, green parts and some of white, thinly sliced
1/4 cup mayonnaise plus 3 tablespoons sour cream, or
1/3 cup vegenaise
3 tablespoons freshly squeezed lime juice
1 pound cooked, peeled shrimp, chopped
1 cup grape tomatoes, halved
1 serrano chile, thinly sliced or 4 pickled jalapeños, diced
sea salt, freshly ground black pepper
2 ripe avocados, halved, pits removed
cilantro, for garnish
In a small bowl, whisk mayonnaise and sour cream, or vegenaise, with lime juice.  In a medium bowl, combine shrimp, sliced tomatoes, chile or jalapeños, and half of dressing.  Stir gently to combine.  Season to taste with salt and freshly ground black pepper.
To serve, spoon filling into avocado halves and drizzle with remaining dressing.  Garnish with cilantro.