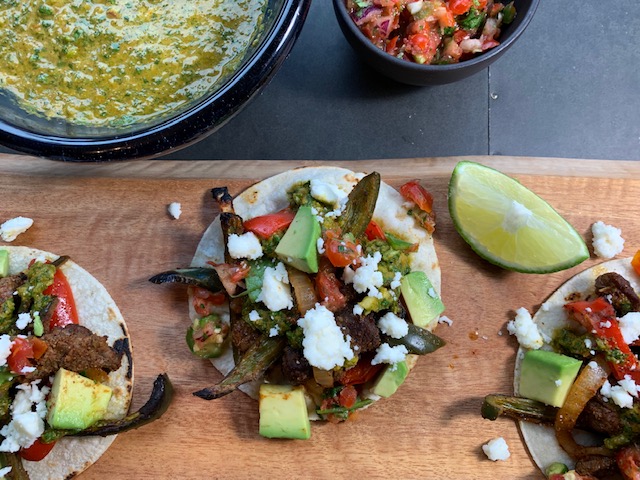 Get ready to fiesta – it's Cinco De Mayo and these Sheet Pan Steak Fajitas from Rachael Ray are an easy, delicious way to say olé.   I loved watching Rachael make this on tv.  She measured the spices by pouring them into her hand and used a large zip-top bag she had nested in a bowl to make the marinade:  less dishes = more fiesta.   
Enlist a helper.  It's twice as fun if you've got a willing spouse, kid, or helpful volunteer to char the tortillas or take over the slicing while you have your hands full making pico de gallo.  And  double up while you are at it.  Grab a small jar and measure palmfuls of dried spices into it at the same time you are measuring for tonight's dinner.  Label and store in your pantry so you can make these again some night soon when you're in a hurry. 
I made the chimichurri in my blender, transferred it into a bowl, and then quickly tossed in the ingredients for the pico do gallo, letting what was left clinging to the sides from the chimichurri help to flavor the fresh salsa.  If you are time crunched, just make the fajitas.  You can skip the chimichurri and use store-bought hot sauce, salsa, or pico de gallo.  They will still be fabulous.  
Want to add Fish Tacos to your fiesta?  Here's a link for a recipe I posted back in 2016.  It also preps on a sheet pan and is very easy to make.  Did I mention you can use halibut?  It's in season and a good excuse (if you need one) to eat some right this minute. 
Go now.  Invite some friends.  Grab a cerveza. It's time to fiesta!   
Sheet Pan Steak Fajitas
1 large red bell pepper, seeded and sliced
2 poblano peppers, seeded and sliced
1 large white onion, thinly sliced
2 pounds thin-cut sirloin or thin flank steak, cut against the grain into 1/4 inch-thick strips
4 cloves garlic, grated or finely chopped
2 teaspoons onion powder or granulated onion
2 Tablespoons Worcestershire sauce
2 Tablespoons Frank's RedHot sauce
1 lime, juiced
1/3 cup extra-virgin olive oil
1 Tablespoon or a scant palmful of each of the following:
dried oregano
ground cumin
ground coriander
chili powder blend, or Ancho chili powder
1/2 tablespoon smoked paprika
salt and freshly ground black pepper
chimichurri:
1 bunch parsley
1/2 bunch cilantro
1 jalapeño or serrano pepper (seeds removed, if you don't like the heat), chopped
2 cloves garlic, crushed
1 shallot, peeled and crushed
1 lime, juiced
2 Tablespoons sherry vinegar, or wine vinegar
salt and pepper
1/2 teaspoon smoked paprika
1/3 cup extra-virgin olive oil
To serve:
chimichurri

 

12-16 corn tortillas, or 8 large flour tortillas
Queso Fresco or Cotija cheese, grated or crumbled
avocado, sliced or diced
pico de gallo (lime, jalapeño, onion, garlic, tomato, cilantro), or salsa of choice
Prep peppers, onion, and steak and set aside.  Preheat oven to 450º F.  Line a large rimmed baking sheet with aluminum foil.  Combine garlic, onion powder, Worcestershire, hot sauce, lime juice, olive oil, spices, salt and pepper in a large bowl or zip top bag.  Add steak, peppers and onion, coating all well with dressing and let stand 15 minutes.  
While fajitas marinate, combine ingredients for chimichurri in food processor or blender and pulse into thin sauce.  Transfer into small bowl or squirt bottle.  Add ingredients for pico de gallo to blender and pulse to desired consistency. 
Spread meat, peppers and onions evenly onto baking sheet and cook for 15 minutes, turning once.  Check meat for doneness.  To further sear and brown, set broiler to high and cook a few minutes more, watching closely. 
While meat cooks, warm tortillas in hot pan or over open flame on gas burner, turning, until blistered on both sides.
Serve fajitas with chimichurri and toppings of choice. 
– recipe as seen on Rachel Ray Show, March 13, 2019, rachelrayshow.com