Sheet Pan Roasted Chicken Panzanella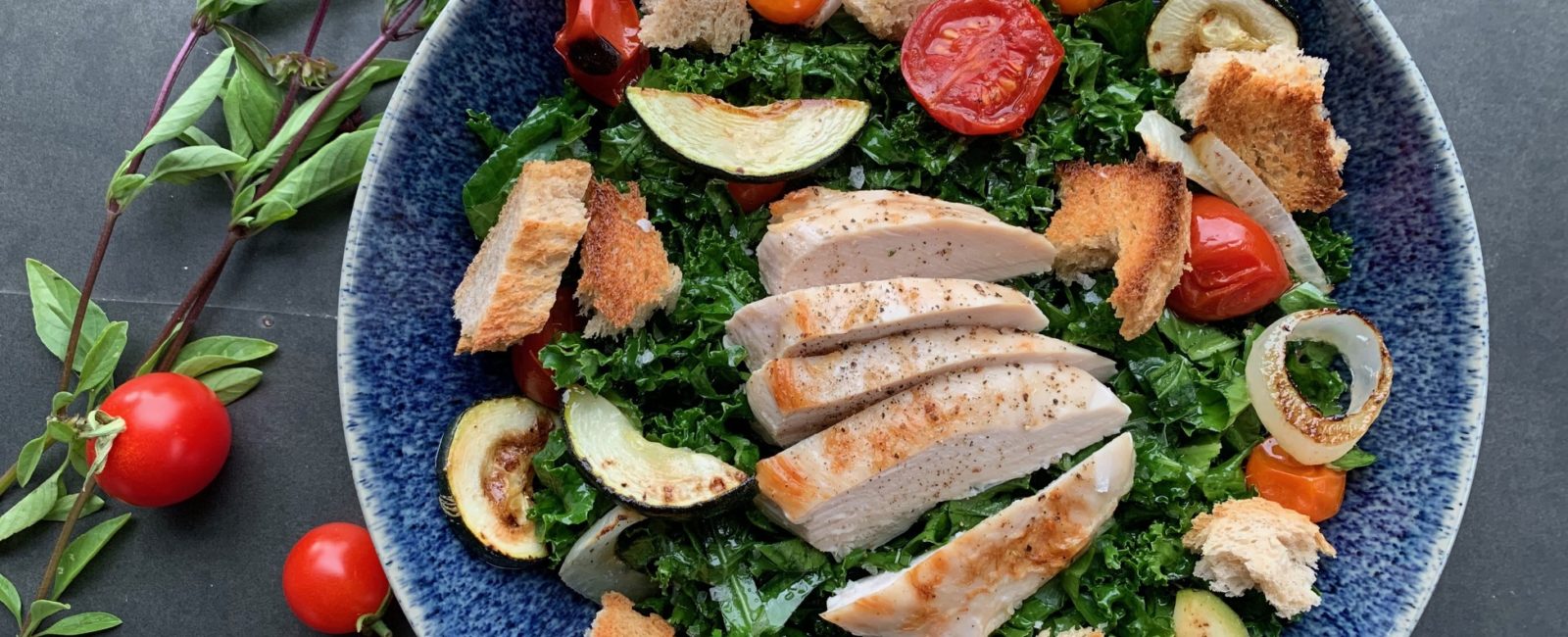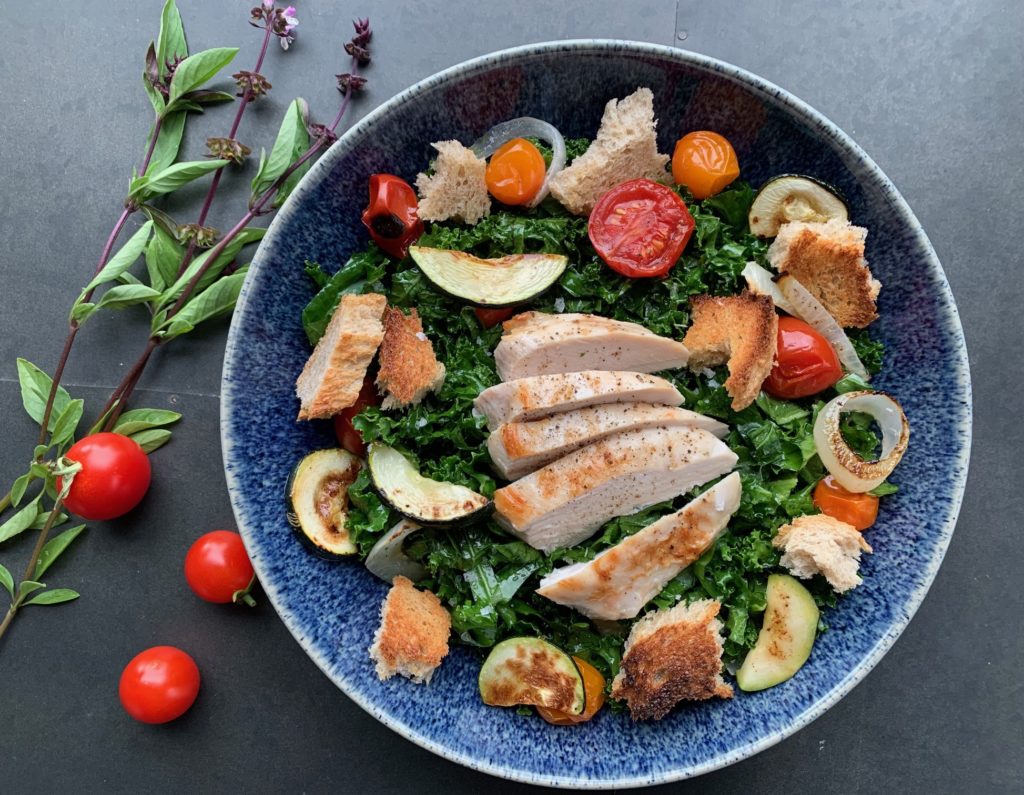 Good news! You are making a delicious dinner at home tonight and you already have everything you need. Ok, maybe most of what you need, but you can improvise!  This Sheet Pan Roasted Chicken Panzanella is an easy weeknight meal and the prep is minimal. Once you slice the tomatoes, onion and zucchini they go on a sheet pan with the chicken and into the oven. Everything cooks together and mostly minds itself. You just need to be on hand at the halfway mark to add the bread.  
For easier cleanup, line your pan with a sheet of parchment paper. Start by cutting all of your vegetables. Slice the cherry tomatoes, red onion, and halve and slice the zucchini. Depending on your bread, you may need to slice it before tearing it into smaller chunks. Do this before cutting your chicken, while your cutting board is still clean. 
You can use all chicken thighs, as called for in the recipe below, or use half thighs and half breasts. I used a package of each when I made this, which was 5 thighs and 3 breasts. (Leftover chicken is perfect for another easy meal!) Be sure to cut the larger pieces in half so that all the portions will be about the same size and cook evenly. Zucchini works nicely in this recipe, but you could also use yellow squash, eggplant, green beans, asparagus, or even sliced carrots. To make this gluten-free, toast the bread on a separate sheet pan. Give it a light drizzle of olive oil beforehand and serve the bread separately.
I did not have arugula, so I made a quick kale salad instead: slice kale into thin ribbons; add a generous squeeze of fresh lemon juice, a drizzle of olive oil and salt and pepper. Massage kale with clean hands until it softens a bit. Top with chicken and panzanella; sprinkle with red pepper flakes and shaved Parmesan. 
Sheet Pan Roasted Chicken Panzanella
8 boneless, skinless chicken thighs

 

1 cup halved cherry tomatoes
1/2 red onion, sliced
1 zucchini, halved and sliced
3 Tablespoons extra virgin olive oil
salt or garlic salt

 

freshly ground black pepper
2 cups baguette bread, roughly torn into 1-inch pieces
4 cups washed arugula
Dressing:
2 Tablespoons red wine vinegar
1/2 cup extra virgin olive oil
salt and freshly ground black pepper, to taste
Preheat oven to 425º F.  Arrange chicken on a lightly greased or parchment lined baking sheet, then scatter tomatoes, zucchini and onion around the chicken. Drizzle olive oil over all and season with salt, or garlic salt, and pepper. 
Roast in oven for 10 minutes. Remove tray from oven and add torn bread. Return to oven and cook an additional 10 minutes or until a food thermometer inserted in the thickest part of the chicken reaches 165º F. 
For Dressing:
Whisk red wine vinegar, olive oil, salt and freshly ground black pepper together in a small bowl.
Serve individually in shallow bowls, spooning oven roasted chicken, vegetables and bread over  arugula. Drizzle dressing over top. 
– recipe by Siri Daly, today.com