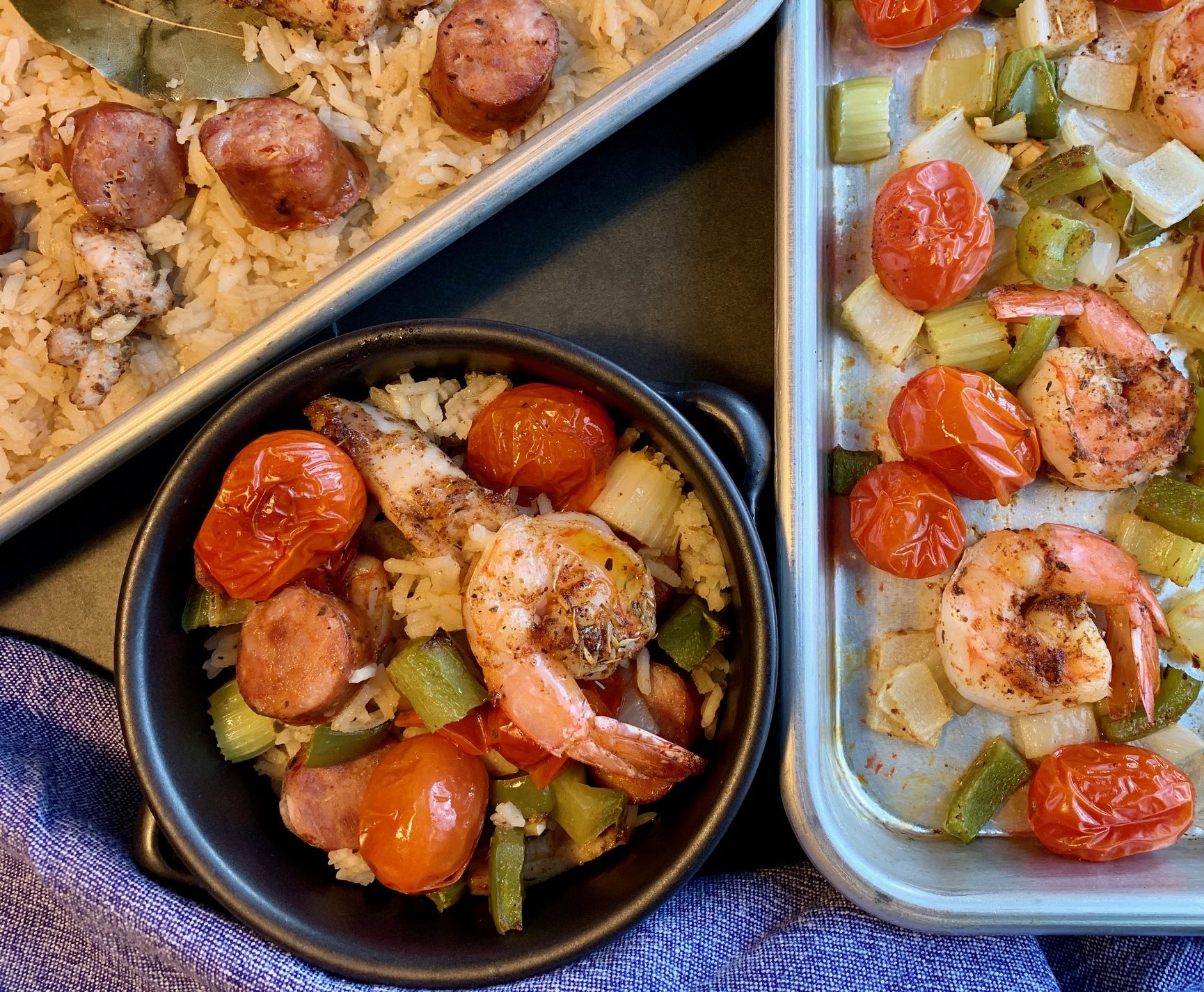 It's Mardi Gras time! I love New Orleans and can't wait to cook something fun to celebrate Fat Tuesday. Let the good times roll with this Sheet Pan Jambalaya. Simple ingredients and easy enough that you can make it on a weeknight.  
Using two sheet pans means your rice cooks perfectly and your veggies don't overcrowd. The oven roasting gives them a nice char and deepens their flavor, softening them while keeping them just a bit crunchy. 
For great, all purpose spicy seasoning, Joe's Stuff can't be beat. I stock up on it when I'm in New Orlean's, so there's always a giant bottle in my pantry. You can add it any place you need a little flavor, and it's truly amazing on cedar planked salmon. You can mail order Joe's Stuff, along with other great products to cook authentic New Orleans cuisine, from the New Orleans School of Cooking website.  
Looking for more? Go to blogs.columbian.com/home-made/ for a Gumbo recipe you can make ahead, a fun Muffuletta Dip, and easy how-to's for making a Muffuletta when you can't get to Central Grocery. 
So, celebrate! Throw some Mardi Gras on a sheet pan and laissez les bons temps rouler. 
Sheet Pan Jambalaya
olive oil spray
1 cup uncooked long-grain white rice
3 fully cooked Cajun Style Andouille smoked sausages, cut into 1/2-inch slices
2 boneless, skinless chicken thighs, cut into 1-inch cubes
3 teaspoons Joe's Stuff or other Creole Seasoning, divided, plus more

   

2 cups low sodium chicken broth
2 bay leaves
1/2 teaspoon dried thyme
1 medium yellow onion, diced into 1/2-inch pieces
1 medium green bell pepper, cut into 1-inch pieces
4 stalks celery, cut into 1/2-inch pieces
1 large clove garlic, minced
15 ounces grape tomatoes

 

15 uncooked jumbo shrimp, peeled and blotted dry
sliced scallions, to garnish
hot sauce

 
Preheat oven to 400ºF. Use olive oil spray to lightly coat a large baking sheet. Spread rice evenly over sheet and scatter sausage over rice; lightly spray with oil. Sprinkle 1 teaspoon Creole Seasoning over chicken, turning to coat all sides. Add chicken to sheet pan and bake for 8 minutes. 
Combine chicken broth, bay leaves, 1 teaspoon Creole Seasoning, and 1/2 teaspoon dried thyme in a small saucepan. Bring to a simmer. After rice has cooked 8 minutes, pour broth over rice mixture; carefully cover sheet pan tightly with foil. Bake 23 minutes, or until rice is just tender. 
Use olive oil spray to lightly coat a second large baking sheet. Add onion, bell pepper, celery, garlic and tomatoes to sheet pan and lightly spray with olive oil. Sprinkle with 1 teaspoon Creole Seasoning and toss to coat. Add sheet pan to oven, cooking for 15 minutes. 
When rice is finished, remove from oven; adjust temperature to 450ºF. Let veggie sheet continue to cook until tomatoes start to burst and lightly char, several minutes more. Lightly spray shrimp with olive oil and season with a sprinkle of Creole seasoning. Add shrimp to sheet pan and stir, cooking about 5 minutes more, or until shrimp are pink. Remove from oven. 
Spoon chicken, sausage, and rice with shrimp and veggies into bowls. Garnish with scallions and serve with hot sauce.