Sausage, White Bean, and Kale Soup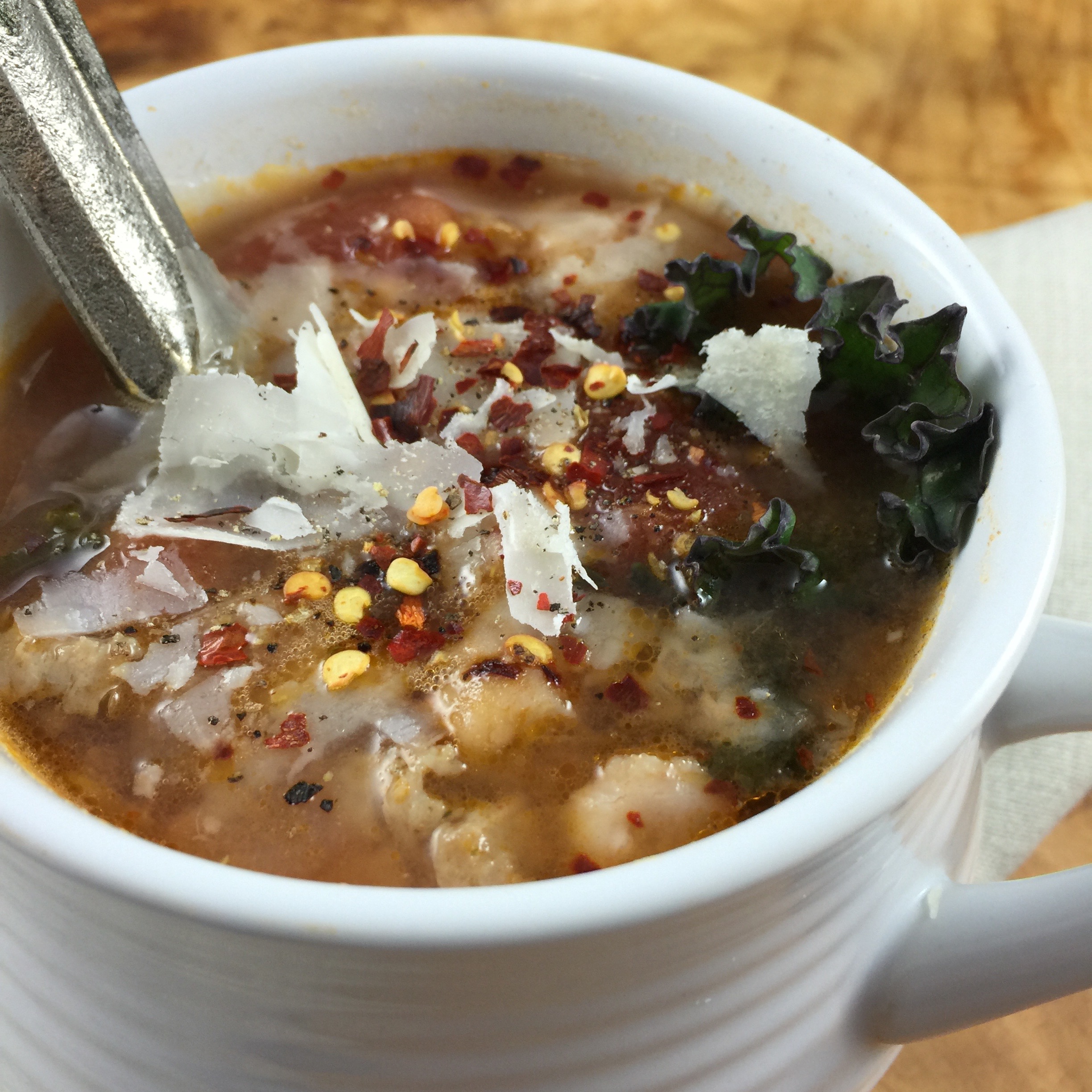 Ah…  January.  The holidays are behind us, and it's time to get back to business.  After all that holiday eating, most of us are ready to lighten up and embrace healthy food again, and after all that holiday spending, we feel ready to lighten our grocery bill as well.  This year, keep it simple and doable.  Resolve to eat better and cook more of your family's meals at home.  Just by doing this, you will already be healthier and be saving more money.  Resolve to curb your food waste by using up what you have – getting more creative and repurposing your leftovers – and you will save even more.
Winter is a great time to make soup.  Is there anything better than a nice bowl of something warm and delicious to soothe away the damp chill of a Northwest winter?  This recipe is super fast, super easy, and will get a toasty, welcoming meal on your table faster than you can say, "What's for dinner?"  It is hearty and satisfying, and if you serve it with some comforting warmed bread, even more so.  With the exception of the kale, you may already have everything you need on hand.   I love this soup for it's simplicity, and was more than a little surprised to discover the original recipe I keep making over and over was from a 2006 issue of Real Simple magazine.   I guess I have been making  this for a while!
I like using bulk sausage and reduced sodium chicken base for this soup.  I buy rolls of sausage when I see them on sale to keep in my fridge and freezer.  Chicken bouillon base keeps well in your refrigerator, and always having some on hand means you can easily make soup when the mood strikes.  You can also also use a 14.5 ounce can of low-sodium chicken broth or use chicken broth from a carton, just omit the 2 cups of water.  Feel free to substitute any kind of sausage that you like.  The original recipe called for fully-cooked sausage links, and that would speed preparation up even more quickly.  I used purple kale, but again, any kind of kale would work.  If you are really pressed for time, you could use frozen kale, but it won't be as fluffy looking as the fresh.   Fresh tomatoes will work, if you have some to use up, and if you have enough time for the added cooking, you can use dried beans.  In this case, I would cook the beans ahead and then add them in to the soup along with some of their cooking liquid.
One batch of this soup makes 4 generous servings.  To make this recipe go further, you could add more beans and kale.  You could also add diced potato, cooked rice, or leftover cooked pasta as interesting add-ins.  Diced carrots or celery could also be added, sautéing them at the beginning before you cook the sausage.  I sometimes change the consistency of this soup by reserving some of the beans, pureeing them with the soup liquid, and adding them back in.
Sausage, White Bean and Kale Soup
1 tablespoon olive oil
1 16 ounce roll Isernio's Chicken Italian Sausage
2 cloves garlic, chopped
1 15 ounce can cannellini beans, lightly drained
2 teaspoons reduced sodium chicken bouillon base
2 cups water
1 14.5 ounce can diced tomatoes
1 bunch kale, ribs removed, torn into 2-inch pieces
freshly ground black pepper
red pepper flakes (optional)
Parmigiano-Reggiano cheese, shaved
Heat oil in a large stockpot or Dutch oven over medium heat.  Add sausage and cook until lightly brown, breaking up large pieces with a spoon as it cooks.  Add garlic and cook until golden, a few minutes more, continuing to stir.  Add the beans, chicken base, water, and diced tomatoes.  Bring to a boil and add kale.  Reduce heat and continue to cook and stir, simmering until kale has softened.  Season with freshly ground black pepper.  Ladle into bowls, topping with shaved cheese, red pepper flakes, and a generous grind of black pepper.
When you cook at home you can source the very best ingredients.  I used organic canned beans and tomatoes, and fresh organic garlic and kale and still made this soup for a fraction of what a restaurant version would cost, about $8.00 for 4 or more servings.  Not a bad way to start a new year.