Sausage, White Bean and Kale Soup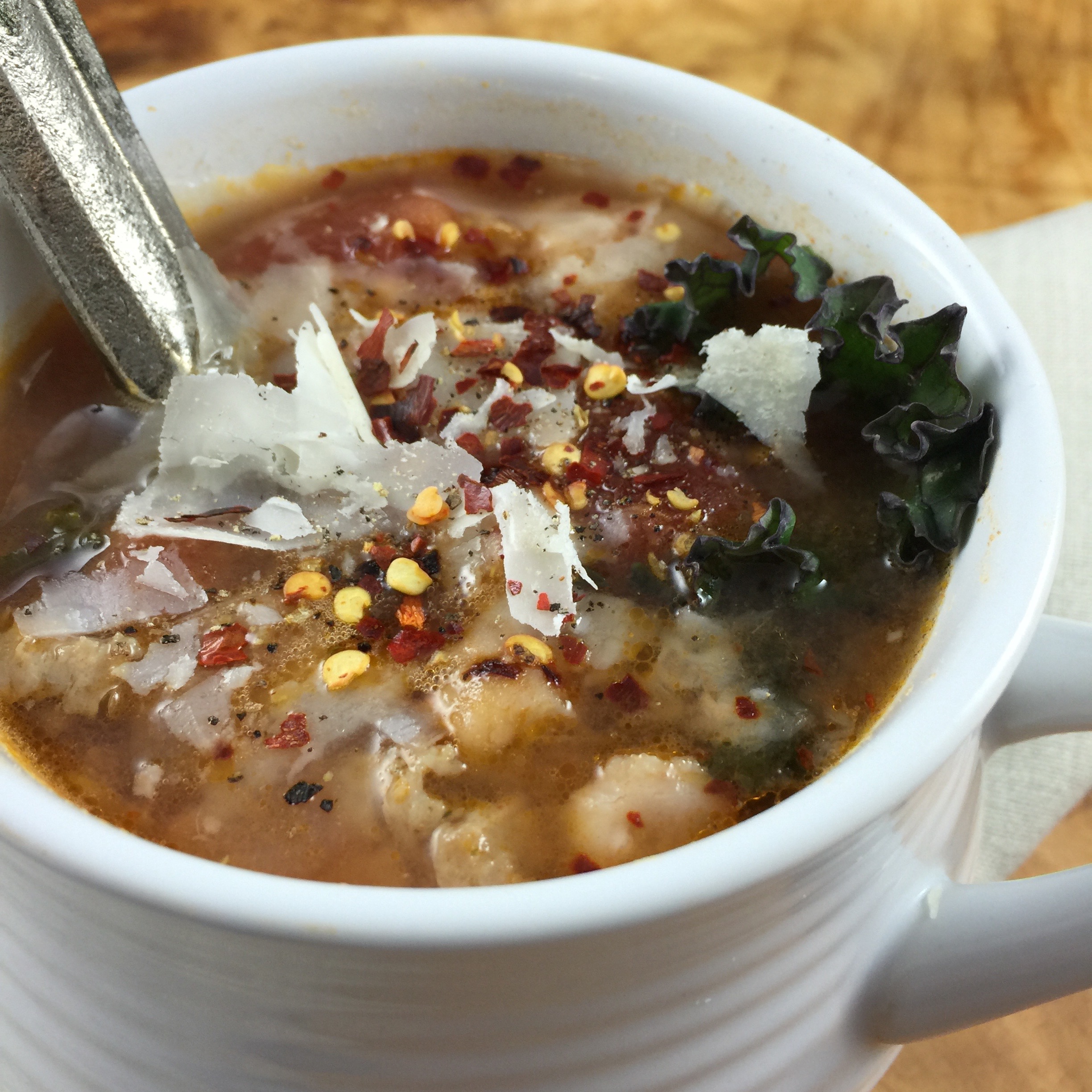 It has been a rough week.  All those rescheduled appointments, a plumbing malfunction, and a computer problem that just won't go away made getting dinner on the table especially challenging every night this week.  Thursday was the worst.  The final insult?  An impromptu trip to the laundromat that had to happen, of course, right around dinner time.  After spending most of the afternoon on calls with tech support, I was getting a little fussy.  Between calls I stared into the fridge and pantry and realized I had become so desperate for a dinner solution that the huge box of dehydrated emergency food was looking like a possibility.  And then I remembered this recipe.
I had some fresh kale that needed to be used, and some chicken sausages with jalapeños from Trader Joe's.  I cut up the sausages and browned them while I was on hold for the computer, then added everything else to the crockpot and set it on low before heading off to the laundromat.  We returned home later and had a peaceful, soothing, healthy and delicious dinner, which given the day, was nothing short of miraculous.
This recipe was originally posted around this same time a year ago.  It is well loved by my family and apparently by a lot of you, too, because it is one of my most popular posts.  I am sending it out again, just in case you missed it the first time.   It may just be the fast, easy answer for your dinner plan tonight.
Sausage, White Bean and Kale Soup
1 tablespoon olive oil
1 16 ounce roll Isernio's Chicken Italian Sausage
2 cloves garlic, chopped
1 15 ounce can cannellini beans, lightly drained
2 teaspoons reduced sodium chicken bouillon base
2 cups water
1 14.5 ounce can diced tomatoes
1 bunch kale, ribs removed, torn into 2-inch pieces
freshly ground black pepper
red pepper flakes (optional)
Parmigiano-Reggiano cheese, shaved
Heat oil in a large stockpot or Dutch oven over medium heat.  Add sausage and cook until lightly brown, breaking up large pieces with a spoon as it cooks.  Add garlic and cook until golden, a few minutes more, continuing to stir.  Add the beans, chicken base, water, and diced tomatoes.  Bring to a boil and add kale.  Reduce heat and continue to cook and stir, simmering until kale has softened.  Season with freshly ground black pepper.  Ladle into bowls, topping with shaved cheese, red pepper flakes, and a generous grind of black pepper.
Notes:
One batch of this soup makes 4 generous servings.  To make this recipe go further, you could add more beans and kale.  You could also add diced potato, cooked rice, or leftover cooked pasta as interesting add-ins.  Diced carrots or celery could also be added, sautéing them at the beginning before you cook the sausage.  You can quickly thicken by reserving some of the beans, pureeing them with the soup liquid, and adding them back in.