Roasted Winter Squash Soup with Gruyère Croutons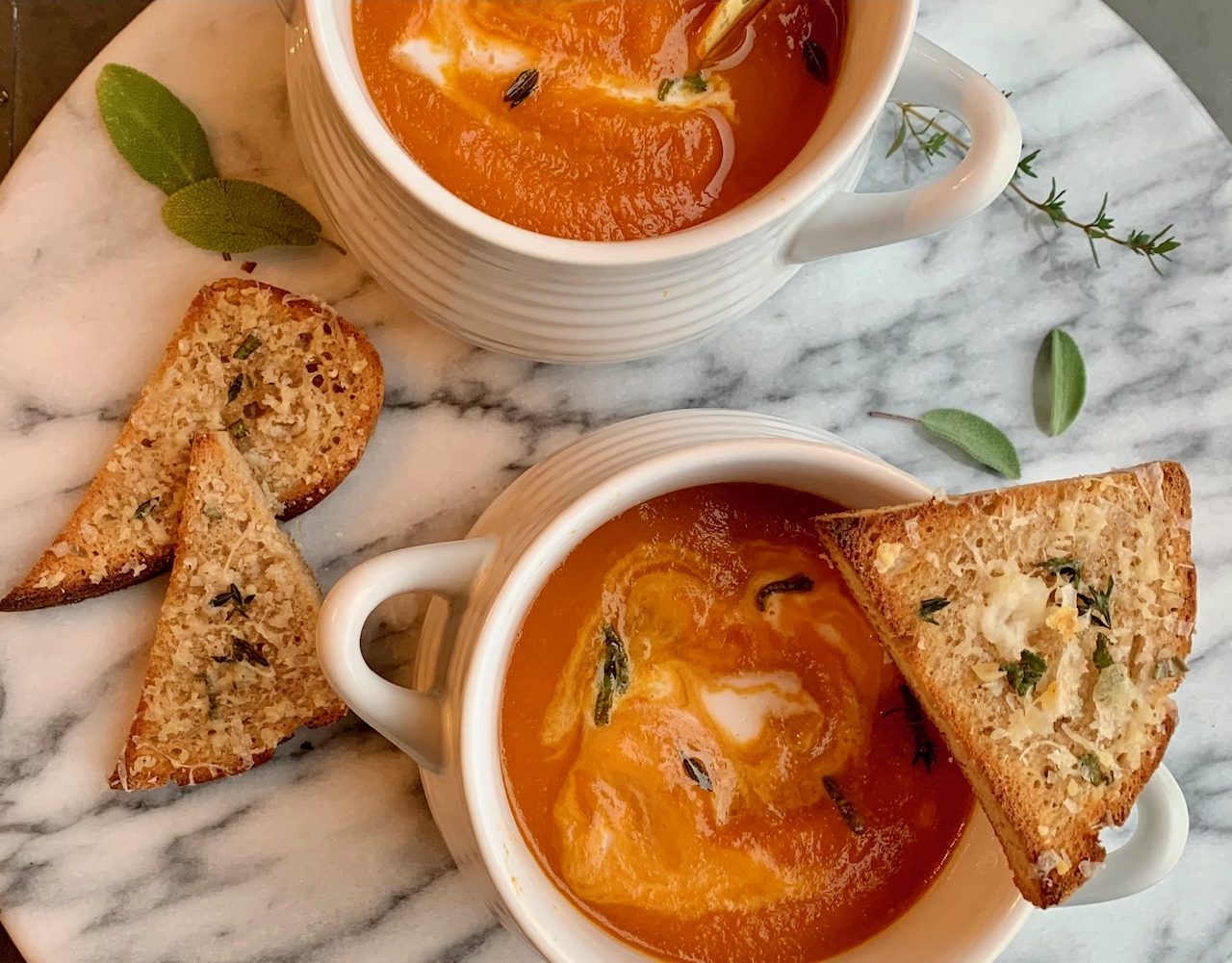 Whether this is your first Thanksgiving or your fiftieth, it's time to get going. Getting a head start now means less stress on the big day. Make as much as you can in advance. This delicious Roasted Winter Squash Soup is an easy way to do just that. Seasonally scented with sage and thyme, you can ladle some up for lunch this week and stock your freezer at the same time.
Life is too short to peel hard squash. You can easily transform butternut and acorn squash, or any pie or baking pumpkin by roasting it. Halve your pumpkin or squash and remove the seeds. Brush the inside with a little olive or coconut oil, then sprinkle with salt. Place cut side down on a parchment-lined baking sheet and bake at 350º F for 45-50 minutes or until it pierces easily with a fork. Once cool, you can easily scrape the flesh from the skin, ready for your recipe. 
National Clean Out Your Refrigerator Day aptly falls on November 15th, the weekend before Thanksgiving. While you're making room, spice some nuts, make your cranberry sauce, and bake some pumpkin bread. Get your casseroles in order. All of this can be tucked away in your freezer, ready to go for the big day.
This year, more than ever, keep your family's traditions. There has been enough change and too many reminders of things being different, stick to your tried and true. Honor those you hold most dear by giving them the gift of getting exactly what they expect: keep those recipes the same! 
There's so much to be thankful for. Why wait for Thanksgiving? A cup of soup will always warm you up, but when it's home made, it will warm the heart as well.  
Roasted Winter Squash Soup with Gruyère Croutons
1 Tablespoon olive oil

 

1/2 cup chopped onion
2 cloves garlic, minced

 

1 1/4 teaspoons minced fresh thyme
1 1/4 teaspoons minced fresh sage
1 1/2 cups reduced sodium chicken or vegetable broth
4 cups roasted butternut or acorn squash, or pumpkin
sea salt, freshly ground black pepper, maple syrup

   

1/4 cup coconut milk
croutons
2 Tablespoons butter
24 1/4 inch-thick baguette bread slices
1 cup grated Gruyère cheese
1 teaspoon minced fresh thyme
1 teaspoon minced fresh sage
For soup:
Warm olive oil in a large pot. Add onion and cook over medium heat, stirring occasionally until onion is tender. Add garlic, thyme, and sage. Cook and stir several minutes more until fragrant. Add chicken or vegetable broth, then stir in 4 cups roasted squash or pumpkin. Purée until smooth with an immersion blender or transfer to blender, adding water if needed to reach desired consistency. Taste and adjust with sea salt, freshly ground black pepper, and maple syrup if desired. Ladle soup into bowls. Top with a spoonful of coconut milk and swirl with spoon. Serve with warm croutons. 
For croutons:
Preheat broiler. Butter 1 side of each bread slice then arrange buttered side up on baking sheet. Broil about 1 minute, or until golden. Turn over, then sprinkle with cheese, thyme and sage. Broil until cheese melts, about 1 minute. 
– adapted from bon appétit, December 1996