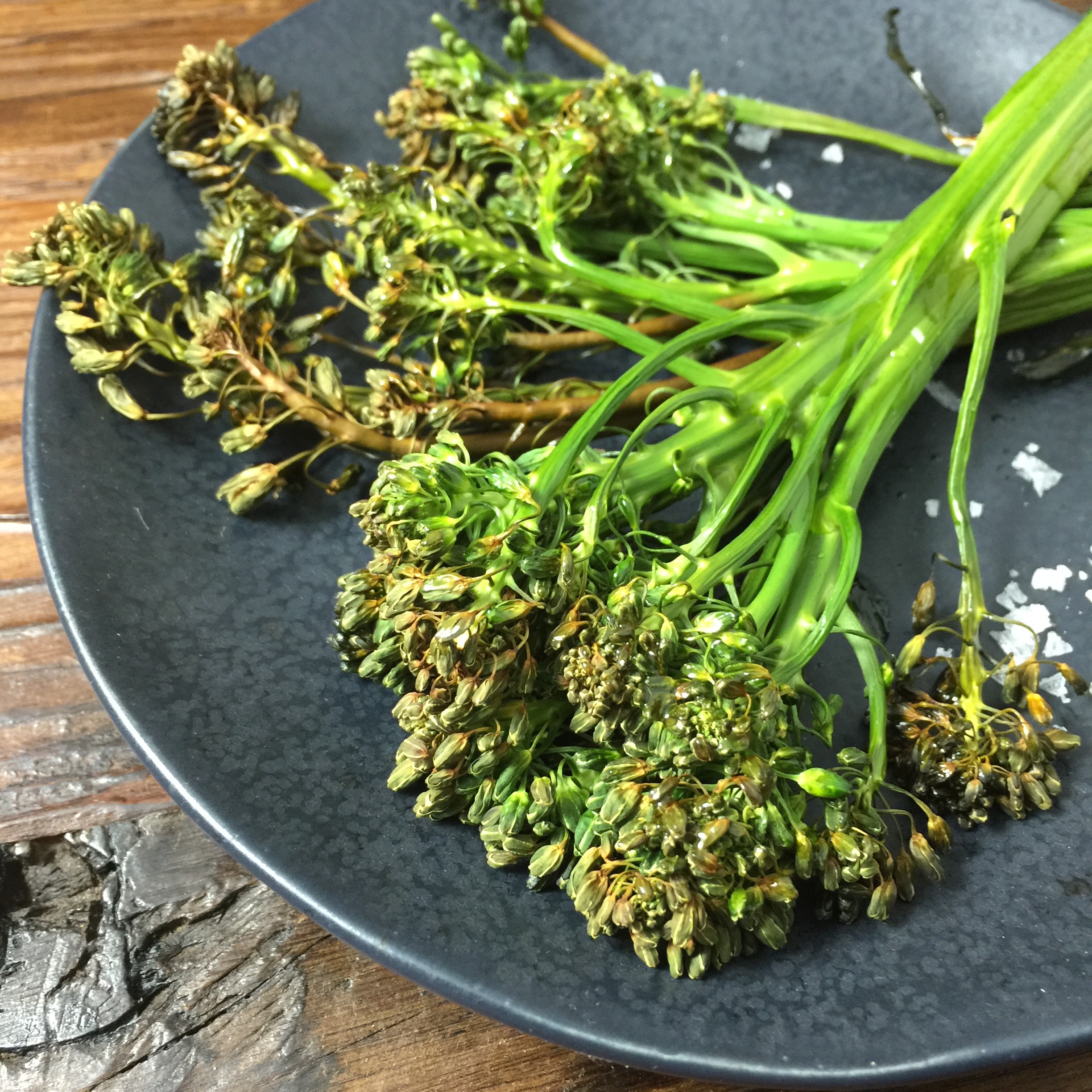 The most wonderful time of the year can also be one of the busiest. Shopping, celebrating, attending school and office parties, plus a cookie swap or two, and before you know it you are feeling not so merry. Eating more vegetables is an easy way to fix this and roasting them is a fast way to make them more enticing. When you are tired or time crunched, having to wash and cut up raw vegetables seems like too much effort.  A roasted one is more like fast food, and the possibilities are endless.
You can roast almost any vegetable, either individually or in little groups. Try roasted mushrooms with asparagus or zucchini, then add bell pepper, onion, or garlic.  I love to roast broccolini, cauliflower, and brussels sprouts, but usually roast each of these on their own.  You can roast vegetables in an oven safe dish and then take them right to the table to serve, or use a large baking sheet lined with foil or parchment paper and save yourself some clean up.  Vegetables roasted in a baking dish will yield a bit softer results because the high sides will make your vegetables steam more. If you want crisper vegetables, use a baking sheet. 
Preheat oven to 400 degrees.  Start by lightly coating the surface of your baking sheet or pan with olive or coconut oil.  No matter what you are roasting, you want to be sure your vegetables are clean, so give them a good rinsing and shake off the excess water. If your vegetables need to be cut, keep all the pieces the same size so that they will all cook evenly, then spread them out on your baking surface being careful not to overcrowd.
Drizzle with just a bit more oil, then transfer to oven and set timer for 35 minutes.  Peek in from time to time to see if your vegetables are browning. You will want to stir once or twice, maybe even three times. You might also want to rotate the pan. Cook for approximately 35-45 minutes, but as always, you should check throughout and stop when you feel your vegetables have reached your desired level of doneness. Finish vegetables with a sprinkling of sea salt and some freshly ground black pepper.
A toaster oven or small countertop oven works great for roasting smaller batches of vegetables, but you may want to adjust the cooking temperature.  I get good results with mine set at 380 degrees for about 25-30 minutes. Refrigerate leftovers, covered, in a small glass dish or zip top bag for quick use.
Ways to use roasted vegetables:
add to soup or salad
stir into cold or hot pasta

add to sandwiches or use for panini

puree into a dip
add to grains with leftover cooked meat for a healthy, quick lunch or dinner
For an easy and delicious soup, pureé roasted vegetables, 1 teaspoon vegetable or chicken bouillon concentrate, 1/2 teaspoon garlic powder and enough water for your desired thickness.