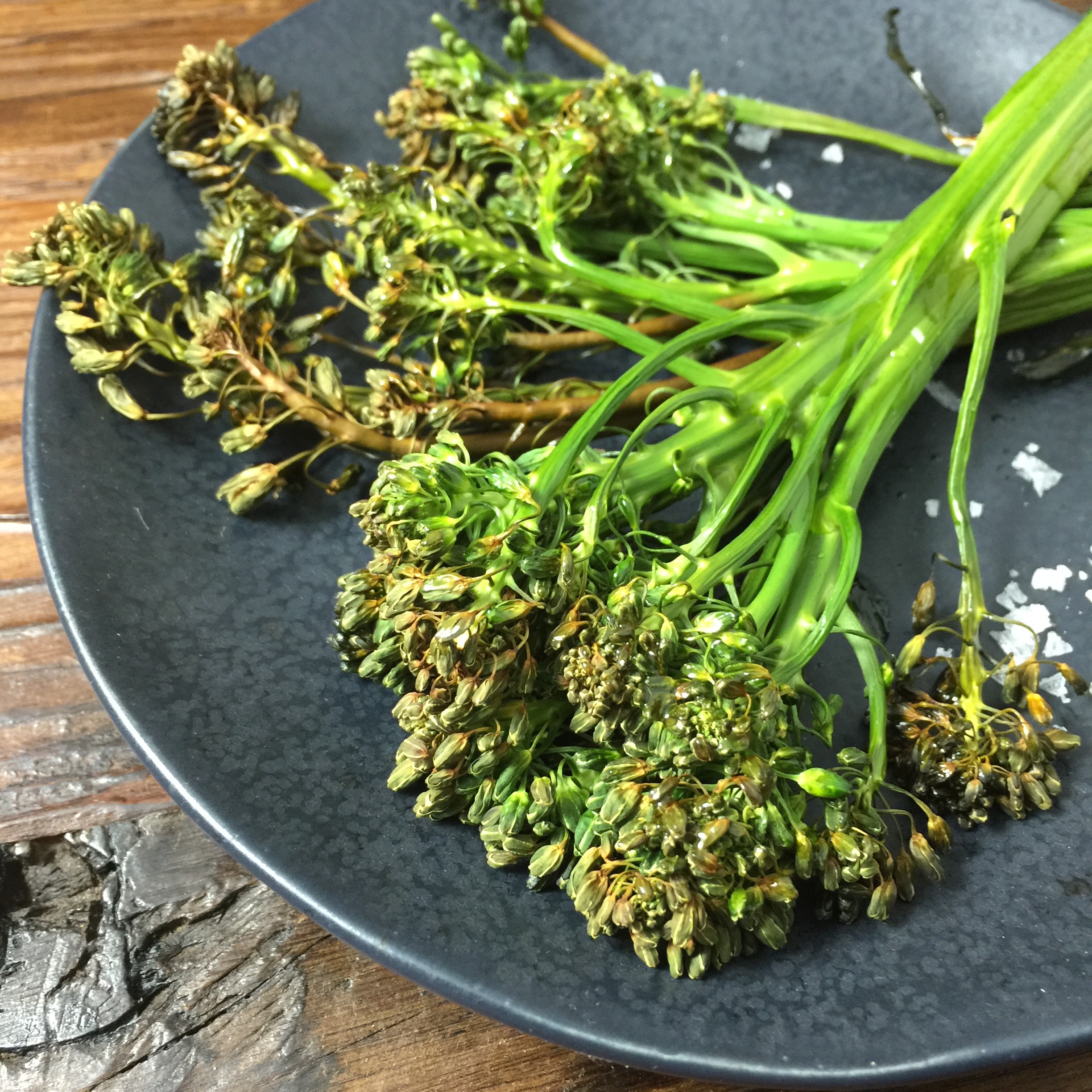 Get green with some roasted broccolini.  We all know we need to eat more veggies, but leaving them uncooked in your fridge, or forgetting about them altogether, is not the way to do it.
Next time you're at the store, pick up some broccolini.  Broccolini is a cross between broccoli and Chinese broccoli.  It has a milder, sweeter taste that can make even the staunchest of broccoli haters change their minds.  You can sauté it, steam it, roast it or grill it.  I like roasting it.  Roasting broccolini turns it into something you want to eat.  It gives it that fancy side veg you get in a restaurant quality, and it's easy to do at home.  Doing this one, simple thing ahead of time brings you closer to eating something healthy in a hurry.
Roasting temps for vegetables can vary from 375 – 425 degrees.  You can play around with this and see what temperature gives you the best results with your oven.  I use my toaster oven for this because it's fast and saves energy.  You can also toss your vegetables with olive oil and a little salt and pepper, or whatever herbs and spices you like, but I like to leave mine plain.  Doing this keeps your vegetable more versatile.  You can eat it warm, right out of the oven, or refrigerate in a zip-top bag or covered container, to use as you like throughout the next 3 – 7 days.
What to do with your pre-cooked broccolini?  Toss it with a little soy sauce or tamari, and some toasted sesame oil, and maybe some toasted sesame seeds.  I add this mix into salads for a little something interesting. Serve warm, add stir fried or grilled meat, fish, or chicken, and you've got dinner.   If you're super time-crunched, get one of those rotisserie chickens at the store.  Add your ready-to-go roasted broccolini.  Fast food!  Warm your pre-cooked broccolini briefly and drizzle with olive oil.  Season with salt, pepper,  and some grated cheese and/or toasted nuts  – Manchego/almonds, Parmesan/pine nuts…  Use to top a baked potato or sweet potato.  Add to soup.  Layer into a sandwich.  Serve with your pasta.  Toss into a casserole or soup.  You get the idea.  But having some nicely roasted broccolini in your fridge and ready to go gets you one step closer to eating now!
Give it a try, and don't make this complicated.
Here's how I like to do it.
Preheat toaster oven to 375.  If your toaster has a convection setting, use it.
Line a baking sheet with aluminum foil and brush it lightly with olive oil.
Rinse broccolini and give it a shake to remove most of the water.
Trim ends, if necessary, and cut into smaller pieces, if desired.
Put broccolini on baking sheet leaving a little space between the pieces.
Roast until charred and soft, about 13 to 15 minutes.
If you want to know more about roasting any sort of vegetable, there are some really good instructions on the kitchn.com.