Roasted Beet and Garlic Dip and Cashew-Chile Dip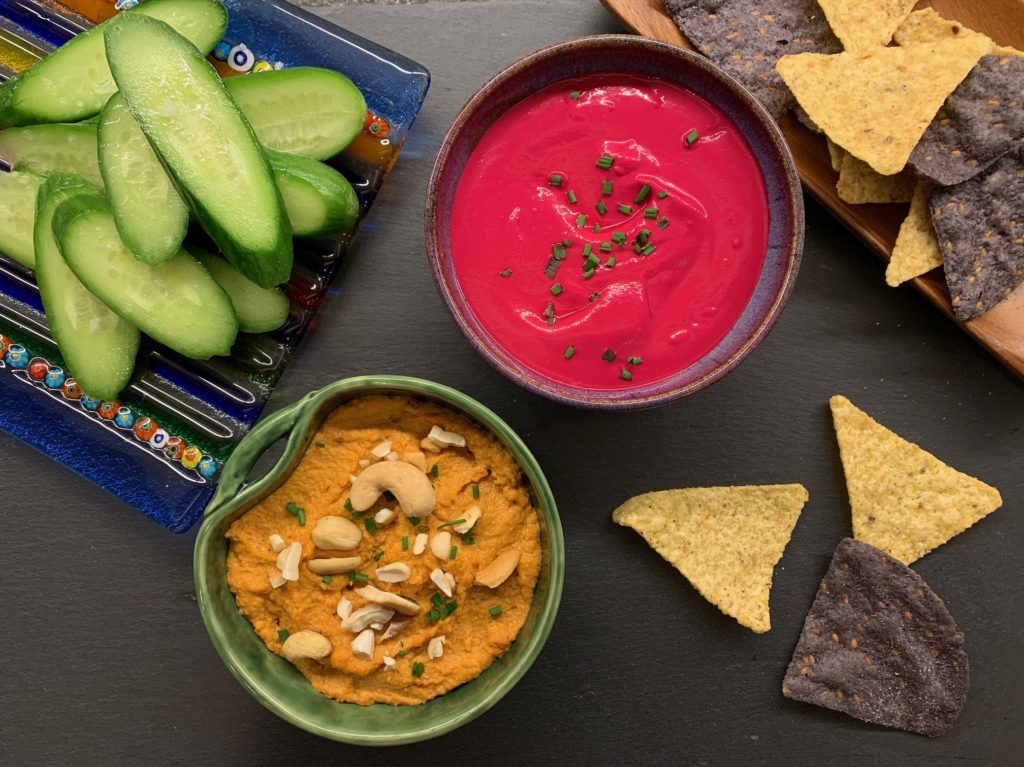 Football's biggest party is here – it's time to get your game on! Line up every slow cooker and Instant Pot you own and get cooking. Whatever it is you are making, it had better be good. Even if your game plan only includes your home team, it's time to get ready for some serious snacking.
Your party needs wings, chili, burgers, hot dogs, nachos, pizza, pigs in a blanket and potato skins. Don't skimp on the dips. Cheese dip, bean dip, spinach-artichoke, onion, hummus, salsa, seven-layer, and the holy grail of all dips, guacamole: leave no potato or tortilla chip behind. Yes, you are obliged to put out a veggie plate, and yes, those veggies are going to pretty much sit there because who cares about celery and carrots when there's queso? Your best bet is a trick play. Put those veggies in dip form. Now they're party fare. 
Ready to dip it? Make the vibrant Roasted Beet and Garlic Dip as directed below. Or, try another combo like butternut squash and roasted leeks. Carrots, sweet potatoes, cauliflower, or any roasted vegetable that you happen to have will work, too. Try using roasted onion or shallot instead of the garlic. Use a dairy free yogurt to make the Roasted Beet dip vegan and top with a sprinkling with chives. Or, try topping with Feta or goat cheese and some roasted seeds or nuts. 
Try this 2-ingredient Cashew-Chile Dip. It tastes like you did a lot of work, but you didn't. Keeping canned chipotles in adobo in your pantry is a smooth move. It lets you add sweet, tangy, amazing spicy flavor any place you need it. After you make the dip below, try adding a spoonful of the peppers and their sauce to your ketchup. Use it on anything you would dunk into ketchup, like fries, onion rings, chicken nuggets, hot dogs or corn dogs, or try it with shrimp instead of cocktail sauce. There's no turning back. 
Dip on and enjoy! 
Roasted Beet and Garlic Dip
1 Tablespoon extra virgin olive oil
2 cloves garlic, peeled and smashed
2 cups roasted beets, fully cooled

 

1 cup full-fat plain Greek yogurt
1/4 cup lemon juice, divided

 

2 Tablespoons water (plus more as needed)
2 Tablespoons tahini (optional)
salt and freshly ground black pepper

 
Warm olive oil in a small saucepan. Add garlic and cook over low heat until golden brown and fragrant. Combine roasted beets, yogurt, 2 tablespoons lemon juice, 2 tablespoons water, and 1 clove garlic in blender. Blend, scraping down sides of jar, adding more water as necessary until desired consistency is reached. Blend in olive oil, salt and pepper. Taste and adjust with additional clove of garlic, more lemon juice and tahini if desired.  
– recipe by Anna Stockwell
Cashew-Chile Dip
1/2 cup (or more) raw cashews
2 chiles en adobo
2 Tablespoons (more as needed) water
Combine all ingredients in food processor and pulse/process until smooth. Enjoy as is, or adjust to your liking with salt, sugar, or more water. 
– recipe by Carey Polis