Riesling and Swiss Cheese Fondue and Winter Wassail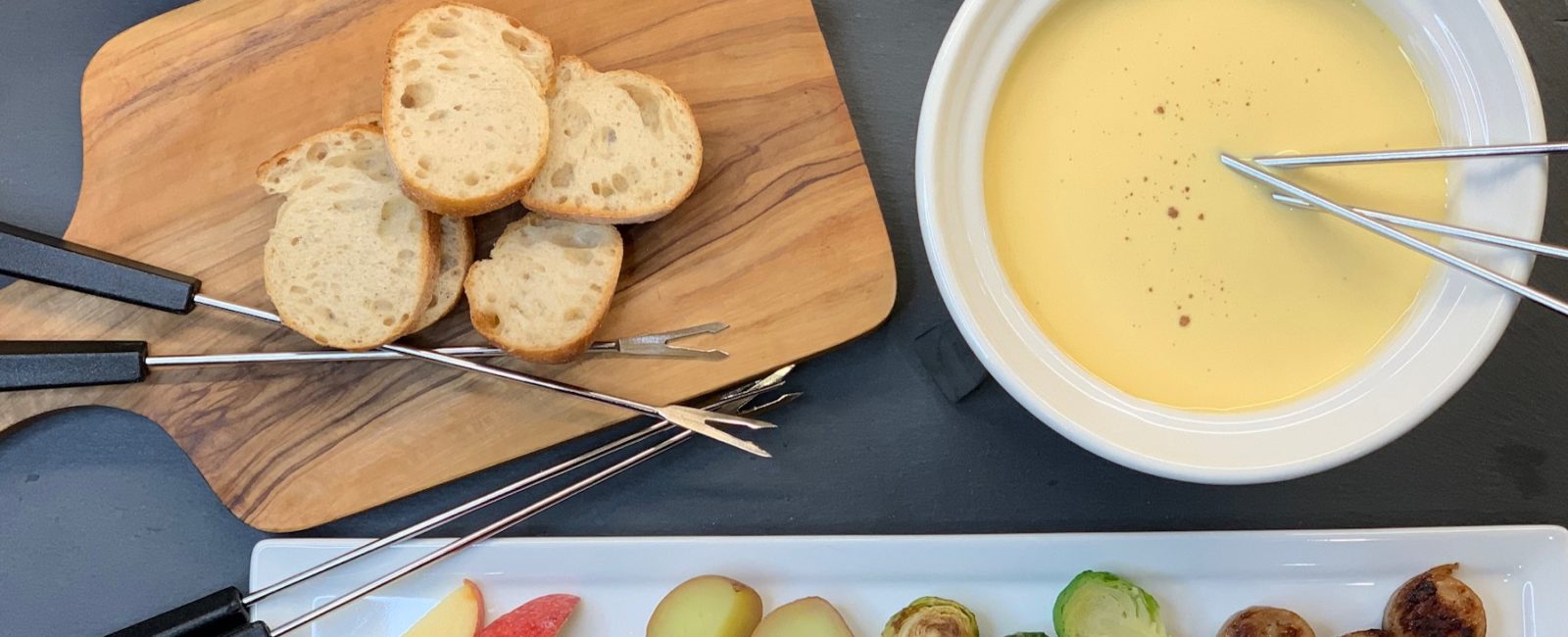 Winter solstice, the shortest day of the year, arrives on December 21. With all the other seasonal traditions to take in this month, the solstice is a good time to slow down, savor all the sights and sounds of the season, and just breathe. Cozy up at home with a winter solstice celebration that will make the dark day seem a little brighter. Invite your family and friends and embrace the changing seasons with hot cocoa, mulled wine, and fondue. Gather around a warm fire and light candles. Create a cozy space with pillows and blankets. Think hygge: anything that makes you feel comfortable and warm.
Rich melted cheese served over flame is warm and welcoming and during the winter months, fondue is pure comfort. This Riesling and Swiss Cheese Fondue is easy to make and is a great no-fuss appetizer. Riesling makes it festive for the holidays and I used Columbia Winery Cellarmaster's Riesling to add a splash of Washington. Sweet, crisp and light, it's earthy, and has notes of honey, pear, and apricot that lend themselves to this recipe. Traditional solstice foods like nuts, berries, spices, squash, potatoes and meat have an emphasis on nature and you should try to incorporate as many local offerings as you can. I used a crisp, sweet Envy apple, and Brussels sprouts that were also grown in Washington, for the fondue. Sausage, potatoes and a loaf of good bread rounded out the offerings. 
Use care not to overcook your Brussels sprouts and potatoes. Keep them somewhat firm so that they won't fall apart when you poke them and they will also stand up to dipping. I couldn't find any of the tiny potatoes that would have worked best, so I cut my potatoes into same-size, smaller chunks. I cooked them in the microwave, covering them with water, adding a little salt and microwaving on high for 7 minutes, until I was able to pierce them with a fork but they were still firm. I microwaved the Brussels sprouts for 3 minutes, then lightly coated them with olive oil and roasted them at 425º until they were cooked the same.  I used cornstarch in place of the all-purpose flour called for in the original recipe to make this gluten-free. If gluten is not a concern, you can use 2 tablespoons of flour if you like. 
Other winter solstice traditions include making winter solstice lanterns, decorating an outdoor edible tree for the animals, or cozying up and reading a good book. You can spend the night by candlelight and enjoy some wassail. Make your wassail early in the day. Let it cook all day, especially if you are using a slow-cooker, simmering away and filling your house with the wonderful smell of holiday spice. 
I looked at all sorts of wassail recipes, and we have tried quite a few, because for a number of years my mom had misplaced hers. Most of them include orange and lemon juice, so I was surprised to compare them to my mom's, which uses cranberry and always included an orange, decoratively studded with cloves. Her recipe also calls for sugar, bitters, and surprise, rum! No wonder everyone liked it so much. You can leave it without the spirits, and have brandy, cognac, or rum for those who want to spike it, but do make the orange. It looks so pretty in the wassail and if you have kids, this is an easy and fun way to get them involved. 
Create a warm and welcoming evening and slow down and savor all the wonder of the season. Enjoy!
Riesling and Swiss Cheese Fondue
4 cups shredded Swiss cheese
2 Tablespoons cornstarch
1 cup dry riesling wine
1 garlic clove, grated
2 Tablespoons sherry
1 Tablespoon lemon juice
1/8 teaspoon ground nutmeg
sliced smoked sausage
French bread baguette
roasted Brussels sprouts
boiled mini potatoes
sliced apple
Combine cheese and cornstarch in a medium bowl. Warm wine and garlic in a large saucepan set over medium heat until bubbles form around sides of pan (do not boil). Reduce heat to medium-low. Add 1/2 cup shredded cheese; stir constantly until almost completely melted. Continue adding cheese, 1/2 cup at a time, allowing cheese to melt between additions. Stir in sherry, lemon juice and nutmeg. 
Transfer to a heated fondue pot. Keep fondue bubbling gently. If fondue becomes too thick, stir in a little additional wine. Serve with smoked sausage, bread, Brussels sprouts, mini potatoes and sliced apple.
-Taste of Home, December/January 2023 
Winter Wassail
2 quarts apple cider or apple juice
1 pint cranberry juice
3/4 cup sugar
1 teaspoon bitters
2 sticks cinnamon
1 teaspoon whole allspice
1 small orange studded with whole cloves
1 cup rum (optional)
orange wheels or apple slices, for garnish

 
Pour apple cider and cranberry juice into a slow-cooker or large pot set over medium heat. Stir in sugar, bitters, cinnamon sticks, and allspice. Add orange with cloves and rum, if using. For slow-cooker, let simmer on low for 4-5 hours. Otherwise, bring to a simmer, then reduce heat and let cook for at least 20 minutes. 
Ladle wassail into mugs. Garnish with spices and apple slices or orange wheels.