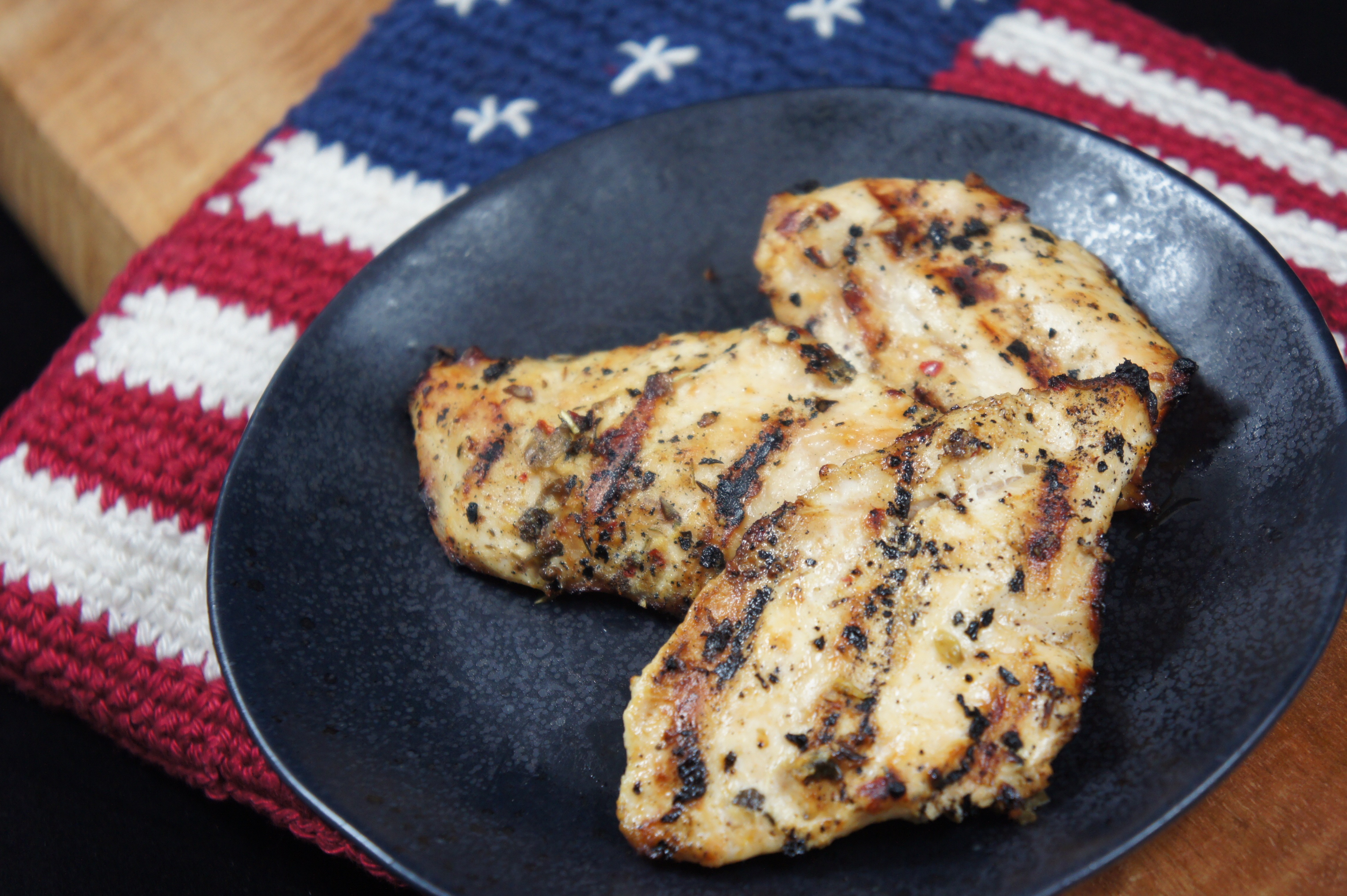 Ahhh, summer…  The days are getting longer, but the time you want to spend cooking gets shorter.  There are so many other things to do – most of them outside  –  who wants to be trapped in the kitchen?  It is getting hot, hot, hotter which has me thinking, "grill something!"
Want to learn a simple technique that will have you eating something grilled and delicious for a night or two?  Making an easy marinade is a great way to ensure that your meat grills up juicy and flavorful, just like the kind you get when you go out.  Throw some vegetables on the grill at the same time, and you have a carefree, delicious meal and no pots or pans to clean up later.
This is a simple marinade that you can adapt to whatever you like.  If you plan to grill this weekend, give it a try.  Double the amount of chicken and marinade and you will have leftovers for salad, a sandwich, or even another dinner.  Then when it gets really hot, you can eat again without cooking at all, and that is really cool.
Easy Grilled Chicken Marinade 
Ingredients
1/4 – 1/3 cup olive oil
1 organic lemon
1 tablespoon chopped garlic
1 teaspoon dried oregano
1 teaspoon dried Italian seasoning
1 heaping tablespoon capers, optional 
crushed red pepper flakes
fresh ground black pepper
sea salt 
2 – 3 pounds chicken cutlets*, or skinless pieces 
Measure oil into a liquid measuring cup.  Rinse lemon well and zest entire surface of lemon directly into the measuring cup.  (A microplane grater works well for this.)  You do not need to use organic lemon, but I like to, because you are using the entire peel.  Cut lemon in half and squeeze juice into olive oil-zest mixture.  Don't worry about removing the seeds, they will get discarded with the marinade at the end.
If you have time, you can chop fresh garlic.  If not, 1 tablespoon of jarred garlic, or 1 teaspoon of garlic salt or powder works fine.  Add herbs, dried, or fresh.  I like to go heavy-handed, so I use about 2 teaspoons (total) of dried herbs or about 1/4 cup of freshly chopped.  Oregano and Italian seasoning are my favorites, but feel free to use whatever your favorite savory herb combination happens to be.  If you have some fresh herbs growing, start using and enjoying them.  Thyme, rosemary, some basil?
If you want to add capers, chop them roughly and add them now.  Add several shakes of red pepper flakes and fresh ground black pepper.  Add sea salt, if desired, but omit this if you used garlic salt.  Stir well to combine.  Put chicken into ziplock bag(s), and pour marinade over, sealing bag well.  Turn bag over several times, to coat all sides of chicken.  Refrigerate for 4-6 hours.  More is better, but less will still be okay.  Remove from refrigerator at least 15 minutes before you are ready to grill.
Now, the good part.  Hand it off!  My husband will set fire to anything.  As long as I do the initial prep work, he is happy to take over the actual cooking duty.  No cooking, no dishes.  What's not to love?
*Whole chicken breasts cook more slowly, and as leftovers, they are harder to use.  You can buy chicken cutlets at the store or buy chicken breasts in bulk and cut them yourself.  I do this when I see chicken on sale, cutting into smaller pieces and freezing 1 pound portions into quart-sized ziplock freezer bags.  These are easier to defrost quickly and will let you adapt how much you defrost, which is good because it saves you time and money, and also lets you defrost a lot or a little, depending on how much you need.  There are good instructions for cutting a chicken breast into specific pieces on YouTube if you Google "How to Cut a Chicken Breast."