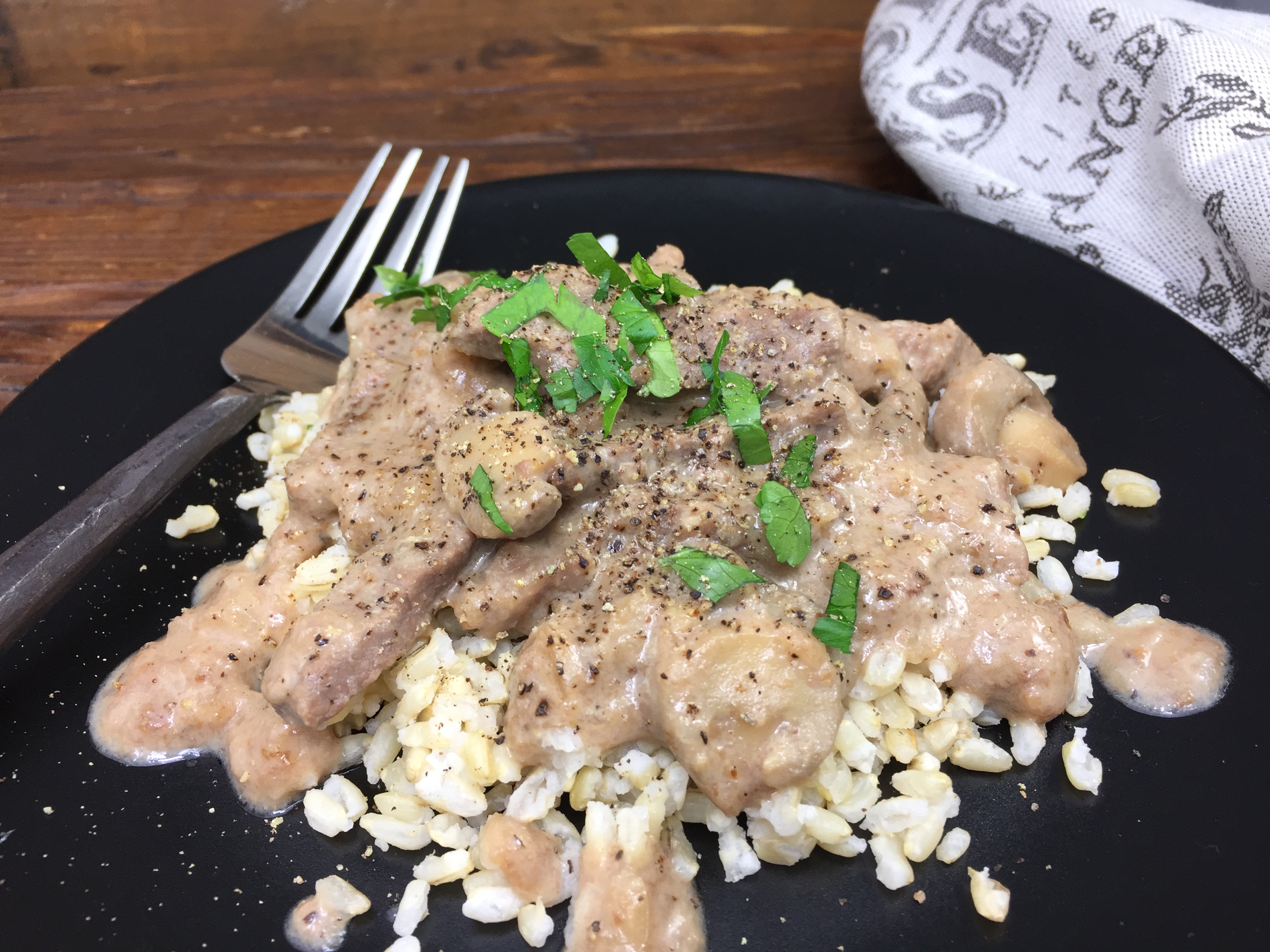 Sometimes you could use a little comfort.  Home cooked nostalgia goes a long way when you're stressed, even more so if it's made by someone who loves you and delivered to your doorstep.  Such was the case with a friend (okay… brother) this week.  There wasn't much else I could do, but I could show up with something hot and ready to eat and relieve him from having to think about at least one meal while he had his hands full with other things.  I owe him big time, because he's always got my back.  Dinner on the fly? No problem.
Beef stroganoff is one of his favorites.  As kids, we were always happy to see this show up on the dinner rotation.   Mom's beef stroganoff was delicious.  She always served it over a bed of rice, often wild rice, which gave it flair and made it feel adventurous.  I mean, who wants regular, plain old white or brown rice, when you can have "wild"?  It just sounds a lot more fun.
I never follow a recipe for stroganoff.  I make it the way my mom did, which it turns out is not only easy but very speedy.  Yes, you can make this a lot more complicated and time-consuming, but why would you?  Onion soup mix adds lots of flavor, and canned mushrooms are perfectly fine, not to mention a huge time saver in terms of slicing and cooking.  Here comes a very quick, comforting dinner, which is just what you (yes, you!) need right now.  I used two pounds of beef when I made this and you should, too, because leftovers are always a good idea.
Beef Stroganoff
2 pounds beef top sirloin steak, cut into thin strips
sea salt and freshly ground black pepper
2 – 3 tablespoons cornstarch
2 tablespoons vegetable or olive oil
2 cups water
2 envelopes onion soup mix
2  cans (4 oz. each) sliced mushrooms
1/2 cup light sour cream
white, brown or wild rice
Pat meat dry with paper towels.  Season with salt and pepper.  Dredge strips of meat lightly in cornstarch, adding more cornstarch if needed.  Heat oil in a heavy large skillet over medium high heat.  Working in batches, add meat in a single layer and cook until just brown on the outside. Transfer to large plate.  Add water to pan and stir, scraping bottom of pan to loosen brown bits.  Add 1 packet of onion soup mix, stirring to dissolve.  Transfer meat back to pan and reduce heat to medium.  Add mushrooms and let simmer, stirring occasionally, until sauce thickens, about 5 minutes.  Taste and decide if more seasoning is needed.  If so, add second packet of soup mix, just a bit at a time, to adjust flavor.  Turn heat to low.  Once stroganoff is just below simmering, gently stir in sour cream and let cook for several minutes.  Serve over warm rice.
Notes:
Buy meat when it's on sale and/or take advantage of buying bigger, family style portions, which are often cheaper. Cut into small stir-fry size pieces, and divide into one pound portions.  Wrap these in plastic wrap and store in a zip top bag in your freezer.  These are quick to defrost and ready to go.
I used cornstarch to dredge the beef to make this gluten-free
Leftover soup mix from second packet?  Stir into sour cream or yogurt and make onion dip.
Trader Joe's has a great onion dip mix.  No artificial ingredients.  Buy some to keep on hand for  quick dips and to add flavor to soups and stews.
If you need to make this dish ahead of time, turn heat to very low and hold off on adding the sour cream until right before serving.  Once you add the sour cream, you are ready to serve.  You can hold for a short time once the cream is added over a very low temperature, but be careful not to overheat or the sour cream will break down.
You can also serve this over warm egg noodles.
Retro's all the rage.   Stay tuned for more old school recipes…  Food you remember from when you were a kid.  Why?  Because it's just plain fun.   What is your favorite recipe from way back when?