Pumpkin Meatballs with Cinnamon-Sage Tomato Sauce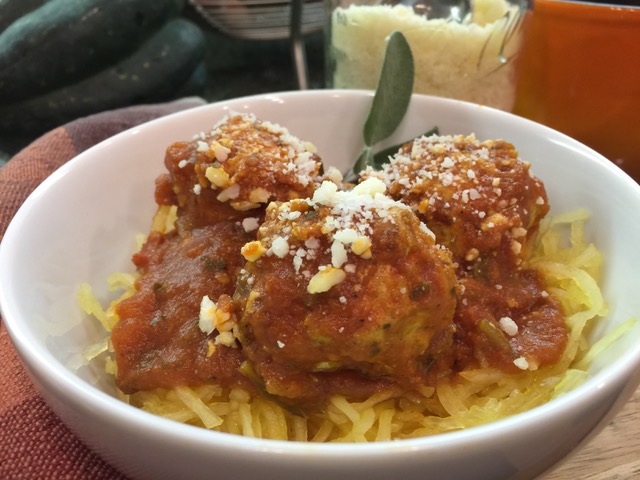 Noting feels better than a nice, warm bowl of something really good, made right at home.  You have mastered the spaghetti squash, now use those expert skills to make something new.  This recipe has super nutrition – squash, tomato AND pumpkin.  The meatballs are very easy to make, and if you make extra now, you can tuck them away in your freezer to pull out when the holiday frenzy overwhelms you.
I can't get enough pumpkin right now.  Pumpkin soup, pumpkin bread…  And once a can gets opened for a recipe, I look for ways to add spoonfuls of what's left to other things.  This recipe, from nutritionist Joy Bauer, does just that, adding pumpkin to both the meatballs and the spaghetti sauce, and making something really delicious in the process.
For well-blended meatballs, combine the pumpkin puree and spices in the bottom of your bowl, mixing well, then add the ground turkey and beaten egg and mix thoroughly.  The meatballs will be very loose and will look somewhat messy as you form them.  Don't let that concern you.  Baking them on a tray first helps them firm up and lightly brown on the outside, and then they will continue to cook as they simmer in the sauce.
If you're time crunched, you can take a shortcut and make pumpkin sauce by just adding 1/2 cup of pumpkin, a teaspoon of ground cinnamon, and a bit of water to your favorite jarred sauce.  If you have some fresh sage, you can add that, too.  Time permitting, follow Joy's recipe and make the sauce, but I can honestly say that it turned out every bit as good when I gave it a quick trial run with just the pumpkin and the cinnamon.
And don't just let that pumpkin hang out on your porch.  Eat it!  Pumpkins aren't just pretty to look at.   At just 80 calories per cup, pumpkin has more Vitamin A than a serving of kale, more potassium than a banana, and more keep-you-full fiber than a cup of quinoa.  There were so many varieties at the farm this year, it was really hard to choose.  I took home one of those odd, "peanut" covered French (Galeuse d'Eysines) pumpkins because they are supposed to be really good when cooked.  It's porch days are numbered, and I'm sure it will soon find its way into every imaginable thing you can add pumpkin to.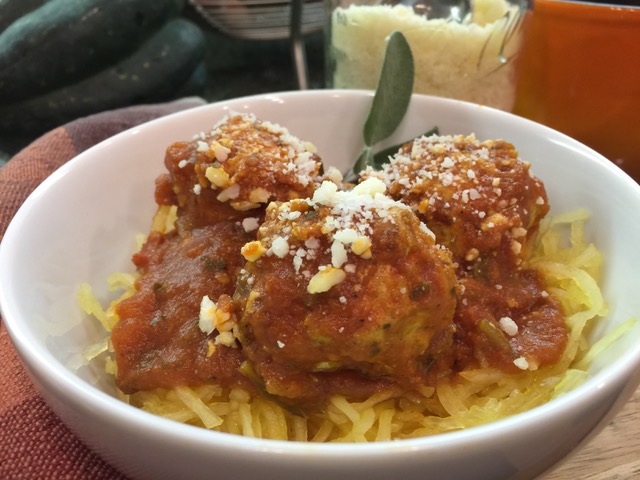 Pumpkin Meatballs with Cinnamon-Sage Tomato Sauce
1 1/3 pounds lean ground turkey breast
1 cup canned pumpkin puree
1 1/2 tablespoons chopped fresh sage
1 tablespoon brown sugar
1 1/4 teaspoons ground cinnamon
1 teaspoon salt
1/2 teaspoon black pepper
1/4 teaspoon ground nutmeg
1/4 teaspoon ground ginger
1/4 teaspoon garlic powder
1 egg, slightly beaten
Cinnamon-Sage Tomato Sauce, recipe follows
Spaghetti Squash Pasta, recipe follows, for serving
Cinnamon-Sage Tomato Sauce
3 cups reduced-sodium chicken or vegetable broth
One 24-ounce jar of your favorite tomato or marinara sauce
One 15-ounce can 100 percent pumpkin puree
2 teaspoons dried basil
1 teaspoon garlic powder
1 teaspoon ground cinnamon
6 fresh sage leaves, minced
Salt and black pepper
Crushed red pepper, optional
Spaghetti Squash Pasta
Preheat oven to 350º F.  Line a large baking sheet with parchment paper.  In a large bowl combine pumpkin puree, sage, brown sugar, cinnamon, salt, black pepper, nutmeg, ginger, and garlic powder, stirring to mix well.  Add turkey and egg and use a fork to combine thoroughly.  Refrigerate for at least 30 minutes to help firm.
Form turkey mixture into evenly sized, approximately 1.5-inch, meatballs, making about 22 in total.  Bake meatballs for 15 minutes on one side.  Carefully turn and bake for an additional 15 minutes.   Add meatballs to a pot of simmering Cinnamon-Sage Tomato Sauce.  Cover and simmer for another 10-15 minutes.  Serve with Spaghetti Squash "Pasta."
Cinnamon-Sage Tomato Sauce
Add broth, jar of sauce, pumpkin puree, basil, garlic powder, cinnamon and sage to a large pot and mix well.  Bring to a boil, then reduce heat and simmer, uncovered, for 15 minutes.  Taste and adjust seasoning with salt and freshly ground black pepper, and add some crushed red pepper flakes if desired.
Adapted from Pumpkin Meatballs with Cinnamon-Sage Tomato Sauce by Joy Bauer