Potato Salad with Old Bay and Potato Chips and Mexican Corn Salad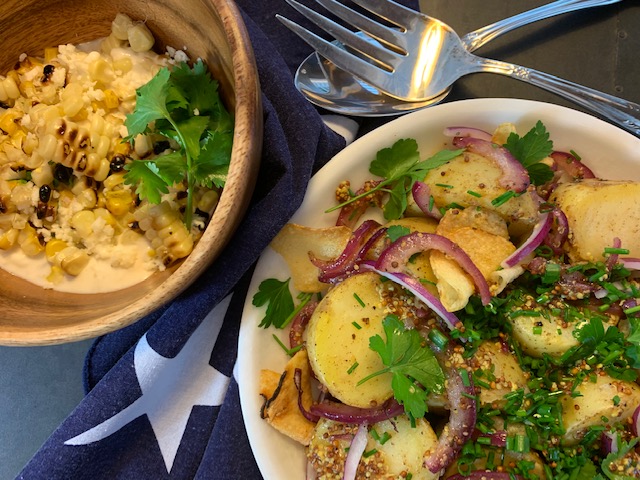 Hey, you, with the big barbecue plans.  Who's up for a Memorial Day cookout?  Unequivocally, the official start to the summer barbecue season, no pressure here, but you better get it right.  I will not tell you what should be gracing your grill for this all-important occasion, but here are some suggestions for some new and different sides to bring a little life to your party.  
Both of these fast, easy, make-ahead recipes are from bonappétit.com and they're a fun play on the traditional potato salad and corn on the cob standbys. The potato salad includes potato chips, which give it a surprising "ooomph." For maximum crunch and contrast, wait to add them until just before serving.  Also, just use half of the 1/4 cup apple cider vinegar.  You can add more, or not, after tasting, so it's just they way you like.  Old Bay seasoning…  besides the texture from the potato chips, it's what gives this salad bang. Buy some and you'll use it all summer long, anyplace that needs a little lazy summer flavor. The second side, Mexican Corn Salad, is an off-the-cob version of the State Fair favorite.  I used my go-to Vegenaise in this, and as usual, it delivered.  Making corn salad means you won't be juggling ears of corn while you have guests who would rather visit with you.  Trust me.  I know.  
Warm those potato chips on a foil-lined baking sheet in a 400º oven until the edges start to brown.  Serve some of these with onion dip (Yessss! Onion dip!) to get your party started.  Let the others cool and add them to your potato salad.  
Remembering and honoring all those who served, and wishing everyone a safe and happy Memorial Day.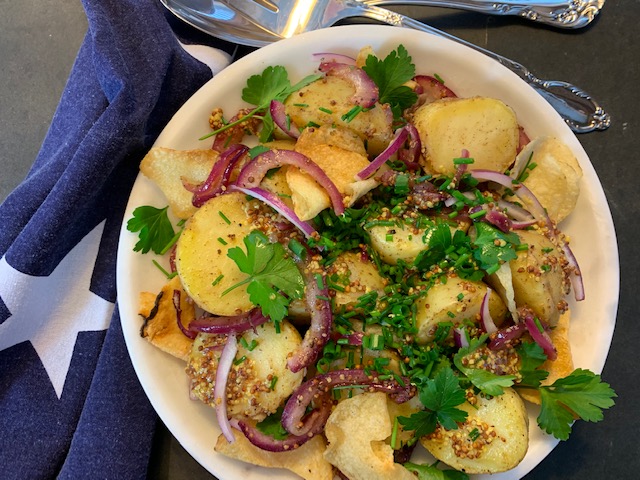 Potato Salad with Old Bay and Potato Chips
2 pounds small, waxy potatoes
Kosher salt
1/4 cup olive oil, plus more for drizzling
1 small red onion, thinly sliced
1/4 cup apple cider vinegar

 

1 tablespoon whole grain mustard
1 teaspoon Old Bay seasoning
1 teaspoon, or more, coarsely ground black pepper
pinch of cayenne pepper
2 cups kettle-cooked potato chips
1/4 cup coarsely chopped parsley
3 tablespoons finely chopped chives
Scrub and halve potatoes.  Place in a large pot, cover with cold water and season with salt.  Bring to a boil, then reduce heat to simmer and cook until tender, 15-18 minutes.  Drain and return to pot to cool and let dry out.
Heat 1/4 cup oil in a medium skillet over medium-high.  Add onion and season with salt.  Cook until soft, stirring occasionally, about 5 minutes. 
Transfer onion to large bowl and stir in vinegar, mustard, Old Bay, black pepper and cayenne.  Add potatoes, parsley and chives to vinaigrette and toss to combine.  Taste and adjust with more salt and pepper if needed.  Add potato chips before serving and drizzle with more olive oil.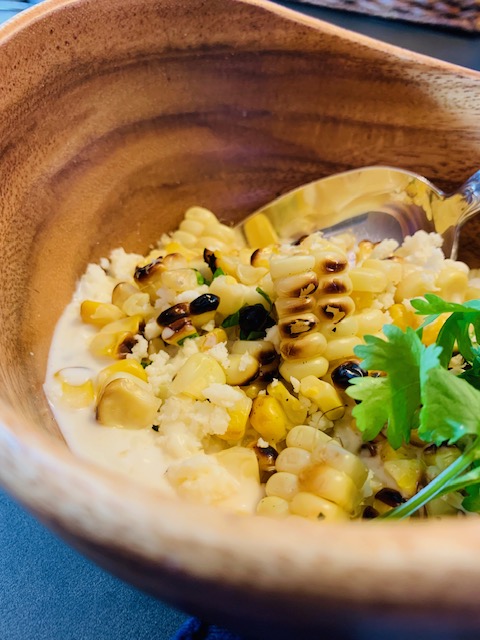 Mexican Corn Salad
4 ears of corn, husked
3 Tablespoons mayonnaise or Vegenaise
2 Tablespoons fresh lime juice
1/8 teaspoon paprika
dash cayenne pepper (optional)
2 ounces crumbled Cotija cheese (about 1/2 cup), plus more for serving
2 tablespoons chopped fresh cilantro

 

Kosher salt, freshly ground black pepper
Heat grill to medium.  Grill corn about 8 to 10 minutes, turning occasionally, until tender and charred.  Let cool slightly, then cut kernels from cobs.  
Whisk mayonnaise, lime juice, paprika, and cayenne In a medium bowl.  Stir in Cotija and cilantro.  Add corn and toss to combine.  Taste and adjust with salt and pepper, then top with more cheese and cilantro.