Peach Habanero Barbecue Sauce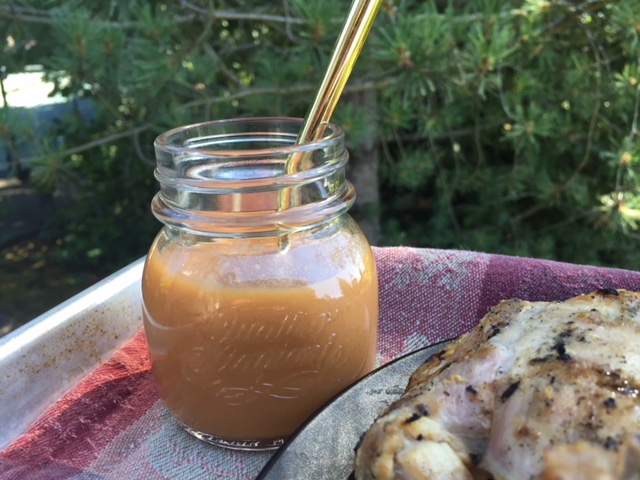 Run, don't walk, to wherever you can get your hands on some Walla Walla onions and fresh, juicy peaches.  I just happened to find both at Joe's Place Farms, but they are available at pretty much any farm stand or farmer's market, as well as your favorite grocery store right now.  This Peach Habanero Barbecue Sauce is a perfect taste of right-this-minute in the Northwest.   Most of the subtle sweetness comes from the peaches, but you can make it more or less so by adjusting the agave.  Habanero adds a bit of fire, which is a nice contrast to the peaches.  If spicy's not your thing, you can leave it out, but I recommend you try it.  I used a large jalapeño in place of the habanero, because that is what I had on hand.
Let all of the ingredients simmer on your stove while you clean up tonight's dinner dishes, transfer to a canning jar and refrigerate, ready for tomorrow.  Use it on whatever happens to be filling your grill, and tuck some in the freezer to gussy up something else another time.  It's easy and delicious and it's a great way to enjoy what's happening right now with some of our amazing Northwest harvest.
Peach Habanero Barbecue Sauce
1 tablespoon olive oil
1 medium Walla Walla (sweet) onion, diced
1 garlic clove, minced
1 habanero pepper, sliced in half lengthwise
1 tablespoon fresh grated ginger
1 large peach, pitted and diced small
1 1/4 cups water
1 heaping tablespoon tomato paste
3 tablespoons apple cider vinegar
2 – 3 tablespoons agave
Heat oil in large saucepan.  Add onions and sauté until tender, about 5 minutes.  Add garlic, habanero, and ginger.  Cook about 2 minutes more, until fragrant.  Add all remaining ingredients and bring to a low simmer, cooking for about 45 minutes.  Remove from heat and transfer to blender.  Blend until smooth.
– adapted from Johnson & Wales University recipe as seen in summer 2018 Live Naturally