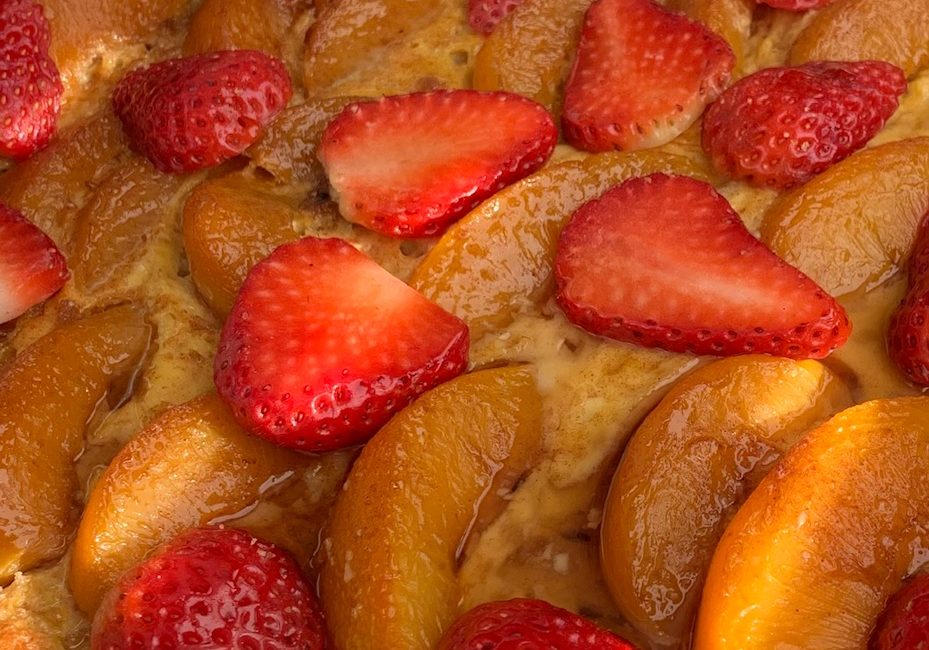 The sun is shining, the birds are singing – and you're exhausted. It's not your imagination. No week feels longer than the one following Daylight Saving Time. Make waking up a little easier with a bright, cheery breakfast. This Peach French Toast Bake is an easy prep, one dish, do-ahead that will help make things better. Simple to make in your sleep deprived state, tuck it into your fridge tonight, pop it into your oven in the morning and in 40 hands-free minutes you have yourself a perfect, spring-y breakfast. Top with a dollop of vanilla or plain yogurt, drizzle with a little maple syrup, and serve with a side of Canadian bacon or some breakfast sausages. See smiles? 
You can use baguette bread or sandwich bread, and you can certainly use gluten-free bread, as well. You will need enough slices of bread to fit snugly in a single layer of the bottom of your baking dish. How many slices will vary depending on your bread, but trim your slices and arrange them so that they work for your dish. Use a large liquid measuring cup to measure and mix the liquid ingredients. Start by measuring the milk, then add the eggs, egg whites, and vanilla. You can whisk everything together right in the measuring cup, then pour it directly into your casserole, dirtying only one dish and saving you some clean up time.
I used 2 cans of well drained peaches in this recipe, making good use out of what I had on hand. If you use fresh or frozen peaches, you may want to adjust the brown sugar to 3 tablespoons, but because the canned ones were in light syrup I only used 1 tablespoon. To brighten things up a bit, I added some sliced fresh strawberries just before serving.
Make good use out of what you have on hand. While you're spring cleaning, give your pantry a once over for canned goods that should be replenished or used soon. Plan a few recipes like the one below to use what you have and wake up to something good this week.
Peach French Toast Bake
nonstick cooking spray
whole-wheat bread, sliced (about 8 ounces)
1 cup low fat milk
4 whole eggs
4 egg whites
1 teaspoon vanilla extract
5 cups sliced peaces, fresh, frozen, or canned
1/2 lemon, juiced (about 1 1/2 Tablespoons)
1 – 3 Tablespoons brown sugar
1/2 teaspoon ground cinnamon
Spray a 9 by 13-inch ovenproof baking pan with cooking spray. Arrange bread slices in a single layer in the pan, trimming some of the slices if necessary so that bread covers entire bottom of pan. In a large liquid measure, combine milk, eggs, egg whites and vanilla; whisk together. Pour egg mixture evenly over bread in pan. In a medium bowl, toss peaches with lemon juice. Scatter peach slices evenly over top of casserole. Combine brown sugar and cinnamon and sprinkle over top. Cover and refrigerate overnight.
Preheat oven to 350º F. Uncover casserole and bake 40 minutes or until set.
– recipe by Ellie Krieger, foodnetwork.com