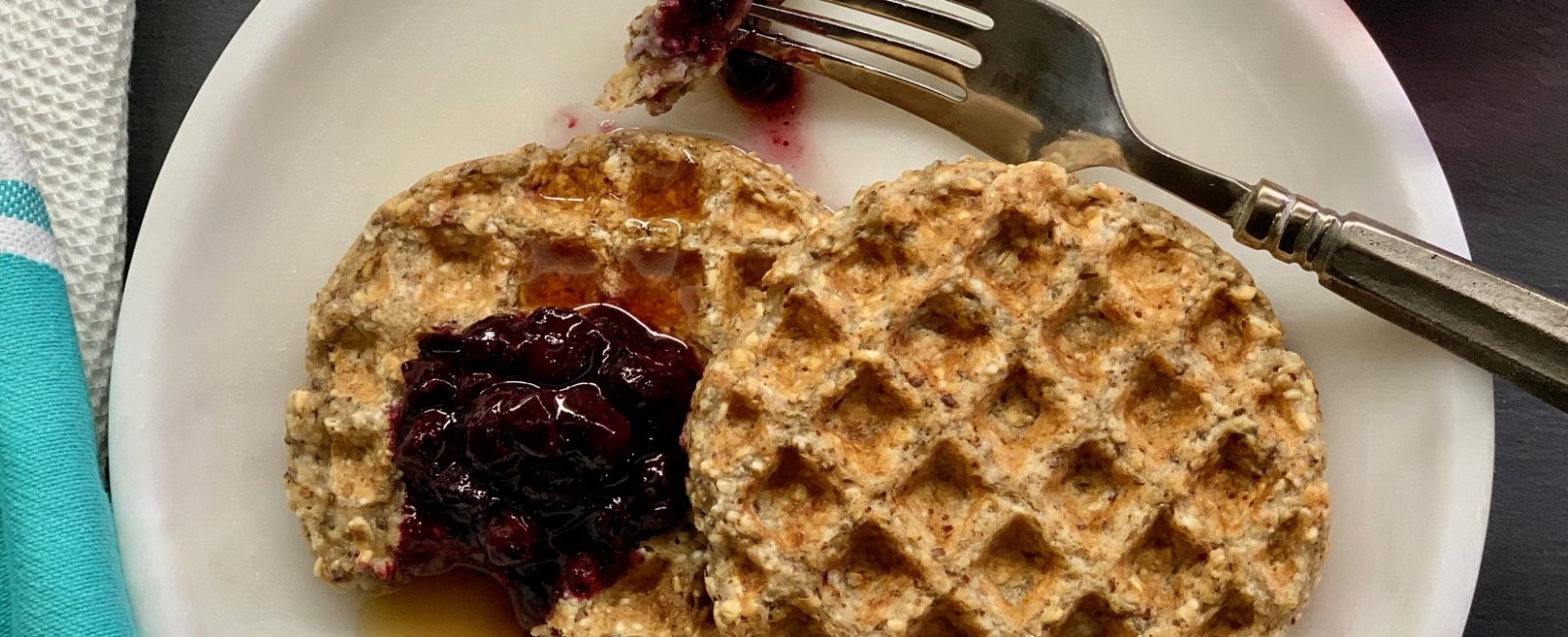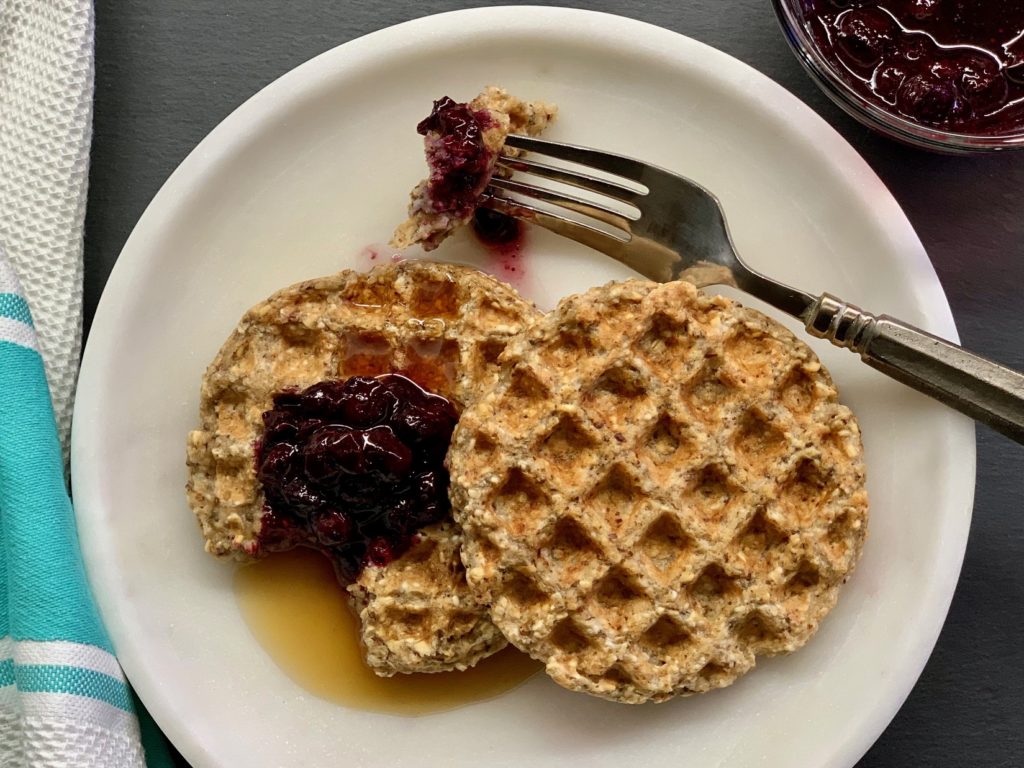 There is nothing quite like a waffle, fluffy and crisp, still piping hot, pulled fresh from the waffle iron. A guilty pleasure any time of year, a home made waffle is not just nice, it's what you need when it's oh so cold outside. These Oat Waffles make any day feel special. Made with whole grain oat flour, they're everything a waffle should be and more, because not only are they delicious, they are better for you. Very easy to make, they freeze well, too, so you can enjoy some right this minute and also keep a few on reserve to pop in the toaster on busy mornings.  
Yes, you can make the typical oatmeal out of oats, but think beyond the bowl. Economical and easy to keep on hand, you can use oats in lots of different ways. Grind them into flour, add them to veggie burgers, use them as a binder, or just bake with them. Oats are a great way to add protein, fiber and boost the nutritional value of all sorts of recipes. Half a cup of dry oats provides approximately 5 grams of protein and 4 grams of soluble fiber, the kind that can help lower your cholesterol, improve your blood sugar, and help you feel full longer. Although not a complete protein, oats contain higher quality protein than other grains like rice and wheat. To keep your oats at their best, store airtight in a cool, clean, dark and dry storage area. Once opened, your fridge or freezer is ideal, and space permitting, is a great way to store packaged oats, particularly if you are not using them quickly.
If you have food allergies or sensitivities, this is a great recipe. It's so simple and adaptable you can tailor it any number of ways to suit your needs. I made one batch using 1/2 cup steel-cut oats and 1 cup rolled oats, processing both into oat flour. I used 1 egg and 1 flax egg, coconut milk and coconut oil, but only 1 tablespoon, and used 3 tablespoons of applesauce instead. Because of the sweetness from the applesauce, I omitted the maple syrup altogether. I did not use cinnamon, but was generous with the vanilla. Result: amazing, delicious waffles.
I made another batch, again using 1/2 cup steel-cut oats and 1 cup rolled oats. To keep it plant-based, I used 1 flax egg and 1 chia egg. I used a plant-based milk made from peas, 1 tablespoon of coconut oil and 3 tablespoons of applesauce. Result: amazing, delicious waffles.
You can make amazing, delicious waffles, too. If you have old-fashioned oats you use for oatmeal in your pantry, you have oat flour in your house right now. For light, fluffy waffles stick to the rolled oats, but if you like the dense textured, nutty-taste of a multi-grain, try adding flax, chia, or steel cut oats. I made a quick blueberry compote using frozen blueberries, a spoonful of coconut sugar and just enough water to cover the bottom of the saucepan, heated to a boil and then simmered until thick, stirring often. Top your waffles with a smear of nut butter and a spoonful of warm compote and enjoy.
Oat Waffles
makes 8 waffles
1 1/2 cups oat flour*, certified gluten-free if necessary**
2 teaspoons baking powder
1/2 teaspoon salt
pinch of cinnamon (optional)
3/4 cup room temperature milk of choice (light coconut, nut milk, cow's milk)
1/4 cup plus 1 Tablespoon melted coconut oil, or 5 Tablespoons unsalted butter, melted
2 large eggs
2 Tablespoons maple syrup
1 teaspoon vanilla extract

 
In a large bowl, whisk oat flour, baking powder, salt and cinnamon. In a separate bowl, whisk milk, melted coconut oil or butter, eggs, maple syrup, and vanilla extract. Pour wet ingredients into the dry ingredients and stir just until combined. (Batter will still be a little lumpy.) Let the batter rest for 10 minutes; plug in waffle iron to preheat. Preheat oven or toaster oven to 200 degrees. Stir batter one more time, then pour into the center of waffle iron and close lid. Cook until waffle is golden and crisp and releases easily.  Transfer directly onto rack in warm oven or to a cooling rack. Do not stack. Repeat with remaining batter. Serve with warmed maple syrup.
Freeze in a single layer on a cooling rack. Once frozen, store in a freezer-safe zip-top bag. Reheat until warm in toaster or oven. 
*To make your own oat flour, measure 1 1/2 cups quick-cooking or old-fashioned oats into a food processor or blender and grind into a fine flour. Measure the flour again after grinding to be sure you have 1 1/2 cups.
**Oats are a gluten-free whole grain, but because there can be cross-contamination within the growing, harvesting and production process, be sure to use products that are certified to be gluten-free.  
– from Easy Gluten-Free Oat waffles, cookieandkate.com
Substitutions
for 1 egg:
flax egg: 1 tablespoon ground flaxseed mixed with 3 tablespoons water; let stand 5 minutes
chia egg: 1 tablespoon chia seeds mixed with 3 tablespoons water; let stand 5 minutes
egg replacer (mixed according to package directions)
3 tablespoons aquafaba (chickpea cooking liquid)
1/4 cup unsweetened applesauce, 1/4 cup mashed banana, or 1/4 cup pumpkin puree
2 tablespoons arrowroot powder mixed with 3 tablespoons water
2 tablespoons water mixed with 2 teaspoons baking powder plus 1 teaspoon vegetable oil
1/4 cup carbonated water
oil:
applesauce, ripe mashed banana, pumpkin or sweet potato, cooked and pureed, prunes, or veggie puree
butter or plant-based butter 
buttermilk, sour cream, Greek yogurt or mayonnaise