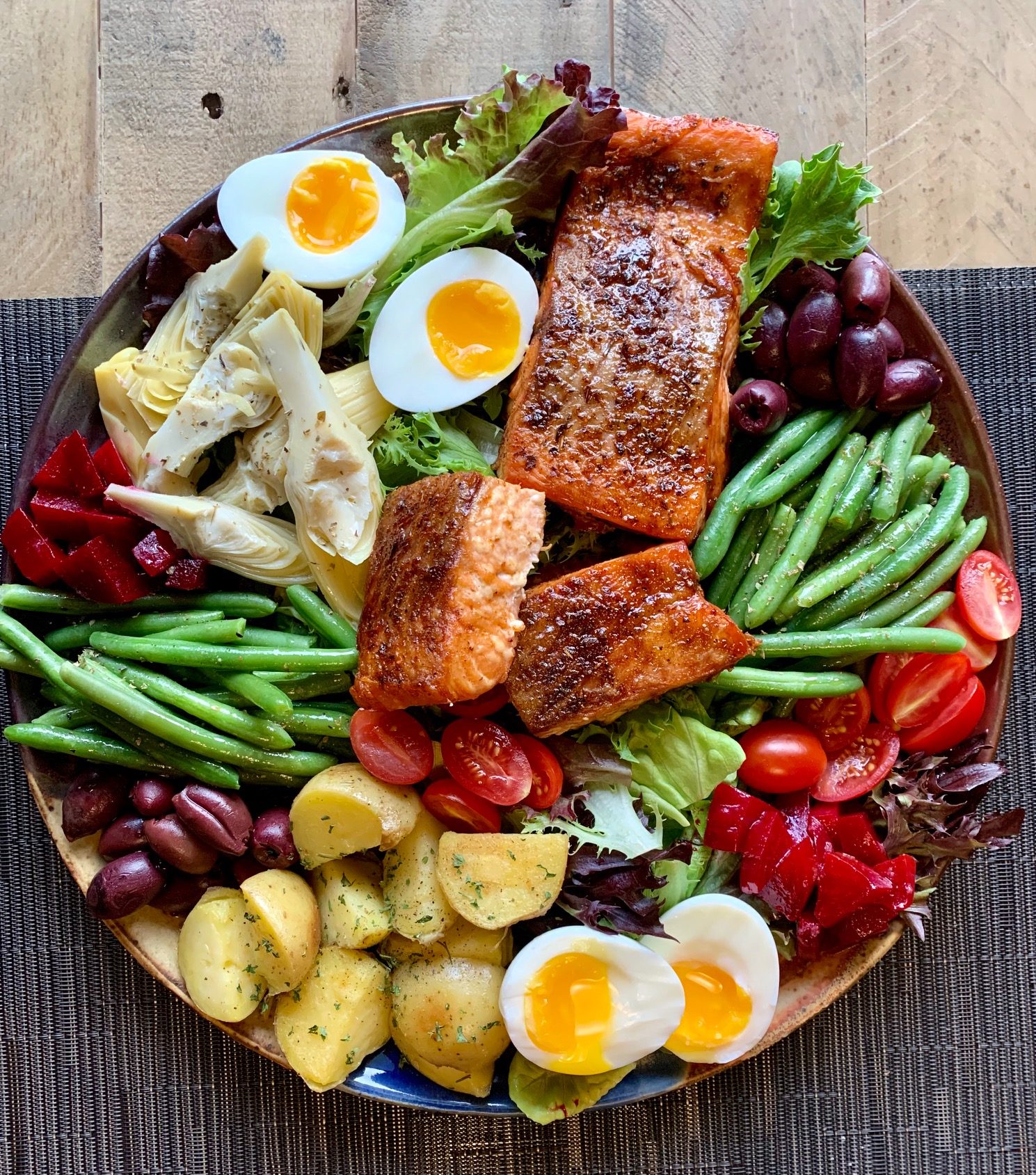 In these pandemic times, shopping, cooking, and planning have the added challenges of out of stock, expired, and someone ate it. The green beans you are hoping for from the market are gone. Your pantry yields a can of something way past its prime. Or, maybe someone ate the very last of whatever it was you were saving for tonight's dinner. When in doubt, Niçoise! It's a clever fix for tonight's dinner, or tomorrow's lunch, no matter what you have on hand.
There is much debate and controversy about what ingredients should or should not be in a Niçoise salad. Don't take it too seriously. The more relaxed you can be, the more options you will have. Take creative license with the traditional ingredients and give yourself permission to make the most of what's bright and beautiful at the market. Scan your fridge and pantry. I am guessing you have some intriguing possibilities that could spell Niçoise. 
Use fresh, steamed green beans if you have them, or consider steamed zucchini or squash.  Feel free to add in roasted peppers, marinated artichoke hearts, or whatever your heart desires.Canned tuna is ok. So is cold, sliced chicken, or chilled shrimp. Or, add portions of cedar planked salmon for some Northwest flavor. 
Making extra of everything means less cooking later. Steam extra green beans for tomorrow's dinner. Boil extra potatoes to rewarm for breakfast or to make potato salad. Cook extra eggs to have on hand for snacks. 
Toss fresh field greens or delicate Boston or Bibb lettuce with the Cilantro-Lime Vinaigrette below. Add some crumbled salty cheese like queso fresco or feta and some roasted pumpkin seeds and offer along with your Niçoise salad. 
Northwest Niçoise 
yukon gold potatoes, quartered
jammy eggs

 

olive oil
sea salt and freshly ground black pepper
parsley, fresh or dried

 

green beans, lightly steamed
dried Italian seasoning
kalamata olives
grape tomates
artichoke hearts
sliced fresh beets
cedar planked salmon
Cover potatoes with cold water and microwave on high, 10 minutes, or until fork tender. Put steamer basket or egg insert and 1 cup of water in Instant Pot and add eggs. Set to high pressure for 3 minutes, then quick release. Immediately dunk into ice bath for 5 minutes, then peel. Drizzle potatoes with olive oil. Sprinkle with sea salt, freshly ground black pepper and parsley.  
Drizzle green beans lightly with a little olive oil. Sprinkle with sea salt, freshly ground black pepper and Italian seasoning. Arrange all ingredients for salad on platter. 
for salad:
fresh field greens
queso fresco or feta
roasted pumpkin seeds
Cilantro-Lime Vinaigrette
1/4 cup plus 2 Tablespoons fresh lime juice

 

1 garlic clove, smashed
2 teaspoons garlic powder

 

1 teaspoon kosher salt
3/8 teaspoon ground coriander
1/4 cup plus 2 Tablespoons extra-virgin olive oil
3 Tablespoons chopped fresh cilantro
Combine all ingredients in a covered jar and shake well. Toss field greens with cilantro-lime vinaigrette, queso fresco or feta, and pumpkin seeds.  
– Cilantro-Lime Vinaigrette adapted from Gourmet, September 2000