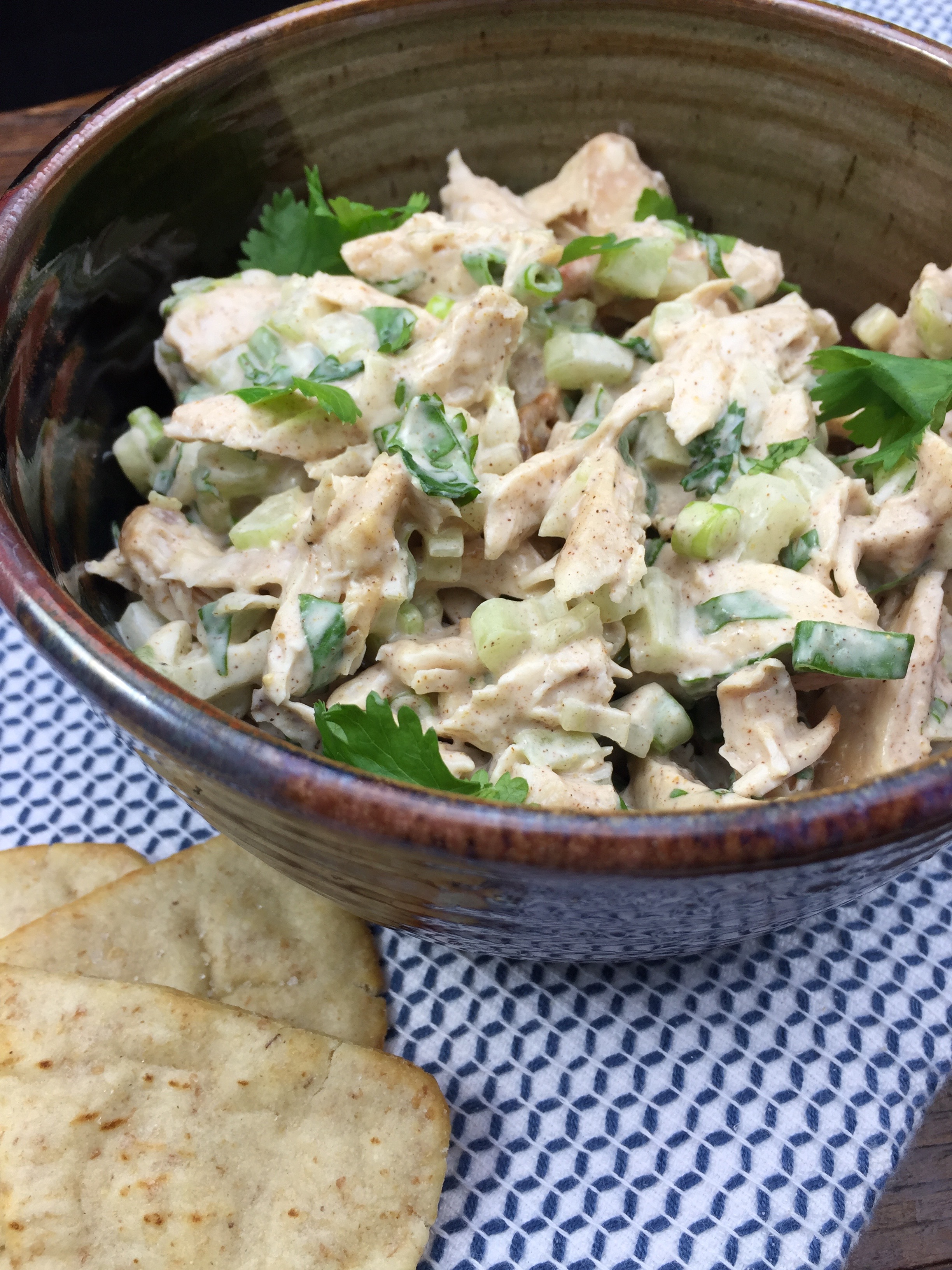 June 18th is International Picnic Day!  I love the idea of a picnic.  So much that I gave my husband a picnic basket as a gift.  We were newly married, and he looked very puzzled.  I don't think he thought it was what he wanted.  This basket has only been on one actual picnic.  It has spent most of it's sad life in our storage area, and has served mostly as fodder for jokes when we go in search of a suitcase or a box of holiday decorations.   I have been teased mercilessly about it.  Despite this, I still think about picnicking.  I have a spot picked out by the Columbia River, and if the weather doesn't cooperate, I am ready at a moment's notice to spread a blanket on the family room floor.
Here is a chicken salad recipe you can use all summer long.  It is from Gwyneth Paltrow's new cookbook, It's All Easy.  I must admit to being a little hesitant about the spices. but you shouldn't be.  It was just plain delicious.  You could use leftover chicken, or shredded rotisserie chicken.  It calls for Vegenaise, but you could substitute mayonnaise, or yogurt, if that suits you. I only used 4 of the 6 tablespoons of Vegenaise the recipe called for, thinking I could add more if needed, but decided it was fine with less.   I also tried it without the agave nectar.  Still good.   You could definitely make use of all the fresh mangoes in the grocery stores right now by serving this with some sliced mango, or by adding some small chunks of fresh mango right into the salad.
The instructions say to combine all the ingredients in a large bowl and mix well, but mix the dressing ingredients together in a small bowl first.  I think this small change is a good one, because it will help the spices distribute evenly.   Also, you can wrap or not.  Serve it straight out of the bowl, with some pita chips, spread it on bread, or how about using the lettuce leaves as a wrap?  Very cool…  Especially if you don't have any wraps and just happen to have some romaine.
Here is the recipe, as it appeared in Gwyneth's It's All Easy.  And, if you ask me, it's all really good, too.  So, go grab your picnic basket.  It's time!
Moroccan Chicken Salad Wrap
  Makes 2 large or 4 medium sized wraps
2 cups shredded cooked chicken (about 1 breast)
1 celery stalk, finely diced
2 scallions, sliced
2 tablespoons chopped fresh cilantro
1/2 teaspoon ground cumin
1/4 teaspoon ground cinnamon
1/4 teaspoon ground coriander
6 tablespoons Vegenaise, or more to taste
1 tablespoon freshly squeezed lemon juice
1 teaspoon agave nectar
salt and freshly ground black pepper
  To Assemble:  
4 tortillas, chia lavash, or your favorite wrap
4 to 8 romaine leaves, or 1 small handful of arugula
To make the chicken salad, combine all the ingredients in a large bowl and stir well.  Season with salt and pepper to taste.
To assemble, lay out the tortillas.  Arrange the romaine on the tortilla, top with chicken salad, and wrap.