Maple, Bacon and Pecan Brie Bites and Crab Rangoon Dip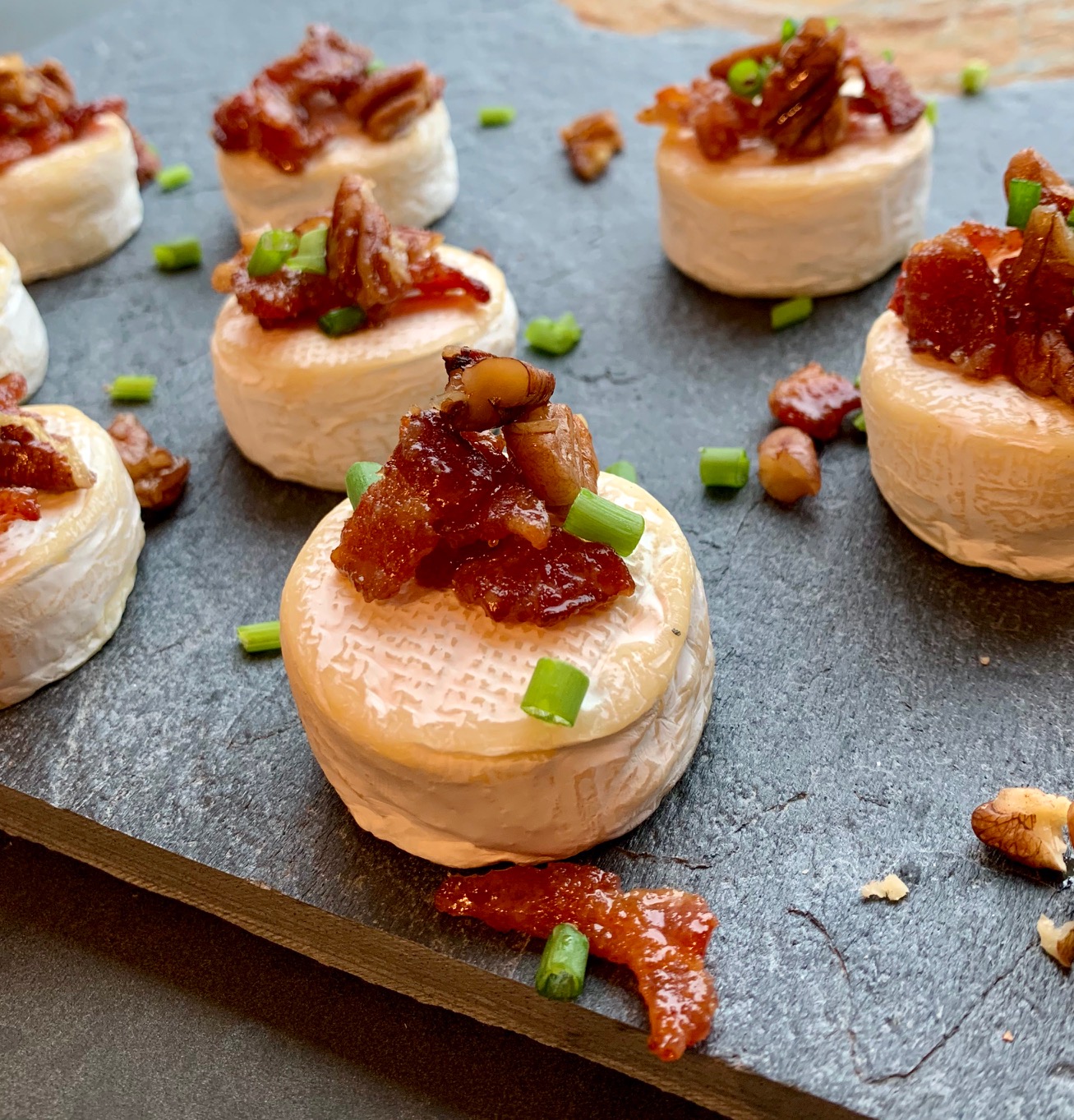 What's better than one recipe? Two recipes, of course! There is still plenty to celebrate and many gatherings to go right up to that big finish of 2019 – New Year's Eve. The holidays are all about family, friends, and food and here are two easy appetizers you can make for all the mix and mingle left to come. 
These Maple, Bacon and Pecan Brie Bites are a snap to make. Portion controlled and neat to eat, they're a fun size spin on the traditional holiday baked brie that will stay nicely plated until you notice they're all gone. These are great for the last minute because you can make the maple, bacon, pecan mixture ahead of time and then gently re-warm it. The brie bites can be plated ahead, too. Place them on an oven safe serving platter, then cover and refrigerate. When you are ready to serve, warm them briefly in the oven, then top with the bacon and pecan mixture.  Warm them just sightly, being careful not to warm them too much or they will become too soft and will lose their shape. This recipe would also work with warmed apricot, fig, or cherry jam swapped in for the maple syrup. You can find individually wrapped mini brie in the cheese section at Trader Joe's. 
Recipe two is an easy to make Crab Rangoon Dip. Just like the popular appetizer you can get at your favorite Chinese or Thai restaurant, but minus the wonton wrapper and without the deep frying. You can serve this at room temp or just slightly warmed with rice crackers, fried wonton skins, or vegetables for dipping. Feel free to use lump crab meat, instead of the imitation one, in this recipe if you like. If you do use lump crab meat, this recipe is gluten-free. You can lightly warm this in a 250º oven, or in the microwave, using 50 percent power for 30 second intervals until slightly warm.
Wishing you happy, healthy, safe celebrations and a wonderful new year.
Maple, Bacon and Pecan Brie Bites 
10 mini (0.9 ounce each) Brie wheels
1/2 cup cooked bacon, chopped
1/3 cup chopped, toasted pecans
2 Tablespoons maple syrup
1 – 2 teaspoons brown sugar

 

sliced scallions, for garnish

 
Preheat oven to 250ºF. Unwrap brie bites and place on oven safe serving platter. Transfer to oven and bake until warm, about 3 minutes. 
Combine bacon, pecans, maple syrup and brown sugar in a small saucepan and warm over low heat until well coated and glazed. Top warmed brie bites with maple mixture. Sprinkle scallions over all to garnish and serve.
– adapted from recipe as seen on Food Network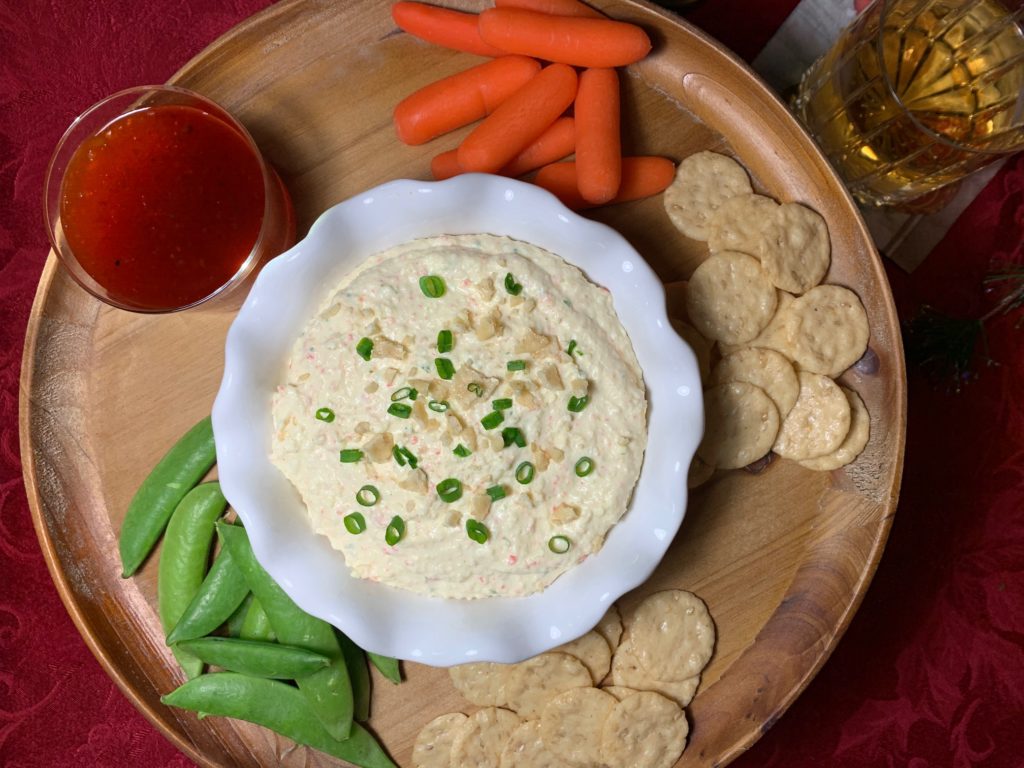 Crab Rangoon Dip 
2 8-ounce packages light cream cheese, room temperature
3 Tablespoons milk
1 1/2 cups imitation crabmeat

 

2 Tablespoons chopped scallions, green part only
2 Tablespoons finely grated carrot
pinch salt

 

sweet and sour sauce
rice crackers, wonton skins, cut vegetables – for dipping

 
In mixing bowl of food processor, combine cream cheese and milk and pulse until smooth and creamy. Add crabmeat, scallions, grated carrot, and salt and pulse until thoroughly combined. Transfer to serving dish and garnish with scallions and crumbled rice cracker. Serve with sweet and sour sauce and rice crackers, wonton skins, and cut vegetables for dipping.