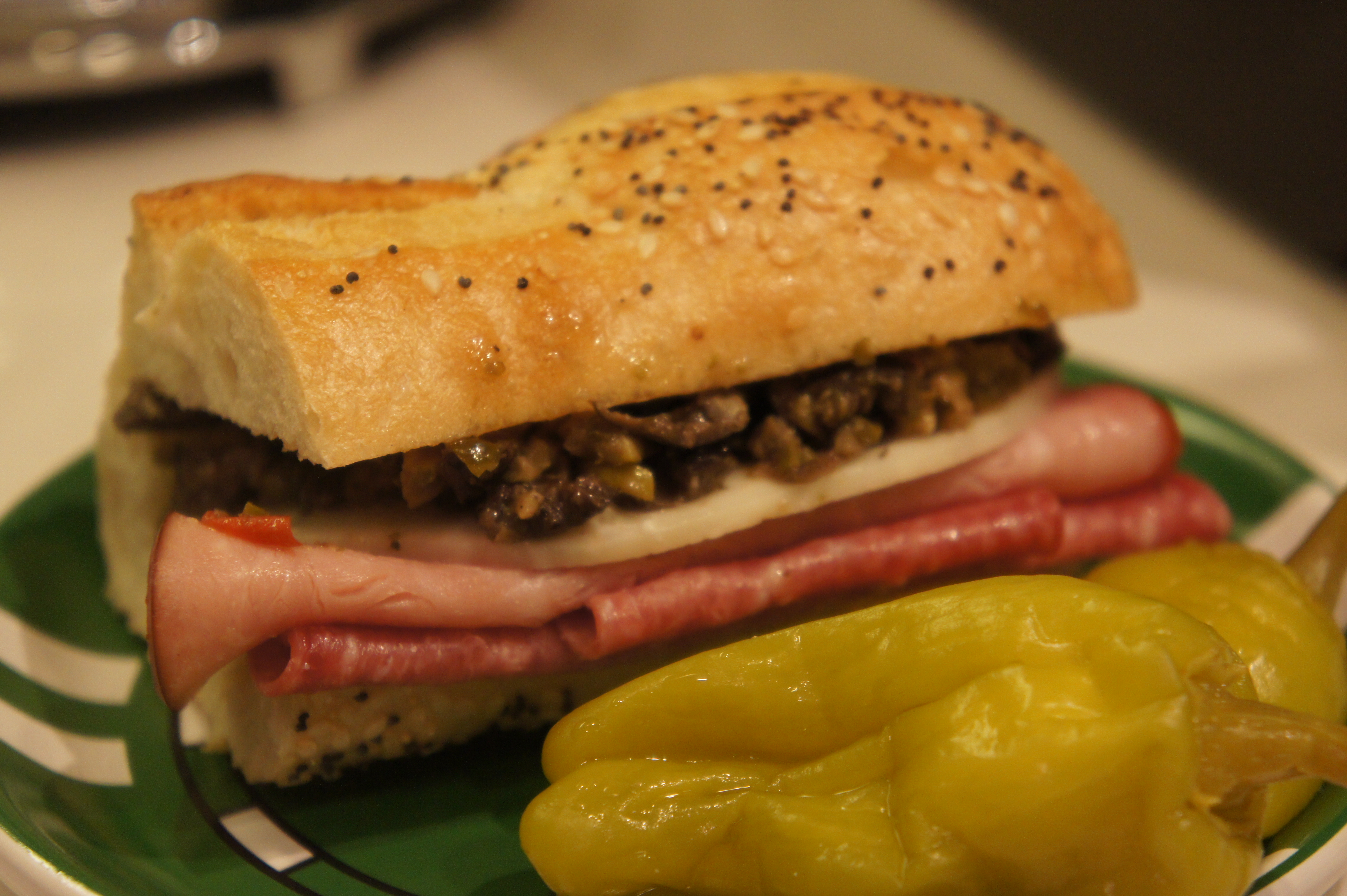 It is not too late to join in the Fat Tuesday celebration.  If you have ever been to New Orleans, you know what it's like to miss it, but even if you haven't you can have a little taste of it right here at home.  If you can slice bread, you can make a Muffuletta.  These popular sandwiches are well known in New Orleans, and people travel from all over the world to stand in the huge line at Central Grocery to get one.  Their sandwich is made on a giant, round, seeded bread and stuffed so full with meat, cheese, and olive salad that it is hard to eat.  You can stop by the deli on your way home tonight and be in the full swing of Mardi Gras tomorrow.  Best of all, these travel.  So if your Tuesday night will be spent away from home, you can make these ahead and celebrate wherever you happen to be.
Here is what you need:
deli meat:  salami, ham or capicola
Provolone cheese slices
seeded bakery bread with a good crust
mixed, chopped olives from deli olive bar
olive oil and red wine vinegar
jar of roasted red peppers
jar of Peperoncini peppers
Cut up one roasted red pepper and add to the chopped olives.  You can stir in a Tablespoon of olive oil and a teaspoon of vinegar (optional) which will help to hold the olives to the bread and give it some flavor.  Slice bread in half.  Layer salami, ham, and/or capicola with provolone cheese on bottom half of bread.  Spread olive mixture on top half.   Garnish with Peperoncini peppers.
A few notes:
To make this sandwich healthier, I used seeded, whole grain baguette bread.  I also used an Olive Tapenade from Trader Joe's that you can find in the refrigerated section, but the deli tapenade works fine.  You can also turn this recipe into a Muffuletta salad by using mixed greens dressed lightly with Italian vinaigrette.  Top with chopped meat and cheese and add several spoonfuls of the tapenade around edges of bowl.  I have also substituted roast beef for the deli meats, and this makes a really good sandwich or salad, too.  Also, there are some places in New Orleans that serve these hot, so you could wrap your sandwich in foil and heat in a 350 degree oven to warm.