Make-Ahead Blackberry Oatmeal Blender Pancakes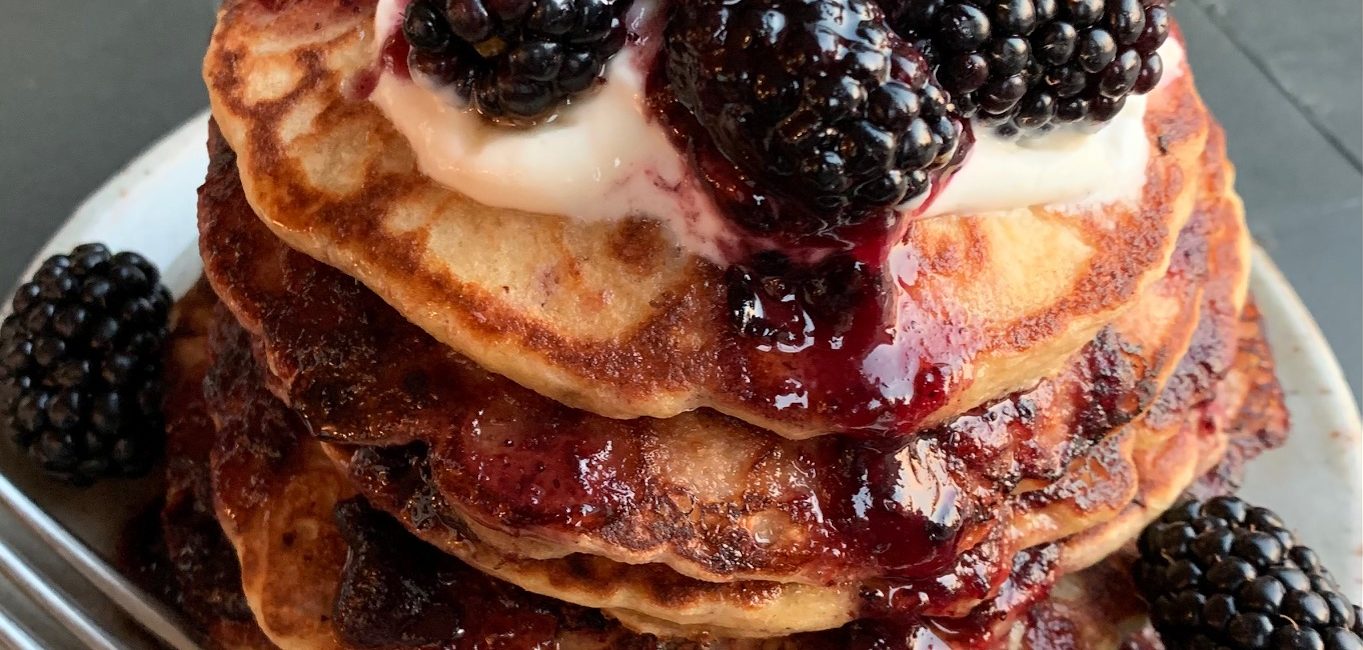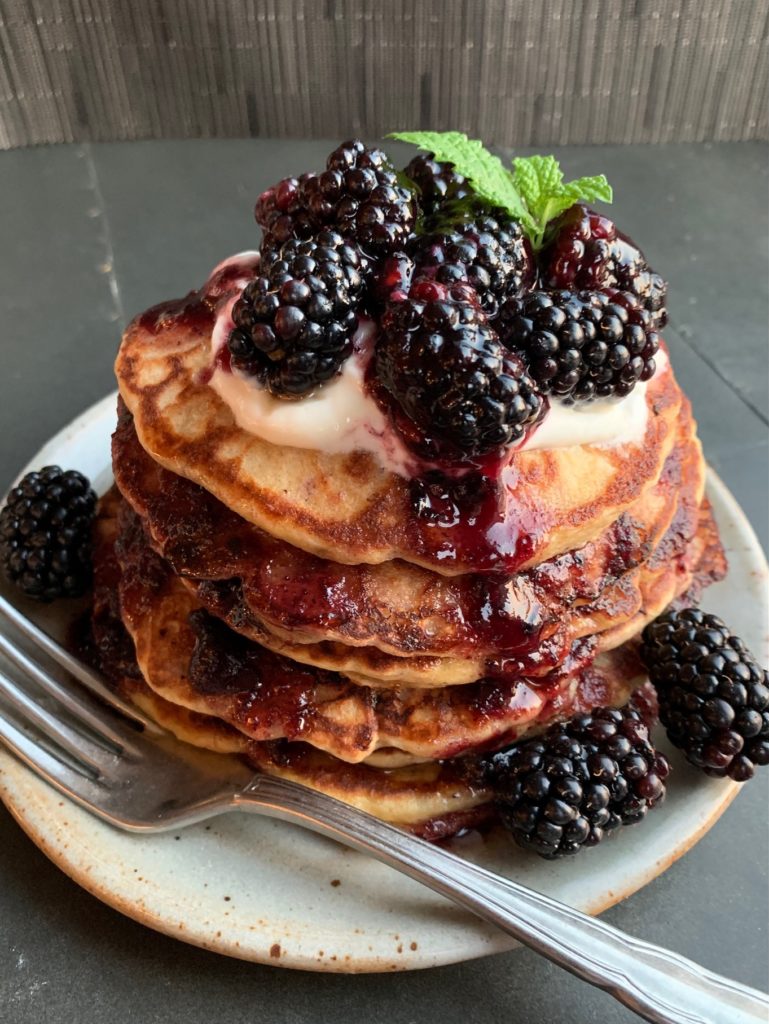 Ahhhh, September. The sweet convergence of pickles, pies, and pumpkins. Want to make someone happy? Feed them. Nothing says I love you quite like a home cooked meal. Show some extra kindness to your family and ease those back-to-school mornings with a healthy breakfast. Start by stirring up the fun this weekend with these Make-Ahead Blackberry Oatmeal Pancakes. The easy oat batter comes together quickly in your blender so you can enjoy a leisurely breakfast right now and simplify the coming week as well. 
For another quick option, you can't beat overnight oats. Made in 8 ounce mason jars, this makes four individual, self-serve portions that are great for grab and go. Measure 2 cups your choice of milk (I used oat) into a Pyrex liquid measure. Add 2 tablespoons honey, agave, or any sweetener you like (I used maple syrup), 1 teaspoon sea salt, and 1/2 teaspoon vanilla extract. Stir together, then microwave for 1 minute at 50 percent power. Spoon 1 tablespoon chia seeds into each jar, then add 1/2 cup rolled oats.* Pour warmed milk over oats, dividing evenly between all of the jars. Cover with lids and refrigerate overnight. Let everyone top their own with fresh bananas, berries or other fruit, toasted nuts or seeds, peanut butter, shredded coconut, or granola. Easy!
Celebrate the weekend with some home made pancakes. Spread the love! 
Make-Ahead Blackberry Oatmeal Blender Pancakes
2 cups old-fashioned rolled oats
3/4 cup full fat plain Greek yogurt, plus more for serving
3/4 cup whole milk
2 large eggs
2 Tablespoons unsalted butter, melted and cooled to room temperature
1 Tablespoon vanilla extract
1 Tablespoon baking powder
1/4 teaspoon sea salt
2 packages (6 ounces each) Driscoll's blackberries, divided
1 Tablespoon maple syrup, plus more for serving

 
Add oats to blender. Blend on high until oats become a fine powder. Add 3/4 cup Greek yogurt, whole milk, eggs, melted butter, vanilla extract, baking powder and sea salt. Blend on low speed until smooth, scraping down inside of blender as needed. Set batter aside and let rest 5 minutes.
Combine 1 package blackberries and 1 tablespoon maple syrup in a medium bowl. Mash blackberries until they are evenly broken down; set aside.
Heat a large nonstick skillet over medium heat. Coat skillet lightly with vegetable oil or nonstick spray. Using a 1/4 cup measure, scoop out batter. Spoon 1 teaspoon blackberry mixture into batter and swirl with spoon. Pour batter onto hot skillet; cook until bubbles begin to form and remain on surface of pancake, 2 – 3 minutes. Flip pancake; cook 1 – 2 minutes longer until pancake is golden brown and cooked through. Repeat with remaining batter. Serve immediately with remaining blackberry mixture, whole blackberries, maple syrup and a dollop of yogurt. 
Make ahead: Separate pancakes with sheets of parchment paper. Store in an airtight container, refrigerated up to 3 days or frozen up to 3 months. Reheat in warm oven or toaster oven. 
–  recipe by the feedfeed from driscolls.com
*Note: Use your canning jar funnel to quickly and neatly fill your jars. Keep it in your kitchen drawer year-round. It works on bags, too.