Lemon Lush and Lemon Ricotta Cookies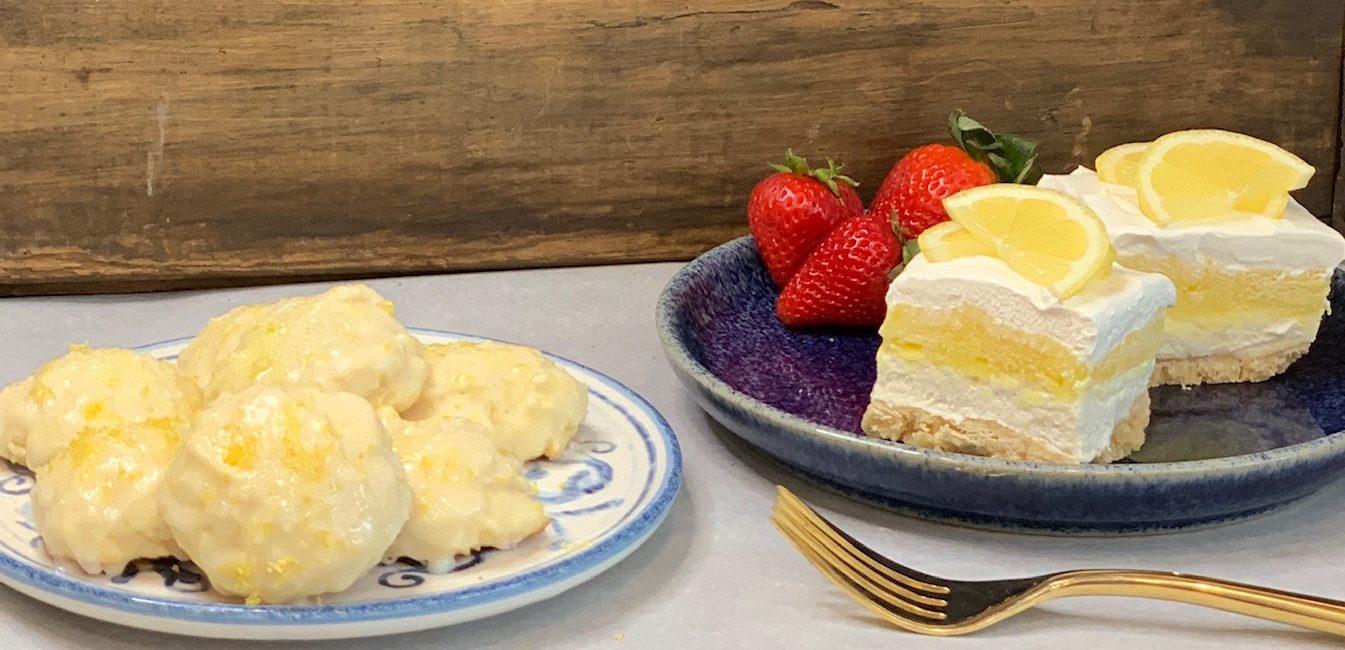 Sweetly glazed carrots, oven-roasted asparagus, cheesy scalloped potatoes …  I want it all. Oh, and don't forget the buttery rolls, be they hot-cross or crescent, or the beautifully braided bread. Easter is almost here, and it's time to celebrate! 
This Lemon Lush is a lovely way to end your meal. It's old-school and impressive looking but it can be our secret that it's easy to make. A no-bake layered dessert, a lush usually contains some sort of press-in crumb crust, a pudding filling, and whipped cream. This recipe adds a tangy cream cheese layer for an extra dose of delicious. Cut the recipe in half and make a smaller size, like I did, using an 8 x 8-inch baking pan instead of the 13 x 9-inch one.
I used frozen whipped topping in place of the whipping cream. No need to add sugar, just defrost your whipped topping and fold it into the pudding. You can make this gluten-free by using gluten-free vanilla sandwich cookies, and dairy-free by using any alternative milk, cream cheese and non-dairy whipped topping. For nice, even layers don't rush: each layer needs time to chill and fully set before you place the next component on top. 
Lemon Ricotta Cookies are a simple and delicious soft Italian cookie, just perfect for spring time celebrations. You can make them ahead and refrigerate or freeze, and they're great for sharing, too. Their tender, cake-like texture is moist and fluffy, and the flavor is a lemon lover's dream. You will need one large lemon, and since you will be using the zest as well, use organic if possible.
Weigh your flour for an accurate amount, or spoon it lightly into a measuring cup. Most store-bought ricotta will not need to be strained, but if your ricotta seems wet, strain it before using. The dough needs to chill for at least 2 hours before baking, so give yourself plenty of time. Bake until cookies feel just a little springy when you press on them. For my oven, this was 13 minutes. After you remove them from the oven, leave them on the baking sheet for another 5 minutes and they will firm up further. 
Sneak a chocolate egg or two. Make a mimosa and brunch it up. Enjoy every bite and celebrate!
Lemon Lush
1 (19.1-ounce) package cream-filled vanilla sandwich cookies, crushed (about 4 1/2 cups)
1/2 cup butter, melted
2 (8-ounce) cream cheese, softened
2 teaspoons lemon zest
3 Tablespoons fresh lemon juice
1 1/2 cups powdered sugar, divided
3 cups heavy whipping cream (or whipped topping)
3 cups whole milk

 

2 (3.4 ounce) lemon instant pudding mix
lemon slices, for garnish
Coat a 13 x 9-inch freezer-safe baking dish with cooking spray, then line with parchment paper. Stir crushed cookies and melted butter in a large bowl until combined. Press firmly into bottom of prepared baking dish in an even layer. Freeze about 10 minutes, or until firm. 
Meanwhile, beat cream cheese, lemon zest and juice and 1 1/4 cups of the powdered sugar in a large bowl with an electric mixer on high speed until fluffy, about 3 minutes. Place heavy whipping cream and remaining 1/4 cup powdered sugar in a large bowl; beat with mixer on high until stiff peaks form, about 2 minutes. Fold 1 cup of whipped cream into the cream cheese mixture. Spread mixture over crust; freeze about 10 minutes, until set. 
Whisk milk and pudding mix in a large bowl until smooth and thickened, about 2 to 4 minutes. Spread pudding over cream cheese mixture. Chill until pudding sets slightly, about 15 minutes. Gently spread remaining whipped cream over pudding. Chill, covered, until firm, at least 4 hours or up to 24 hours. Garnish with lemon slices. Store, covered, in refrigerator for up to 4 days. 
-southernliving.com   
 Lemon Ricotta Cookies
2 cups all-purpose flour (286 grams)
2 teaspoons baking powder
1/2 teaspoon salt

 

1/2 cup unsalted butter, softened
1 cup granulated sugar
1 teaspoon lemon zest
1 cup whole milk ricotta (drained if needed)

 

1 large egg
2 Tablespoons lemon juice
Lemon Glaze
1 cup powdered sugar
2 Tablespoons lemon juice
1 teaspoon lemon zest
Line a cookie sheet with parchment paper or a non-stick baking mat; set aside. Combine flour, baking powder and salt in a small bowl; set aside. Using an electric mixer, beat butter, granulated sugar, and lemon zest in a large mixing bowl until light and fluffy, about 2 minutes. Add ricotta, egg and 2 tablespoons of lemon juice; mix until combined. Add flour mixture and mix until just combined. Cover cookie dough and refrigerate for at least 2 hours. 
Preheat oven to 350º F. Use a cookie scoop to measure out about one tablespoon of batter. Place on prepared cookie sheet, leaving about 2 inches between cookies. Bake 12-14 minutes or until bottom of cookies start to brown slightly (the cookies will not change color much). Cool on pan for 5 minutes before moving to wire rack to cool completely.
To make glaze, combine powdered sugar, lemon juice and lemon zest in a small bowl and whisk together. Holding cookie upside down, dip top into glaze then transfer to a wire rack and let dry completely. Repeat with remaining cookies. Let glaze set completely before storing. Store airtight, refrigerated up to 1 week, or frozen, up to 1 month. 
-thisitaliankitchen.com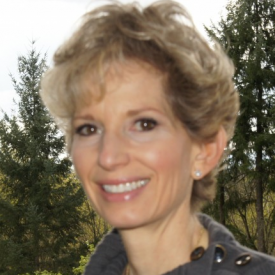 I love to cook, garden, and write about all the things in Vancouver and the Northwest that make life so great.