Leftover Turkey Waldorf Salad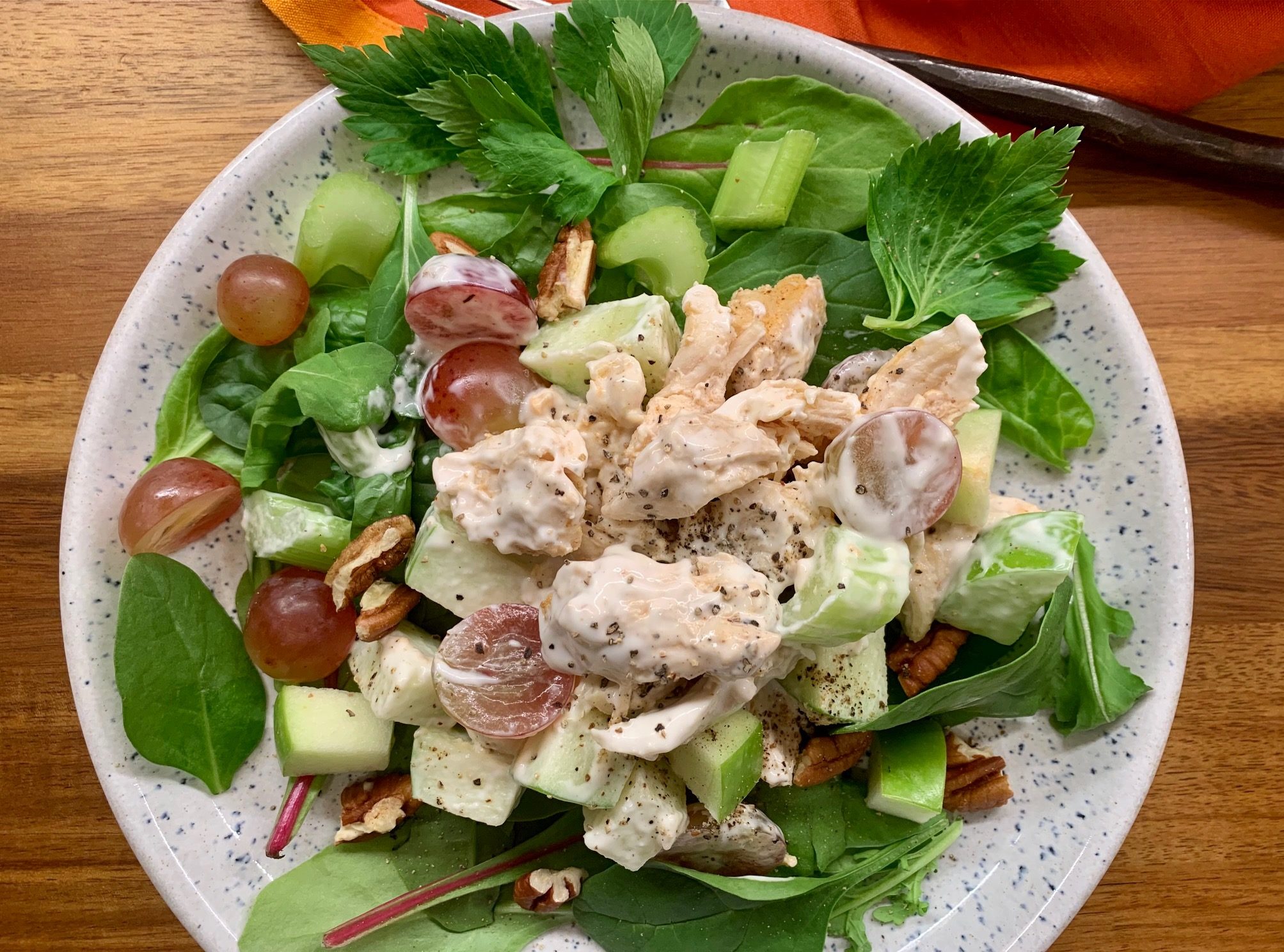 There truly is no place like home. While we all prepare for the day that celebrates food and family best, we may only be gathering in spirit. Loved ones may be near or far, or may only be with us in memory, but the love in our hearts is strong. Our gatherings may be virtual, but we can still raise a glass, be grateful for what we have and be hopeful that the next year will be better. 
Your side dishes are on point and your pies are in a row. Here is a delicious smoothie to keep you feeling festive as you pull it all together. Filled with immunity boosting ingredients, it's delicious and good for you, too. Toss some extra squash in the oven to roast. Cubed, it's a side dish or a nice addition for your salad. Whole, you can scoop it out and make soup, or try it in this smoothie.
Toss 1 cup roasted squash in your blender along with 1 cup of your milk of choice. Add a generous handful of ice, half of a frozen banana, 1/4 cup Greek yogurt and 1 teaspoon cinnamon or pumpkin pie spice. Optional add ins: grated fresh ginger, a scoop of granola, a spoonful of honey, some peeled orange segments or a tablespoon or two of oats, flaxseed, or chia seeds. Blend on high speed until smooth. Tastes like pie, but it's better for you. 
If you are lucky enough to have leftovers, take things in a fresh, new direction with this Leftover Turkey Waldorf Salad. Dice turkey and toss in a tangy, slightly sweet dressing with slices of tart Granny Smith apple, sweet grapes, crunchy walnuts, celery and dried cranberries. Serve over a bed of fresh greens for a lighter way to enjoy a taste of all those holiday favorites. 
The traditional Waldorf dressing gets a little zip and some added protein from Greek yogurt. You can use regular or reduced fat mayonnaise, but the whole-milk yogurt really helps give the dressing its body and creaminess. Start with a tablespoon of honey and adjust the sweetness to your liking. You could use diced pear in place of the apple if you like, and pecans are a nice swap for the walnuts. 
However you may gather, a safe, healthy, happy Thanksgiving to you. Now on to the eggnog: this year, with an extra shot of rum. 
Leftover Turkey Waldorf Salad
1/4 cup mayonnaise
1/4 cup whole-milk plain Greek yogurt
1-2 Tablespoons honey

 

2 Tablespoons fresh lemon juice

 

1/4 teaspoon kosher salt
1/8 teaspoon black pepper
1 cup diced leftover turkey
1/2 cup seedless red grapes (about 12) halved

 

1 cup sliced celery, plus chopped leaves, if desired
1/2 cup chopped toasted walnuts or pecans
1/4 cup sweetened dried cranberries
1 Granny Smith apple, chopped
mixed greens
Combine mayonnaise, yogurt, honey, lemon juice, salt and pepper in a medium bowl and whisk together. Add turkey, grapes, celery, walnuts, cranberries and apples and lightly fold to combine. 
Chill at least 1 hour. Serve over greens. 
– adapted from recipe by Ayesha Curry, Sweet July – Holiday 2020 
– smoothie by Joe Sevier, Epicurious