Kugel – A Sweet Dish for Spring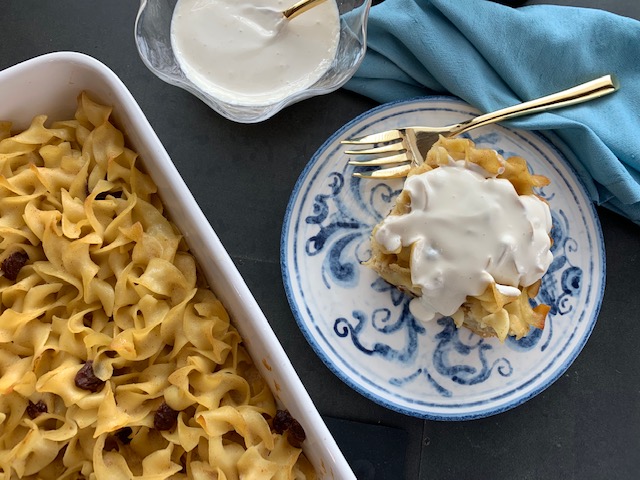 This week it's all about Kugel.  I am not Jewish, but I was a Rabbi's secretary.  It was 1989, the synagogue was close to home, and the 9 to 5 hours made it easy for me to type term papers while my husband was in graduate school. Every day was something new and it was one of the best jobs I've ever had.  I made arrangements for brises and bar mitzvahs, scheduled meetings for the Rabbi, and did light bookkeeping.  I learned new words in Hebrew, and kept on my toes memorizing Jewish holidays, but what I loved most of all was setting up the huge trays of food for the Friday night Shabbat service.  Big, braided loaves of challah, fruit plates, and the most heavenly bagels with lox, cream cheese and capers.  I would finish my desk work early on Fridays, then spend the rest of the afternoon cutting and arranging all the food that would be shared that night.
Then there were the meals and food gifts that people were bringing in for the Rabbi.  Desserts, dinners, lunches and so forth were frequently passed through me for the Rabbi's family.  Many of the women were very good cooks.  A lot of them were also nice enough to share their recipes.  So while I learned how to set up a chuppah, I also learned how to make kugel, and that is where I discovered this recipe.
Traditionally, I made this in the fall for Sukkot, but now you can buy noodles that are kosher (also gluten-free), making it a good dish for Passover.  There is more than one way to make kugel.  It can be savory or sweet.  Sometimes it includes cream cheese, cottage cheese, or sour cream, but it always includes egg noodles, eggs, and butter.   Some cooks add a crunchy cornflake topping, some use a graham cracker bottom.  You can serve it hot, cold, or at room temp.  You can also make this ahead and freeze it, wrapped tightly, which is especially nice when it comes to preparing for holidays.
I soaked the raisins in a cup of hot water for about 20 minutes and then drained them before I stirred them into the applesauce.  This made them soft, plump, and juicy.  And go heavy handed on the vanilla and cinnamon.  I always use more than the 1 teaspoon of each that the recipe calls for.  But what makes this recipe really different is the lightly sweetened sour cream topping, which is simply sour cream sweetened with a bit of sugar.  The woman who shared it said she sometimes topped the entire kugel with it, "frosting" it before serving, or she would serve it alongside.  I have such sweet memories of the time I spent working in that synagogue.  I have a lot of good recipes, too.
Kugel
1 lb. wide egg noodles
1/4 lb. butter, cut into 1/4 inch slices
5 eggs
1  24 ounce jar applesauce
1/2 cup sugar
1/2 cup raisins
1 teaspoon vanilla
1 teaspoon lemon juice
1 teaspoon cinnamon
sour cream, sugar to lightly sweeten (optional)
Preheat oven to 350º F.  Lightly butter (or non-stick spray)  a 13 x 9 baking dish.  Boil egg noodles according to package directions, 6 minutes, or until al dente.  While noodles cook, break eggs into a large bowl.  Lightly beat eggs then add all remaining ingredients (applesauce through cinnamon).  Drain noodles and add butter, stirring gently until butter melts and coats noodles.  Add buttered noodles to applesauce mixture in bowl and stir lightly to combine.  Pour into baking dish.  Cover and bake for 1 hour.   Let cool.  Cut into squares and serve with lightly sweetened sour cream.