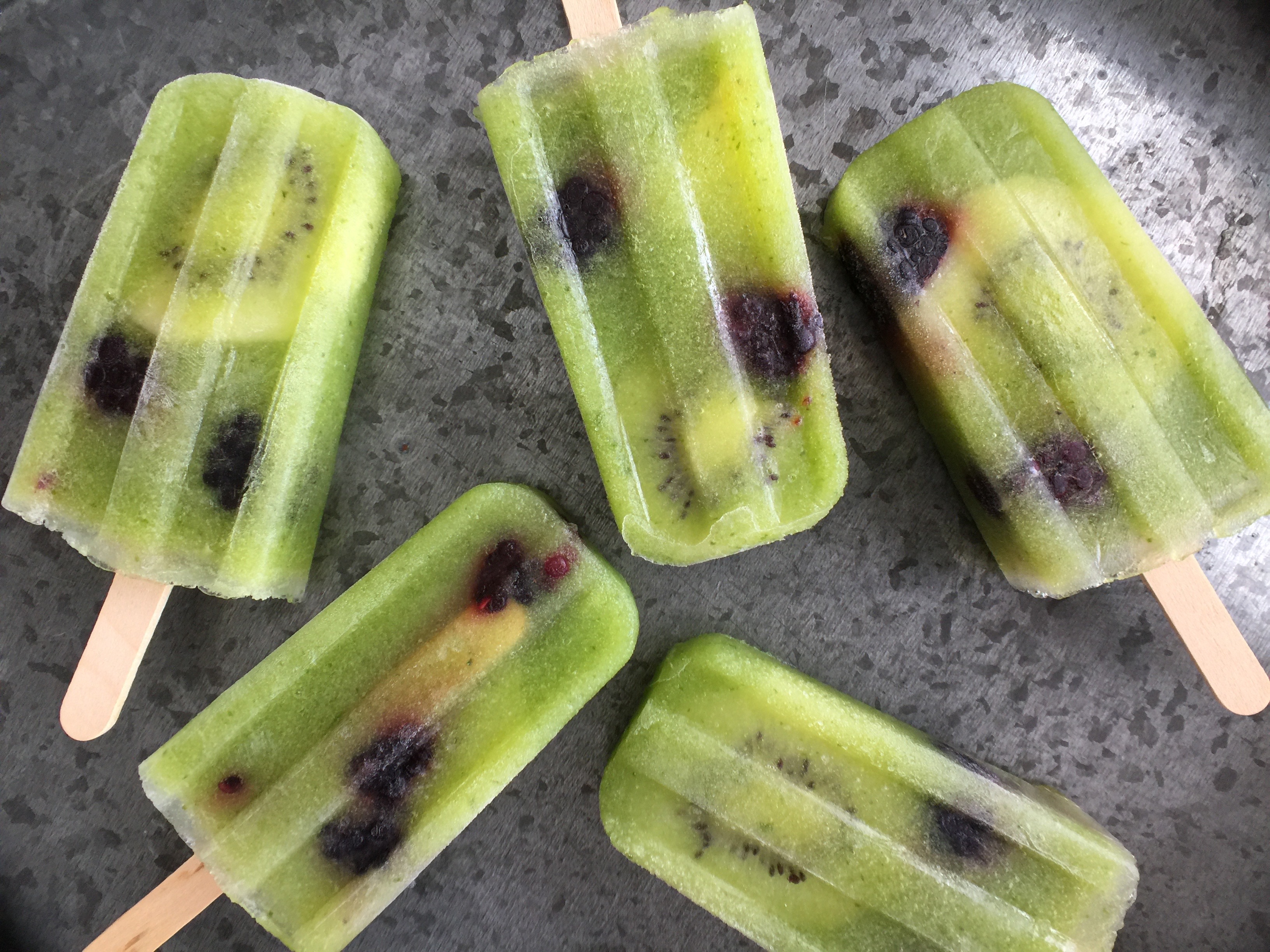 Our heat wave continues.  Add to that some smoke and poor air quality and you may be feeling a little parched.  Manage the effects of all this by rehydrating with something cool and soothing.  There's a reason they say cool as a cucumber.   Cucumbers are 95.2 percent water.  They contain potassium and magnesium, Vitamins C, K, and B,  and antioxidants.  All good for you when trying to counteract the effects of the heat.
The original recipe, from Real Simple magazine, had 1/2 cup of added sugar.  I omitted it altogether to keep mine just cucumber juice and fruit.  Taste the juice and lemon mixture first, then decide if you want to add a bit of honey, agave, or maybe some apple or white grape juice, which is fine to add if you want a bit of sweetness.  You can also add other fruit to your pops.  I used a few blackberries and some small pieces of pineapple along with the kiwi.   The original recipe called for peeled cucumbers, which you can certainly do.  But for a nice dose of insoluble fiber, leave the peel on.  If you are doing this, buy organic.
Kiwi-Cucumber Pops
2 English cucumbers, cut into chunks
1/2 lemon, juiced
1/4 cup water
2 kiwis, peeled and thinly sliced
blackberries, pineapple chunks (optional)
Combine cucumbers, lemon juice and water in blender and puree until smooth, adding a little more water a bit at a time, if needed.  Divide mixture among 10 3-ounce pop molds, filling about halfway.  Add 2 kiwi slices and a few blackberries and pineapple chunks to each mold.  Fill with additional cucumber juice, if needed, leaving about 1/2 inch of space at top of molds.
Insert sticks and freeze until firm, at least 4 hours, and up to 1 week.  To unmold, dip molds in cold water to soften very slightly.  Transfer unmolded pops to parchment lined baking sheet and store in freezer until ready to serve.