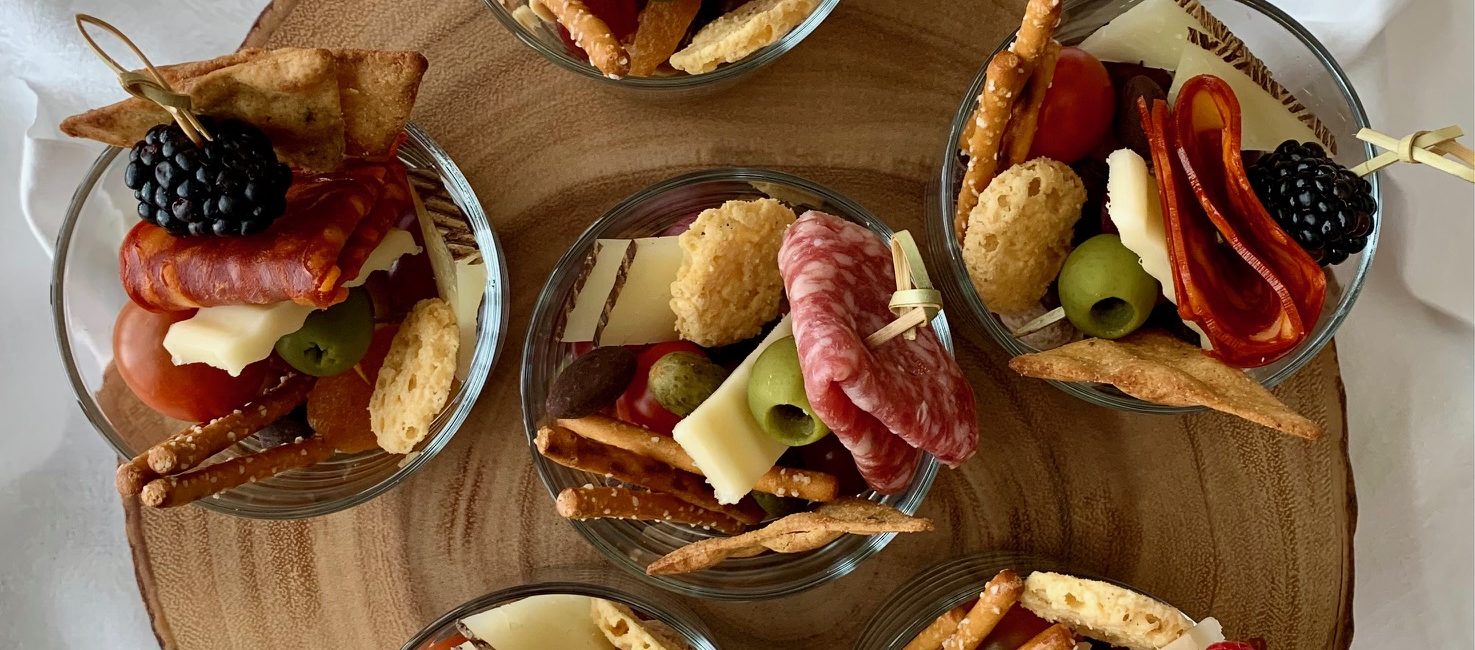 School is almost out – summer is deliriously close. The pantry has been cleaned, really cleaned, several times over. Ditto the fridge. Your kitchen is organized and you have many meals behind you. Remember how wonderful it felt to know you were going on a field trip? Hopefully, your permission slip is signed because this week we are taking a night off from cooking…  and we're going outside! 
It is awfully hard to pack up a charcuterie board but jarcuterie are good to go. These cute little jars are a fun and easy, single-serve way to take everything you love about a charcuterie board and make it portable. Gather some small jars or glasses and let's get started.
First, make sure everything is thoroughly rinsed and thoroughly dried. You don't want any moisture on the fruit or vegetables making the nuts or crackers in the jars soggy. Start by rinsing the berries and veggies and setting them out on a paper towel lined cooling rack. Pat the olives dry and set them on the rack as well, then set aside while you work on the rest of your filler.
Think variety. Mix up shapes, sizes, textures, colors and flavors. Triangle shaped crackers, bright red tomatoes, tart, briny cornichons, and sweet berries give your jars interest. Use a firm cheese, like Manchego, for the cheese slices. For the cubes, you can go with a cheddar or Jarlsberg. Pick a theme. Spanish cheese and ham, olives and Marcona almonds, or Italian salami, cheese and prosciutto. You can use just about any kind of snack item, just as long as it's something you like. 
Get personal. Tailor the jars to their recipients, taking note of things like food preferences and allergies. You can cater to specific diets and also ensure that someone who is allergic doesn't end up ingesting something they shouldn't.
Build your jarcuterie. Fill bottom of jars with nuts, grapes, dried fruit and cheese cubes. Skewer meat, cheese, olives, pickles, and berries onto picks and add to jars. Tuck in additional dried fruit, cheese slices or chocolate. Add crackers, pretzels and garnish.
You can make your jarcuterie a day ahead. Transfer them to a tray so that they're easy to move, then store them lightly covered with plastic wrap in your fridge. Wait until just before serving to add crackers and pretzels so that they stay crisp. Finish with a sprig of fresh herbs like rosemary, thyme or sage, or garnish with an edible flower. 
Enjoy the beautiful day. Take these to the park, out on your deck, deliver to a friend or just make one for yourself. Here's a quick list of fun possibilities for making some cute little jars of your own.
Jarcuterie
nuts, seeds and/or peanuts
grapes
dried fruit

 

cheese cubes
veggie slices – carrot, snap pea
cherry tomato
crackers, breadsticks, or flatbread
pretzels
potato chips

 

cheese slices
chocolate
meat – salami, prosciutto, ham

 

olives
cornichons, or other small pickles
fruit – berries

 

fresh herb sprigs or edible flowers