Italian Meatballs and Spaghetti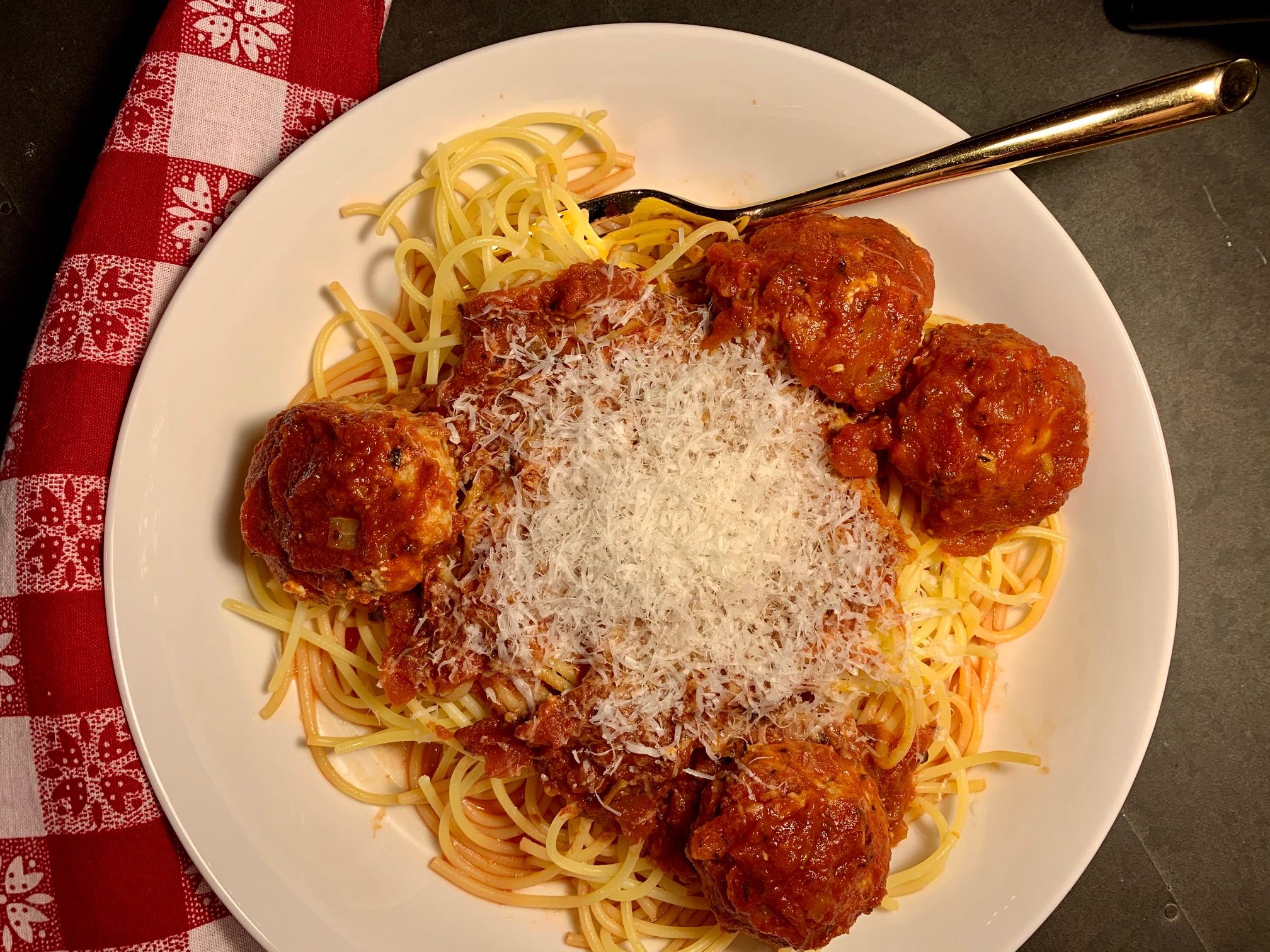 What could be more heartwarming, or romantic, than that tender Disney scene: two dogs sharing a plate of spaghetti? Recreate the magic with an easy Valentine's dinner you can make at home – spaghetti and meatballs made and shared with the ones you love. 
Simple enough for beginners and perfect for cooking with your kids, meatballs are fun and easy to make. Using jarred marinara sauce is a fast option, but if you have home made sauce, by all means use it. While the water boils and the sauce warms, the meatballs are cooked:  first, in the oven, and then finished in the sauce, yielding a moist, tender, perfectly cooked meatball. 
Use ground turkey that is a mix of light and dark meat for a lower fat content and the best flavor. You could also use 90-93% lean ground beef in this recipe. I use finely chopped shiitake mushrooms in place of breadcrumbs to give the meatballs lots of flavor, boost their nutritional value, and make them low carb and gluten-free. If you have a mini food processor, it works well  for this. And don't add salt. There is plenty of of it in the Parmesan cheese. Use clean hands and remove your rings, or use food handling gloves when you mix and roll your meatballs.
Double or triple this recipe and make extra. Freeze cooled meatballs evenly spaced on a parchment-lined baking sheet and then transfer to freezer containers, with a label and date, so they're ready to go for another meal. 
Love is in the air! It's a beautiful night. Make spaghetti. 
Italian Meatballs and Spaghetti 
for pasta:
1 Tablespoon salt

 

1 pound dry spaghetti
for meatballs:
1 egg
1/4 medium onion, finely chopped
1 medium/large clove garlic
freshly ground black pepper
2 teaspoons dried parsley or 1/4 cup freshly chopped
1 pound ground turkey (light and dark mix)
1

 

4 ounce package shiitake mushrooms, finely chopped
1/3 cup grated Parmesan

 
for sauce:
1 25 ounce jar marinara sauce
grated Parmesan cheese, for serving

   
Preheat oven to 350º F. Line a large baking sheet with parchment paper. Fill a large pot with water. Add 1 Tablespoon of salt and set on stove over high heat; bring to a boil.
While the water heats, crack egg into a large bowl and use a fork to lightly beat. Add onion, garlic, several grinds of black pepper, and parsley and stir to combine. Add ground turkey, chopped mushrooms and Parmesan cheese  and mix lightly using fingers spread, rake-like, to poke/lift mixture until thoroughly combined. Form into evenly sized, 1.5 inch meatballs, arranging them with space between on baking sheet as you are rolling them. Bake for 15 minutes.
Once water boils, add pasta to pot, stirring with a spaghetti spoon. Cook according to package directions, until al dente; drain. 
While meatballs are baking and pasta cooks, warm marinara sauce over medium heat in a large saucepan. Add baked meatballs to sauce allowing them to simmer and cook in the sauce for at least 15 minutes more. 
Spoon pasta into individual bowls, topping with sauce and meatballs, adding freshly grated cheese.