Italian Chicken Smashburger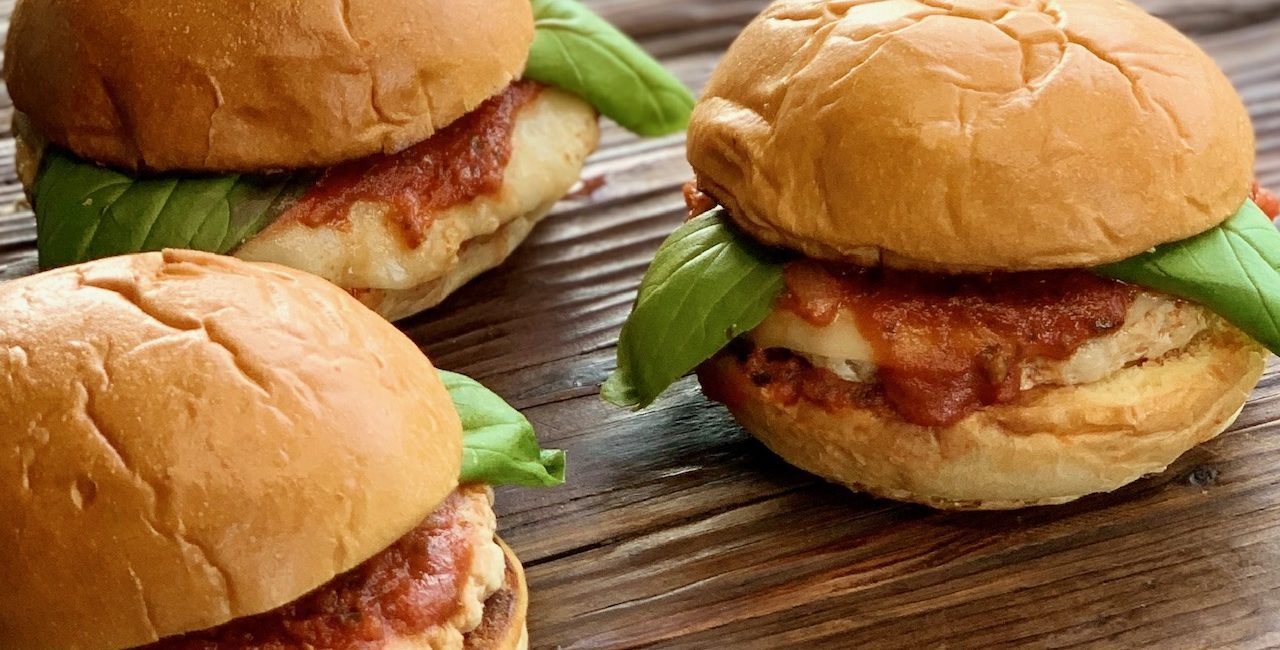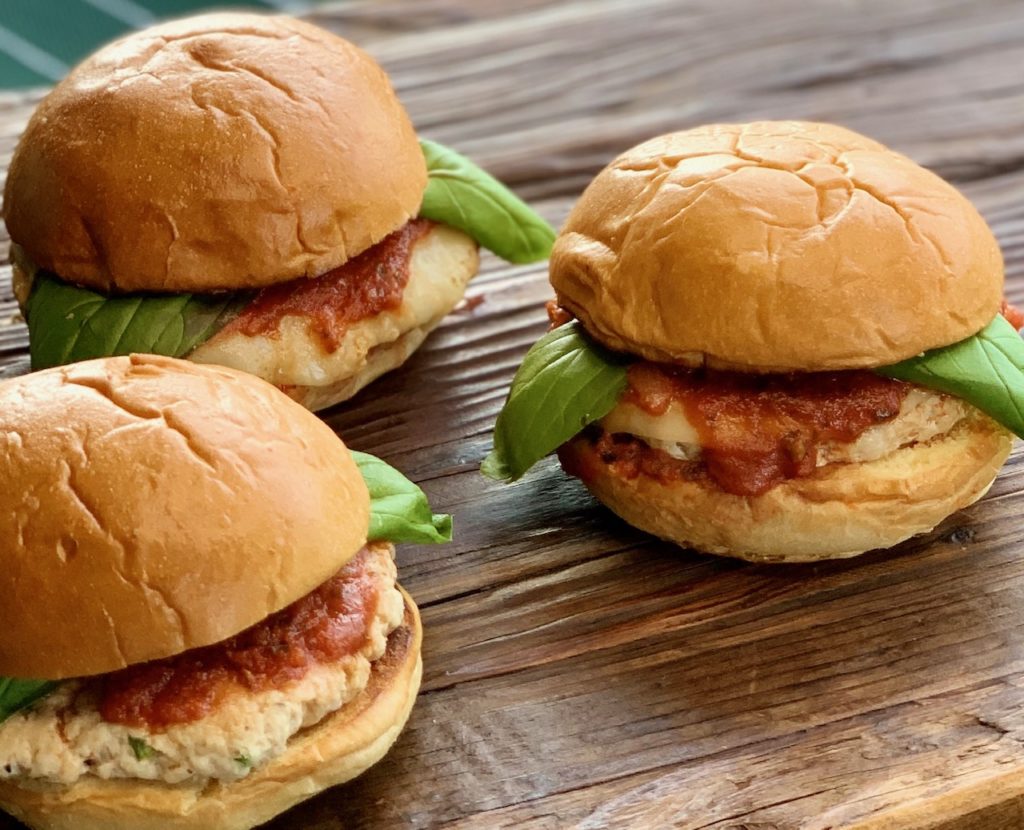 Whether you're watching the game from home or headed out to tailgate, football season is here. Now that you've got your gear on, how about some great food to go along with it? Take a different approach to the game day burger with these Italian Chicken Smashburgers. Much like a meatball, but served in burger form, it's a crowd pleaser that's the best of both worlds. 
I love this recipe and just can't get over how easy it is. In spite of the short ingredient list, it consistently yields juicy, flavorful, perfectly seasoned patties. I make homemade chicken or turkey meatballs all the time, but these patties are so perfect I may never roll a meatball again.  They are quicker to mix and faster to form and cook, plus you always get perfect results. There are no breadcrumbs, so they're gluten-free, too. You can make your own tomato sauce, but you need such a small amount for this recipe that I recommend using jarred, or if you happen to have any leftover sauce in your freezer, this would put it to good use. 
I use about half of the cayenne and skip adding the salt because I think the cheese is salty enough. Smash your burger bigger than your bun. It will shrink as it cooks and you want it to come out generously sized. Use that thermometer. Besides ensuring moist, juicy burgers, it's the only way to be certain your patties are cooked to an internal temperature of 165º F, the minimum required for safely cooking ground chicken. 
The recipe below yields 8 burgers. Make the patties a day ahead so you just need to assemble the sandwiches at game time. Freeze any leftover patties in a single layer on a sheet pan, then transfer them to a zip top freezer bag. Use them for more sandwiches, or serve them with pasta, just as you would meatballs. You can also serve them plated, topped with melted provolone, marinara, and fresh basil, or use mozzarella, a slice of fresh tomato, and some basil with a balsamic drizzle, caprese style. Served with a salad or some steamed veggies, it's an easy meal you can pull from your freezer when you're in a hurry or don't feel like cooking.
Be scrupulous about washing your mixing bowl and anything that comes into contact with raw meat. Use hot, soapy water and a commercial or homemade sanitizer that is approved for food contact surfaces and follow the manufacturer's instructions for use. Some may require rinsing your surfaces after use. Clean sinks and countertops, knives and cutting boards, and any place you set your meat or poultry or its packaging. Wash your hands thoroughly, both before and after handling meat or produce to prevent cross-contamination.  
Here's how to keep your crowd well fed. No matter how you serve it, it's a winner. 
Italian Chicken Smashburger
chicken burgers 
2 pounds ground chicken

 

1 Tablespoon Italian seasoning
2 teaspoons garlic powder
1/2 teaspoon cayenne pepper
1/4 cup freshly grated Parmesan
1/4 cup chopped fresh parsley
kosher salt
sandwiches
8 buns, such as ciabatta or kaiser rolls
8 slices provolone cheese
1 1/2 cups marinara sauce, warmed
8 leaves fresh basil
Combine ground chicken, Italian seasoning, garlic powder, cayenne, Parmesan and parsley in a large mixing bowl. Using clean hands or disposable food prep gloves, gently work mixture together. Divide into 8 equal size, meatball shaped rounds.
Heat a large cast-iron skillet or griddle set over medium-high heat. Toast the cut sides of burger buns and then move to oven or toaster oven set on 170º F. to keep warm. Working in batches of two at a time, add two chicken rounds to the skillet. Use a large flat spatula to press down hard on each patty to flatten it. Cook for about 2 minutes, until patty browns a bit. Flip, and continue cooking, until internal temperature measures 165º F. Top each patty with a slice of provolone, then transfer to sheet pan and place in oven to keep warm. Repeat with remaining chicken rounds. 
Build sandwiches by placing one patty on each bun and topping with warm marinara sauce and fresh basil. Serve with additional sauce for dipping if desired. 
– adapted from recipe by The Grill Dads