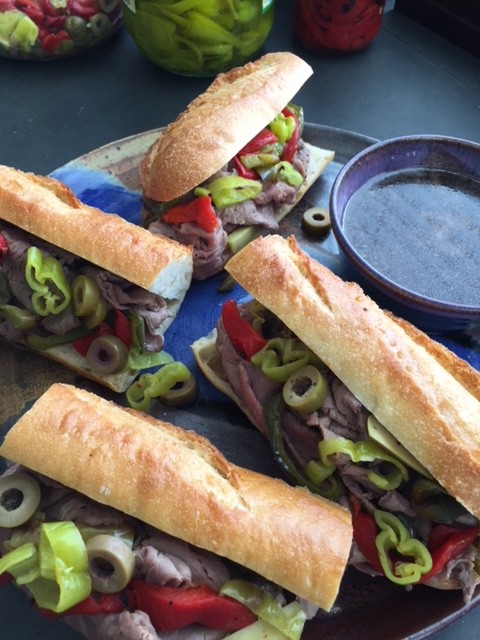 May 27th is National Italian Beef Day.  If you want a real deal Italian Beef Sandwich, you can fly all the way to Chicago, or you can make one at home, roasting beef for hours on end and being tortured by the heavenly smell while you wait.  Better yet, skip the long hours roasting, and be enjoying that sandwich a heck of a lot faster with this speedy recipe.
These taste pretty similar to the ones our friend from Chicago used to make when he'd visit our family every summer.  The jarred olive condite and pepper salad that he used have since been discontinued, so every time I make these there is great discussion about if they taste right. The recipe below is pretty darn close, but I will recommend right now that if you have some Boscoli Italian Olive Salad left over from making Muffulettas, add a few generous tablespoons of that to your olives and peppers.  The consistency is wrong, but the flavor is spot on.   You will not need to add oil and vinegar if you do this.  Boar's Head makes an Italian Seasoned roast beef, but you can substitute any good quality deli roast beef and add a teaspoon each of Italian Seasoning and Oregano to get a similar taste.
As for the olives…  If your grocery has an olive bar, this is your best bet.  Look for pitted ones that are larger, and all green, like Cerignola or Manzanilla varieties.  If you can find ones that are seasoned with some Italian spices, all the better.  You can use jarred, pimento stuffed green olives as well.  The Deli Sliced Peperoncini are ready to use, but you can cut up whole Peperoncini if you have those on hand.  I use concentrated beef bouillon base, but  if you have a beef stock that you like (I like Kitchen Basics), you can use 4 cups of that in place of the water and Roasted Beef Base called for in the recipe.    1 loaf of baguette bread will yield about 4 sandwiches.  Served with a small bowl of the au jus for dipping, they're a crowd pleaser.  Lean in and take a bite, but be prepared with the napkins.
Italian Beef Sandwiches
1 loaf French baguette bread
1 cup green olives, sliced
1/2 cup thinly sliced roasted red peppers (jarred)
1/2 cup Golden Peperoncini, Deli Sliced or Whole
1 teaspoon red wine vinegar
1 tablespoon extra virgin olive oil
4 cups water
1 Tablespoon, plus 1 teaspoon Better than Bouillon Roasted Beef Base
1 lb Italian Roast Beef, sliced very thin but not shaved
Slice baguette widthwise into 4 equal sandwich size portions.  Slice each portion lengthwise from end to end, being careful not to cut all the way through.  In a small bowl, combine olives, roasted peppers, and peperoncini.  Season with vinegar and oil and stir to combine.  Combine water and beef bouillon in a medium saucepan and bring to a gentle boil, then reduce heat to just simmering.  Using tongs, dip roast beef a few slices at a time into simmering broth, letting sit long enough so that beef warms.  Transfer beef to sliced bread and top with olives and peppers.  Repeat making sandwiches with other bread.  Ladle broth into small bowls and serve with the sandwiches for dipping.