Instant Pot Tomato Soup with Pumpkin Spice Grilled Cheese Sandwich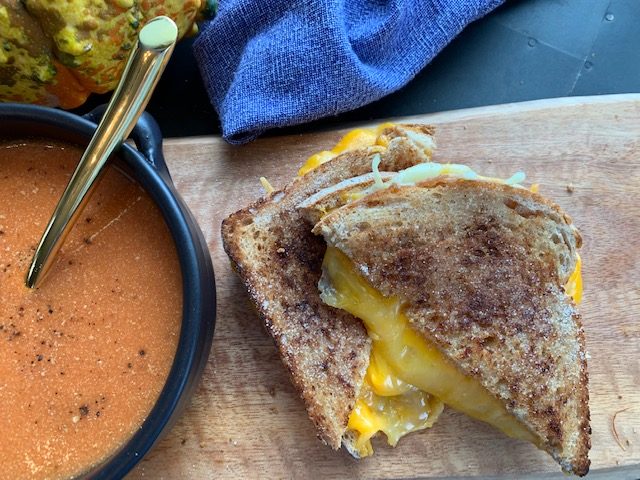 It was early October, the first time I visited Vancouver nearly twenty-five years ago. I remember that many of the houses already had pumpkins lining their porches, especially quaint against the fog that gathered every morning. People were so friendly, and if you ever needed it, they were ready and willing to help. Over the years, I have had car trouble, needed a hand with groceries, been stranded, locked out, and had emergencies with my children. Every time, a stranger has surfaced, and their kindness smoothed things out. There are many things to love about Vancouver, but this kindness is the thing that I love most.  
By the time you reach Thursday night, you and your family could use a little kindness. Make Thursday's dinner a soothing one. This easy soup made in your Instant Pot makes good use of any end of season tomatoes you may have hanging around, but if you don't have any, that's okay, too. Your soup will be just fine with only the canned ones. Give your onion and garlic just a rough chop. Everything gets puréed at the end, so why waste time? I made chicken stock using the concentrated chicken base (Organic Reduced Sodium Better Than Bouillon Chicken Base) that I keep in my fridge. Having some makes it easy to add flavor to soups, casseroles, rice, potatoes and vegetables. It's also good to have on hand to make chicken soup if someone gets sick. Use a vegan butter spread, vegetable broth and substitute your non-dairy milk of choice to make this soup vegan. Best of all, unlike canned tomato soup this is gluten-free and has no added sugar.
The best grilled cheese of your life is also the easiest. Make it your way with whatever cheese you prefer. Keeping it traditional, I used sliced American cheese and topped it with shredded Mozzarella and Light Mexican Blend which melted to a soft, gooey pull. I used a loaf of Dave's Killer Bread White Bread Done Right for the bread. Depending on how many sandwiches you make, you may or may not end up using all of the ingredients below. Feel free to add bacon, ham, sliced apple or pear, or fruit jam to your sandwich, or head to bonappetit.com for more detail. Sprinkle with some pumpkin pie spiced sugar. It is now officially time to say pumpkin spice. 
Instant Pot Tomato Soup with Pumpkin Spice Grilled Cheese Sandwich
Instant Pot Tomato Soup
1 Tablespoon butter
1/2 medium onion, roughy chopped
kosher salt

 

1 clove garlic, smashed and chopped
1 teaspoon fresh thyme leaves
Two 14.5 ounce cans organic diced tomatoes
1 1/2 cups chopped fresh tomatoes
1 1/2 cups chicken stock
1/2 cup 2% evaporated milk
1/4 cup fresh basil (optional)
Freshly ground black pepper
Melt butter in Instant Pot using sauté setting. Add onion and season with a big pinch of salt. Cook, stirring occasionally, until onion becomes translucent and lightly golden. Add garlic and thyme and continue to cook and stir, being careful not to burn. Add tomatoes and chicken stock. Seal lid and cook on high pressure for 5 minutes, then allow to release naturally for 15 minutes. Carefully release any remaining steam. Open lid and add evaporated milk. Using an immersion blender, blend in pot until smooth, or allow soup to cool slightly and purée in small batches in blender. Add basil if desired, and lightly purée. Finish with freshly ground black pepper.
Pumpkin Spice Grilled Cheese Sandwiches
1 stick butter, room temperature
1 loaf bread, any variety
3 Tablespoons sugar
1 Tablespoon pumpkin pie spice

 

1

 

8 ounce package sliced American Cheese
1

 

pound coarsely grated cheese, any variety (Fontina, Gruyère, Swiss, etc.
Preheat oven to 350ºF and line 2 baking sheets with foil; place a wire cooling rack inside each pan. Butter one side of each slice of bread. Combine sugar and pumpkin pie spice in a small bowl and set aside. Heat a cast iron skillet over medium heat until hot. Melt 1/2 Tablespoon butter in skillet and add bread, buttered side down. Cook until bread is evenly toasted and golden brown, pressing down with spatula if needed. Transfer to racks, toasted side down. Repeat with remaining bread to make desired amount of sandwiches. Top untoasted side evenly with cheese. Bake until cheese is thoroughly melted. Press 2 cheese topped sides together to make sandwiches. Sprinkle tops with pumpkin spice sugar. Let rest for 1-2 minutes, then slice.