Instant Pot Chicken and Dumplings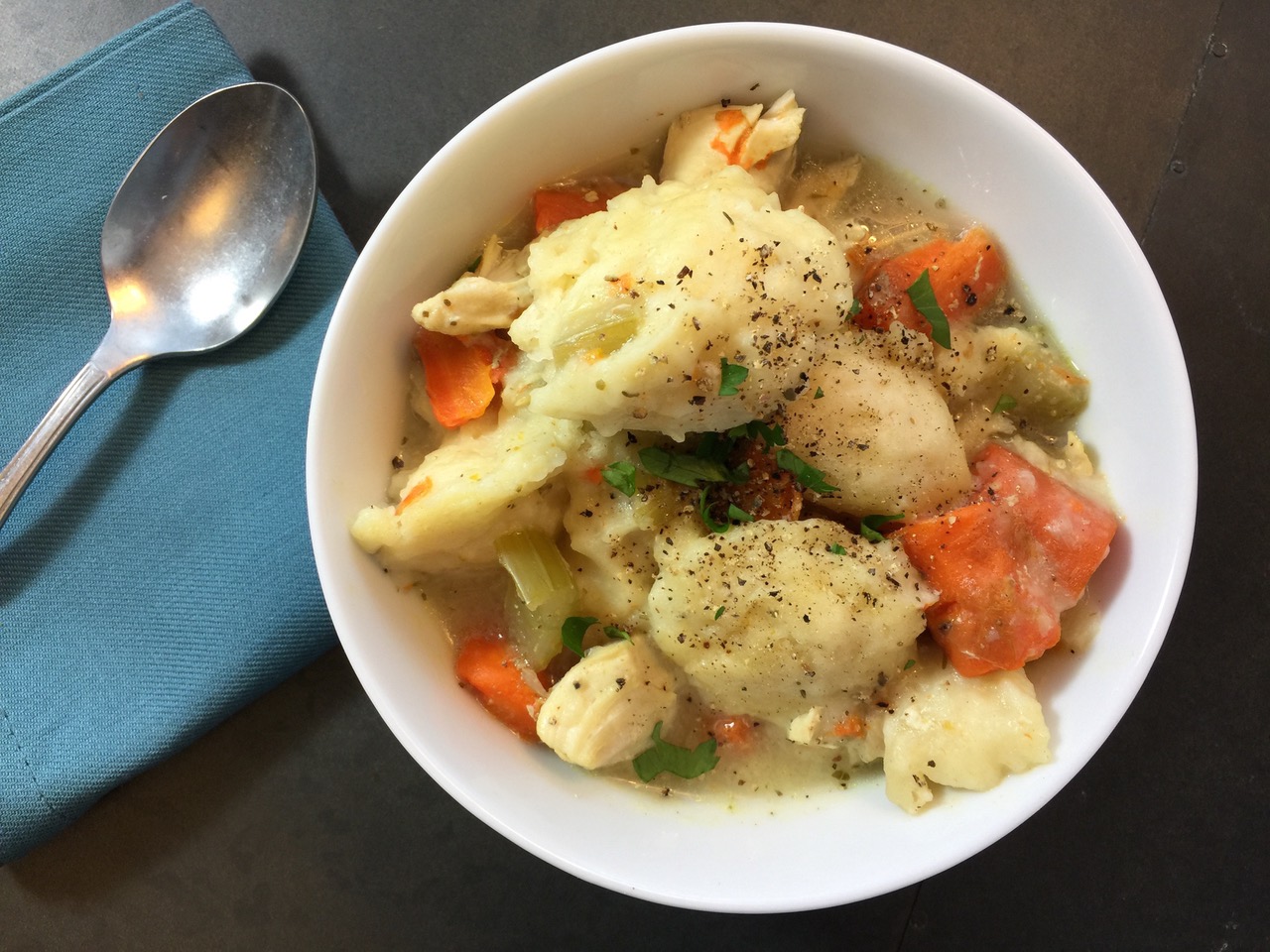 The snow storm, a nasty cold, and a brand new Instant Pot gave me just the nudge I needed to try a fast, easy way to make Chicken and Dumplings.  I had been subsisting on chicken broth, crackers, oranges, and the occasional canned olive here and there, but on Day 5, for some reason, I woke up thinking about my friend, Monica.
Monica was a friend I made during my brief stint as a nursing major.  She went on to actually become a nurse, I changed majors several times and eventually settled on social work.  Nevertheless, we lived on the same floor of the same dorm for 2 years.  Once, when I got sick, she showed up at my door with a crock pot (they called them crock pots back then) full of chicken soup.  It was warm and thick, soothing, and full of pillowy dumplings.  It was wonderful and I begged her to show me how she made it.  She used bone-in chicken pieces, a can of Veg-All mixed vegetables, a few bouillon cubes, and dumplings made from Bisquick.  Everything got loaded in the crock pot first thing in the morning before she left for classes.  She would mix up the dumplings and keep the dough covered, in a bowl, in the fridge.  Later in the day she would pull the cooked chicken meat off the bones, leaving it in thick chunks, discard the bones, and drop the cold dumplings into the hot soup.  It was so easy to do and it made a thick, creamy stew that was wonderful.  For the next 30 years, every time I made Chicken and Dumplings I made it this way.  Thumbing through the alumni magazine about 10 years ago, I saw her name.  She was in the list of classmates that had passed and she was only 40 years old.  I can't tell you how sad I was that my caring friend, who I always thought of with a smile, was gone.
Being under the weather with both the cold and the snow, it's no wonder that I woke up thinking of her and her magic soup.  Through the miracle of some Christmas confusion, I ended up with a brand new Instant Pot (thanks, favorite cousin!).  My husband was not as excited as I was, because I already own a multi-cooker and, "Why do you need another one, anyway?"   He eyed it sideways  when it came in, regarding the arrival of this new, space hogging appliance with all the intensity of a jealous suitor.  It sat in its box, trying to keep an under the radar, low profile, on a bench in the entryway.  Waiting.  For two months.  This was the recipe it was destined for.
Sick and snowed-in, I did not have any Veg-All.  I also did not feel well enough to be cutting chicken into pieces, so I used some frozen tenderloins that I had in my freezer.  I used 2 teaspoons of Organic Reduced Sodium Better Than Bouillon Chicken Base dissolved in 2 cups of water for the chicken broth.  And I made two batches of dumplings, one with the recipe below, and the other gluten and dairy free using almond flour, baking powder, salt and coconut milk (no butter).  The dumplings dissolved and disappeared in the gluten-free version, but it yielded a creamy, soothing stew, very close to the one I remember my friend making.
Monica was a great friend.  I will never forget the kindness she showed me all those years ago, or her amazing recipe that not only cured my cold, but warmed my heart.  Note to self:  buy some Veg-All.
Instant Pot Chicken and Dumplings
1 tablespoon butter
1 cup chopped yellow onion
1 teaspoons poultry seasoning
1/2 teaspoon salt
1 cup chopped celery
1 cup chopped carrots
2 cups chicken broth
1 lb. boneless, skinless chicken breasts, cut into 1 inch pieces
for dumplings:
1 cup flour
1 1/2 teaspoons baking powder
1/4 teaspoon salt
1 tablespoon butter
1/3 cup milk
In a 6-quart Instant Pot, select sauté; adjust to normal.  Add butter to insert and melt.  Add onions, poultry seasoning and salt, cooking 6 to 8 minutes, stirring occasionally, until softened.  Select cancel.  Add celery, carrots, broth and chicken.  Secure lid and set pressure valve to sealing.  Select manual;  cook on high pressure 2 minutes.
While chicken cooks, make dumplings. Combine flour, baking powder and salt in a small bowl.  Add butter and use a fork or pastry blender to cut in, until mixture resembles fine crumbs.  Add milk and mix until soft dough forms.
Select cancel.  Set pressure valve to venting to quick release pressure. Remove lid and drop dumpling dough by spoonfuls onto surface of simmering stew.  Cook uncovered for 10 minutes, until dumplings are cooked through and liquid thickens.
– adapted from Instant Pot Chicken and Dumplings, pillsbury.com
Stop peeling carrots! Most of the nutrients are in, or just below, the skin. Give them a quick scrub and rinse and you'll save time, get more nutrients, and eliminate food waste.
Want more veggies?  Add some frozen peas, green beans, or some mixed vegetables.  You can heat them separately in the microwave and stir them in before you add the dumplings
And, perhaps the most perplexing problem with the Instant Pot?  That funny smell that remains in the lid after washing.  Here's how to fix that, as well as some other really great uses for white vinegar.