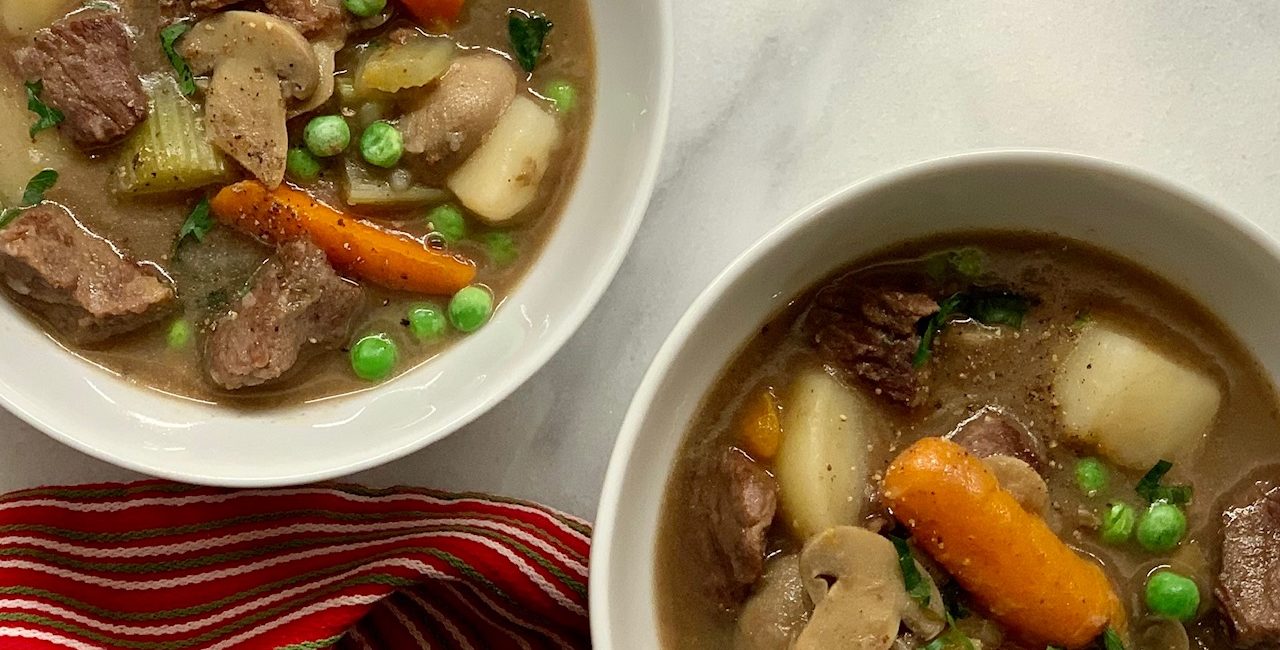 Ladies and gentlemen, start your ovens! We are bounding right into the busiest cooking season of the year, let's jingle all the way. This very merry time nudges everyone into the kitchen, even the not bakish. It's time to bake cookies galore and I suggest you do it with wild abandon. 
Don't let dinner break your flow. This Instant Pot Beef Stew is easy to make and cooks unattended so you can continue covering every square inch of your kitchen in butter and flour and still have something substantial to feed everyone. The Instant Pot delivers. Fork tender chunks of beef and vegetables perfectly simmered in a savory, hearty broth. It tastes like an all-day braise, but it's ready in under an hour – a soothing, warming meal for these chilly winter nights. 
You can substitute corn starch or gluten-free flour to make this gluten-free. I added a can of sliced button mushrooms and some frozen peas to the finished stew, and will sometimes stir in a few teaspoons of whole grain Dijon mustard, or tomato paste, but it truly is good as is. If you feel your stew needs thickening, mix a tablespoon of cornstarch with a tablespoon of water and stir into your finished stew, letting it cook until thick. 
While you're churning out cookies, try these Gingerbread Biscotti. 1) They smell like Christmas (so, guaranteed to make you feel merry.)  2) Made from sugar and spice and everything nice. 3) They bake up beautiful and if they last that long, will hold up under a potential month long confinement in a cookie tin. 4) Makes a great food gift. 5) Mails well. Wrap carefully in cellophane, airtight, and nestle them in shredded paper. (You should make these now.)
Instant Pot Beef Stew
1 Tablespoon vegetable oil
1 1/2 pounds beef stew meat, trimmed and cut into 1-inch cubes
2 Tablespoons all-purpose flour
kosher salt and freshly ground black pepper
1/3 cup dry red wine
2 1/2 cups beef broth
3 carrots, cut into 2-inch pieces
3 celery ribs, cut into 1-inch pieces
3 small potatoes, peeled and cubed

 

1 sprig fresh thyme, or 1/2 teaspoon dried
1 medium onion, chopped (about 1 cup)

 

2 bay leaves

 
Add oil to Instant Pot and set to sauté. Toss beef cubes with flour, 1 teaspoon salt, and several grinds of black pepper in a medium bowl. Add meat to Instant Pot in a single layer and cook, undisturbed, about 3 minutes, until all the meat is golden brown on the bottom and releases easily when stirred. Stir once and allow to brown another 2 or 3 minutes; add wine. Bring to a boil and cook for 1 minute, scraping the bottom of the pan with a wooden spoon to loosen any browned bits. Add beef broth, carrots, celery, potatoes, thyme, onion and bay leaves. Lock lid as per manufacturer's instructions and set to pressure cook on high for 35 minutes. Allow pressure to release naturally for 10 minutes, then follow instructions for quick release. 
Gingerbread Biscotti
makes 36 
1/2 cup butter, softened
1/2 cup sugar
1/2 cup firmly packed brown sugar
1 Tablespoon ground ginger
3/4 teaspoon ground cinnamon
1/2 teaspoon ground nutmeg
1/4 teaspoon ground cloves
2 large eggs
3 Tablespoons molasses
2 1/2 cups all-purpose flour
2 teaspoons baking powder
6 ounces white chocolate or white baking chips
1/4 teaspoon ground cinnamon
Heat oven to 350º F. Lightly grease a large cookie sheet. In a large bowl, combine butter, sugar, brown sugar, ginger, cinnamon, nutmeg and cloves. Beat at medium speed until well mixed, scraping bowl often. Add eggs and beat until well mixed. Add molasses; beat until well mixed. Add flour and baking powder; beat at low speed until mixed. 
Lightly flour a work surface then transfer dough, divided into two halves, onto surface. Shape each half into a 12-inch log, dusting surface with more flour, if needed, to prevent sticking. Place logs 3 inches apart on cookie sheet. Flatten logs slightly. Bake 22-25 minutes, or until lightly browned and tops are slightly cracked. Remove from oven and let cool 15 minutes on cookie sheet.
Reduce oven to 325ºF. Transfer logs to a cutting surface then use a serrated knife to cut into 1/2 inch diagonal slices. Place, cut side down, onto ungreased cookie sheet. Bake 9 minutes, then turn slices and bake 5-7 minutes more, until cookies are dry and crisp. Cool completely.
Place chocolate or chips in a small bowl and microwave 1 minute; stir. Continue to microwave, stirring every 15 seconds, until completely melted and smooth. Stir in 1/4 teaspoon cinnamon. Place cookies onto waxed paper then drizzle or coat with melted chocolate. Let sit at room temperature until chocolate is firm. 
– landolakes.com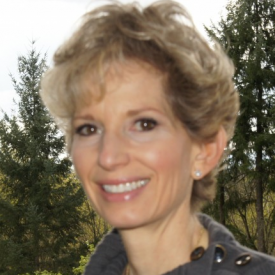 I love to cook, garden, and write about all the things in Vancouver and the Northwest that make life so great.