Individual Pumpkin Custards (and Thai Pumpkin Soup)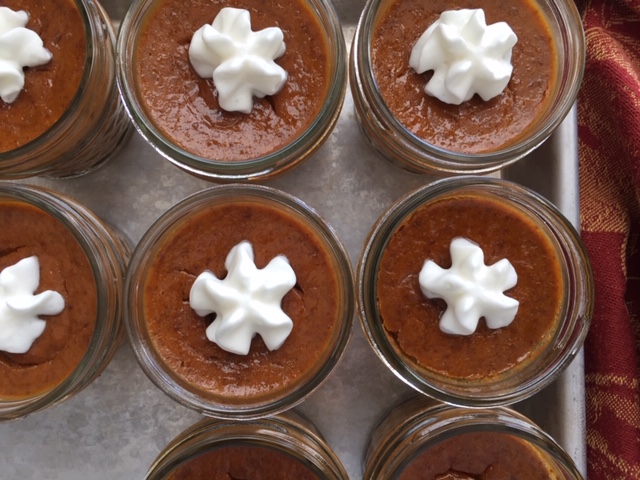 The cozy, warm smell of a pumpkin pie baking cues up happy memories of family, home, and every Thanksgiving of your life.  The heavenly aroma of cinnamon, nutmeg and pumpkin fills your whole house with an all-is-right-with the world fragrance that only comes once a year.  If you just can't wait for pumpkin pie, here's your answer.  Individual Pumpkin Custards are something simple you can do right now to get a mini-sized taste of that holiday treat.  Portioned into small jelly jars with lids, these can be made ahead and even frozen.  You can add them to your lunch bag, serve them to company, or get ahead of the game and keep them frozen and ready to serve for Thanksgiving.
For many years now, I have been scooping out a quarter cupful of the pumpkin mixture before I fill the pie dish.  I bake a small custard cup sans crust which I can't wait to enjoy while everyone else eats their pie.  I was so excited to discover this recipe inside the label of the canned Carnation Evaporated Milk.  I was not so excited to read the pumpkin pie recipe on the Libby's can as I was making these.   It is the exact same recipe.
Making these custards is a nice gesture if you have guests that are gluten-free, too.  The holidays can be challenging for anyone who has food allergies or sensitivities and it's really nice to be able to give everyone something they can enjoy.  Measure and combine the sugar and spices in a small bowl before adding to the wet ingredients.  This guarantees that they will be evenly distributed in your custards.  Do this  when you make your pumpkin pies as well.  You can use any variety of evaporated milk that you like.  Fat free or 2 % will all work well here.  Why wait till Thanksgiving when you can have that pumpkin pie right now?
Individual Pumpkin Custards
3/4 cup granulated sugar
1 teaspoon ground cinnamon
1/2 teaspoon ground ginger
1/2 teaspoon salt
1/4 teaspoon ground cloves
2 large eggs
1  15 ounce can pumpkin
1  12 ounce can evaporated milk
Preheat oven to 350º F.
Combine sugar, cinnamon, ginger, salt and cloves in a small bowl.  In a large bowl, beat eggs, then stir in pumpkin.  Add sugar-spice mixture and mix.  Gradually stir in evaporated milk.  Pour into eight 6-ounce ramekins or custard cups and place on baking sheet.
Bake for 45 to 50 minutes or until knife inserted in custard halfway between center and edge of ramekin comes out clean.  Cool on wire rack for 2 hours.  Serve warm with a dollop of whipped cream, or refrigerate.
While we're talking pumpkin, here's another recipe that turns a can of pumpkin into a quick, delicious soup that is just perfect for making dinner in a flash one night this week.  You can add  rotisserie chicken, or a quick grilled cheese with ham, and you have something warm and easy to pull off on a hectic weeknight.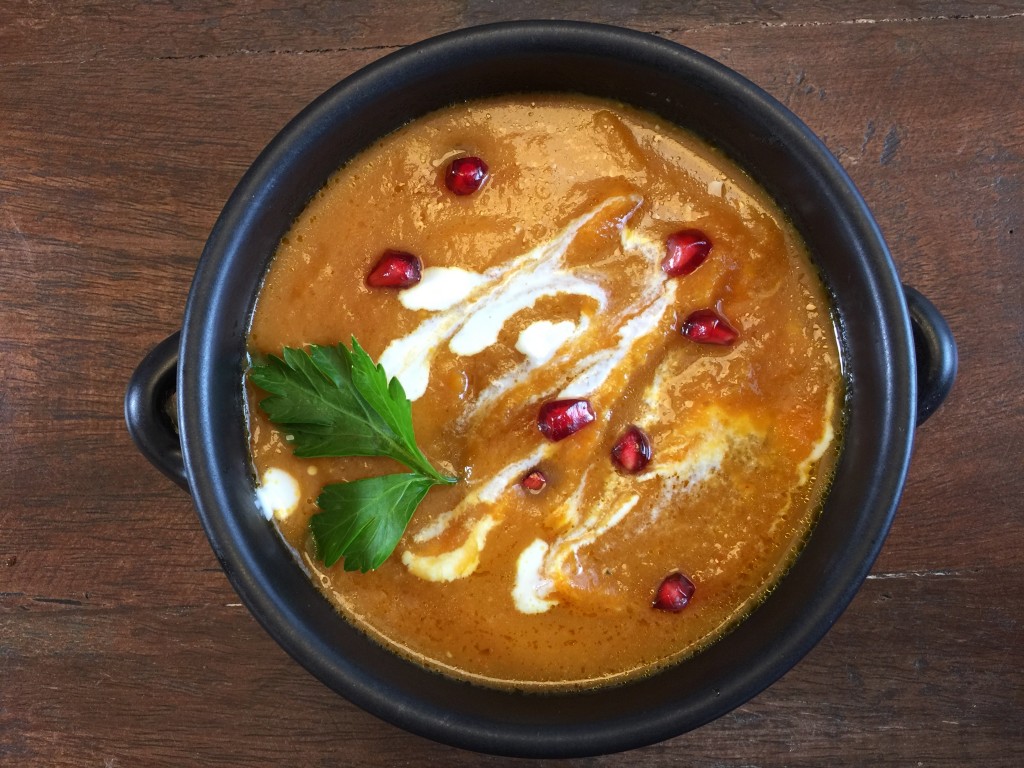 5 Ingredient Thai Pumpkin Soup
2 tablespoons red curry paste
2 – 15 ounce cans pumpkin puree
4 cups chicken or vegetable broth, about 32 ounces
1 3/4 cup coconut milk, or one 13.5 ounce can, reserving 1 tablespoons
1 large red chili pepper, sliced
cilantro for garnish, if desired
In a large stockpot over low to medium heat, cook curry paste, stirring frequently until fragrant, about 1 minute.  Add pumpkin and continue to stir off and on for several more minutes.  Add broth and cook for about 3 minutes, until soup starts to bubble.  Stir in coconut milk and cook until hot, about 3 minutes.  Ladle into bowls and garnish with a drizzle of reserved coconut milk, slices of red chili and cilantro leaves.
– as seen on FoodieCrush, and adapted from The Instant Cook by Donna Hay
Finally, if you're off to the pumpkin patch, think about picking up a variety that tastes as good as it looks.  Last year, I took time to cook and freeze many of the different pumpkins I brought home from the farm.  The two standouts are pictured below.
Did you know:
Pumpkin is low in calories, fat, and sodium and high in fiber.  It's a good source of Vitamins A and B, potassium, protein, and iron.
Pumpkins are members of the gourd family, which also includes cucumbers, honeydew melons, cantaloupe, watermelons and zucchini.
The largest pumpkin pie ever baked weighed 2,020 pounds.
The word "pumpkin" showed up for the first time in the fairy tale Cinderella.
Over 1.5 billion pounds of pumpkin are produced every year in the United States.
There are over 45 different varieties of pumpkin, and pumpkins are grown on every continent except Antarctica.
Pumpkin pie is the second most consumed pie in America.  (Apple is number 1.)