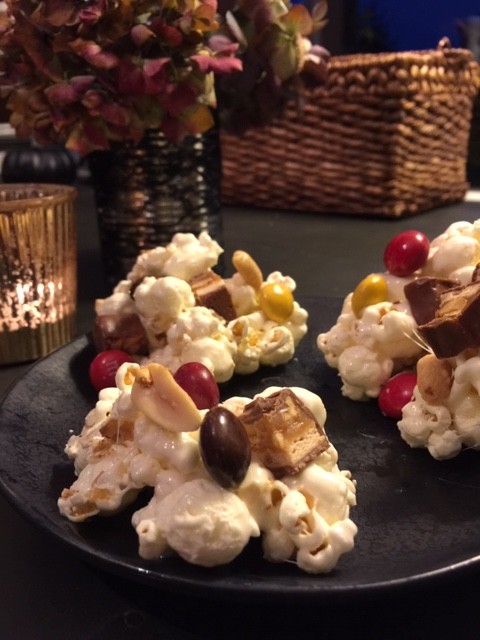 Halloween is just days away…  time to get your boo on.  True to Northwest form, the weather is cooperating just as if we asked it to.  The skies have darkened, the clouds have thickened, and even if it takes a break here and there, the rain is coming down by the bucketful.  It is gloomy, dreary, and downright ominous out there.  Who's ready to scare up something fun?
My grandmother used to make home-made popcorn balls every year for Halloween.  Her recipe  required a bit of time, a little skill, and involved a candy thermometer.  Every so often she would make two kinds of popcorn balls, the other ones made with marshmallow, which quickly became my favorite.
These Halloween Popcorn Treats are so easy it's scary.  There is a good video showing the stove top preparation on foodnetwork.com, but if you want to make these even easier, use a bag of popcorn that is already popped.  If you have a large, microwaveable bowl you can do your melting and mixing in the same dish just as instructed below, which leaves you with no frightening cleanup.  And be sure to use miniature marshmallows.  They melt faster.  I was worried about the candy bar pieces also melting, so I froze the cut up candy on a small baking sheet for about 10 minutes before I added it to the warm marshmallow/popcorn mixture.  Don't feel like you have to use this type of candy bar either.  Feel free to swap in your personal favorite, and I nominate peanut butter cups as another good choice.
This is a perfect recipe to make with your kids, even the littlest ones.  They can chop the candy with a butter knife, and if you use the microwave, there is no  worry of them getting burned from a hot pan.  They can press the nuts and candies into the popcorn mixture, which is a perfect job for little hands.  You can use a spatula to slice/break the finished treats into pieces and bypass the "set one hour."  What child (heck, what adult?) can wait one hour to try what he/she just made?!
Use as much, or as little, candy and nuts as you like.  Get creative and add in pieces of pretzel or some pumpkin seeds.  Make some for a friend or neighbor.  Take some to your office.  Just be sure to have some fun and have a happy and safe Halloween.
Halloween Popcorn Treats
vegetable cooking spray
3 tablespoons butter
1  10 ounce bag miniature marshmallows
1  4.5 ounce bag air-popped popcorn, about 10 cups
4 fun-size caramel peanut chocolate bars (such as Snickers), cut into pieces
1/3 cup salted peanuts, almonds, or other nuts
1/2 cup orange and black chocolate candies (such as m&m's)
Line a large baking sheet with parchment paper and lightly spray with cooking spray. Set aside.    Melt butter in microwave on medium setting for one minute in large microwave safe bowl. Continue to melt in 30 second increments on medium setting until butter is melted.  Lightly spray sides of bowl with cooking spray.  Stir in marshmallows and microwave on high setting for 1 minute.  Stir and continue to cook for another minute on high.  Continue cooking and stirring in 30 second intervals until marshmallows are thoroughly melted.  Add half of popcorn, stirring to coat.  Add remaining popcorn and stir until marshmallow is evenly distributed.  Spread the mixture over the prepared baking sheet.  Top with chocolate bar pieces, nuts, and chocolate candies pressing gently into the popcorn.  Allow to set one hour.
– adapted from Giada de Laurentiis recipe as seen on foodnetwork.com