Grilled Zucchini Caprese Stacks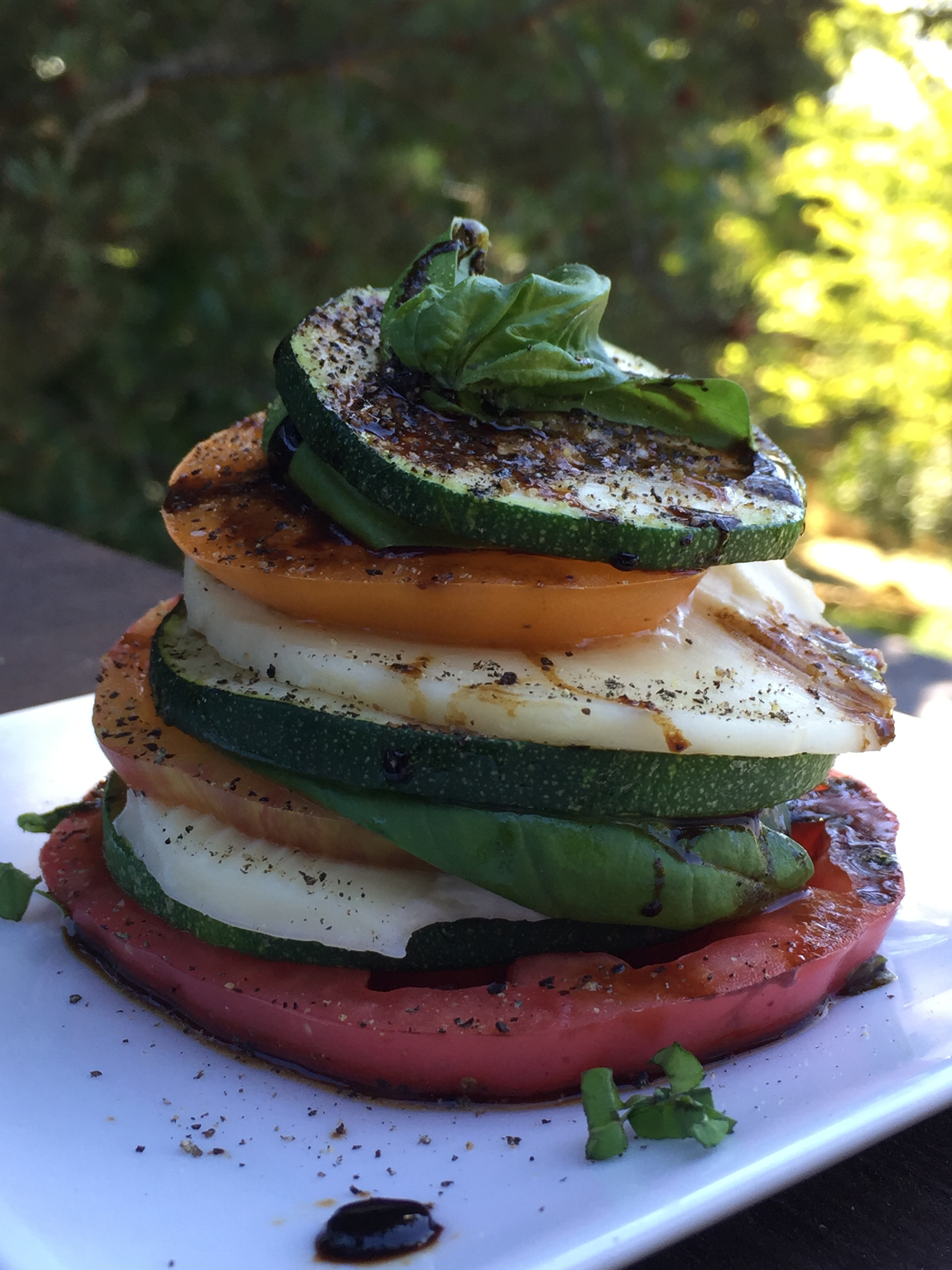 Hold on to those Pumpkin Spice Lattes, summer rages on.  Another week of excessive heat and more of that smoke and I think what we all need right now is a little caprese.  I can't get enough of this summer salad.  It's cool, it's easy, and depending on what you serve alongside, it might just be enough to call it good for dinner.  (Think bread, olives, chilled shrimp, chicken, or cold cuts, some melon, peaches, or berries… )
Take that caprese up a notch, literally, by going vertical, and use some of that zucchini that you have so much of right now.  Grill as much zucchini as you can fit on your grill.  The extra grilled slices are great eaten cold, out of hand, or you can use them as a side for another meal, or let them jazz up your snack board.  Freeze them in a single layer on a baking sheet, store in zip-top bag in your freezer, and you can make quick zucchini pizzas, or use them in a veggie lasagna.
I messed up the layering order because I didn't read the recipe closely and thought they were just alternating layers.  I was in a hurry and forgot the cherry tomatoes, too.  But I did think it was a good idea to add some whole basil leaves in between a few of the layers, which not only looked nice, but also insured that each stack had plenty of fresh basil to give it that great summer flavor.   You can make your stacks and then decide where you want to add the basil so that it peeks out from the edges.
Enjoy those tomatoes while you have them.  And for now, make that a Pumpkin Spice Latte an iced one.
Grilled Zucchini Caprese Stacks
2 zucchini (about 3/4 pound), each cut into 1/4 inch thick rounds
olive oil (for grilling, about 2 tablespoons)
kosher salt
freshly ground black pepper
2 tablespoons extra virgin olive oil
1 tablespoon balsamic glaze
1 garlic clove, smashed
4 heirloom tomatoes, cut into 1/4 inch thick slices
3 ounces fresh mozzarella cheese, cut into 16 slices
16 cherry tomatoes, halved
fresh basil leaves
Preheat grill to medium-high heat.  Line a large baking sheet with aluminum foil and brush lightly with olive oil.  Arrange zucchini rounds on baking sheet and sprinkle with salt and pepper.  Transfer to grill.  While grilling, lightly brush top of zucchini slices with olive oil.  Grill 4 minutes on each side.
Combine oil, glaze, and garlic in a small bowl.  Season with salt and pepper and whisk.
Make individual caprese stacks by arranging 1 tomato slice, topped with 1 zucchini slice, 1 tomato slice and 1 cheese slice.  Top each stack with one zucchini slice, 1 tomato slice, 1 cheese slice, and 1 zucchini slice.  Drizzle balsamic dressing evenly over stacks; sprinkle with cherry tomatoes and basil.
– adapted from Cooking Light, July 2015