Grilled Shrimp and Sausage Skewers with Smoky Paprika and Honey Glaze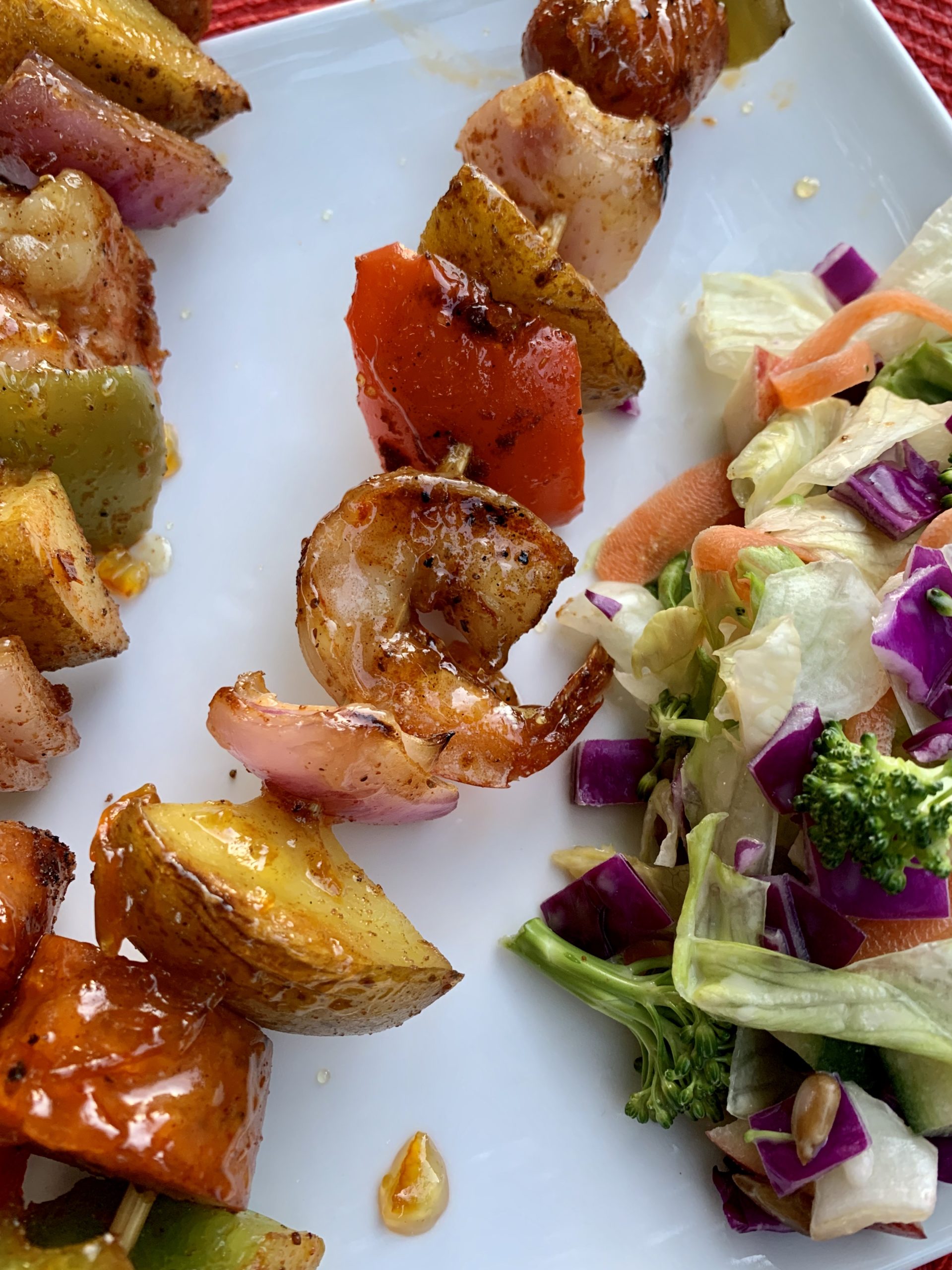 You deserve some time off for all that hard work you've been doing. Take a night off. It feels so good to be outside right now. Here's a fuss free meal you can cook, and eat, al fresco – because the weather is beautiful and you don't want to spend one minute of the extra daylight doing dishes. 
Sure, you can kebab any time, but if there were a perfect time for skewers, it truly would be summer. Everything tastes better when it's threaded on a stick and the beauty of this method is that it lets you take whatever you have and turn it into something fun. The heat of the grill softens everything, so you can salvage the slightly past their prime bell peppers in your bin and rescue your still firm but sprouted potatoes. No one will be the wiser. Add fast cooking shrimp, already cooked smoked sausage, and it grills up in less than 10 minutes. Don't have those ingredients? Use what you have! Remember, poking things with a stick makes whatever you use seem like you planned it that way. 
Make as many skewers as you like, and as always, I recommend making extra. Serve any that you have left over, gently warmed, the following day for a complete night off (yessss!), or, use a fork to guide the meat and veggies off the skewer before you transfer everything to a covered dish to refrigerate. Reconfigure the next day over greens, beans or grains and you have a whole new dish. 
I included potatoes in the recipe below, but if you want truly zero cooking you can leave them out. Use bamboo skewers, which are definitely a plus for easy clean-up, but be sure to soak them in water for at least an hour before grilling.  The smoked paprika spiced glaze is a cinch to make but feel free to use any kind of seasoning you like and let your skewers take the flavor of the cuisine you like best. Bottom line: you can achieve a perfectly delicious kebab using what you have in your pantry, like the recipe below. 
Toss a ball with your kids. Shoot some hoops. Soak up the vitamin D packed sunshine, and don't do any dishes. You earned it. 
Grilled Shrimp and Sausage Skewers with Smoky Paprika and Honey Glaze
glaze:
3 Tablespoons olive oil

 

1 teaspoon garlic powder
1 Tablespoon Old Bay Seasoning
1/2 Tablespoon smoked Spanish paprika
1 teaspoon sherry wine vinegar
honey

 

1/2 teaspoon sea salt
freshly ground black pepper
1/2 teaspoon dried crushed red pepper flakes

 

(optional)
skewers:
4 small potatoes, scrubbed, cut into 1" pieces
1 red bell pepper, cut into 1" pieces
1 green bell pepper, cut into 1" pieces
12 or more uncooked extra-large shrimp (13 to 15 per pound), peeled, deveined
12 or more 1" sections of red onion wedges
Andouille, or other fully cooked smoked sausages (about 16 ounces), cut into 1/2" – 3/4" pieces
for glaze:
Combine oil, garlic powder, Old Bay Seasoning, smoked paprika, sherry wine vinegar, honey (to taste), salt, several generous grinds of black pepper, and crushed red pepper in a medium bowl and whisk.
for skewers:
Put potatoes in a small saucepan and add cold water to cover by about an inch. Bring to a boil, lower heat, then simmer until fork tender but still firm enough to skewer, about 5-10 minutes. Remove from heat and drain. 
Thread bell pepper, shrimp, onion, potatoes, and sausage onto bamboo skewers and arrange on large rimmed baking sheet. Lightly spray or brush skewers with olive oil.  
Coat grill rack with nonstick spray and heat to medium-high.  Brush skewers on both sides with glaze. Grill until shrimp are opaque in center, turning and brushing occasionally with more glaze, about 6 to 8 minutes.Arrange skewers on platter and serve.