Grilled Romaine Salad With Spanish Shrimp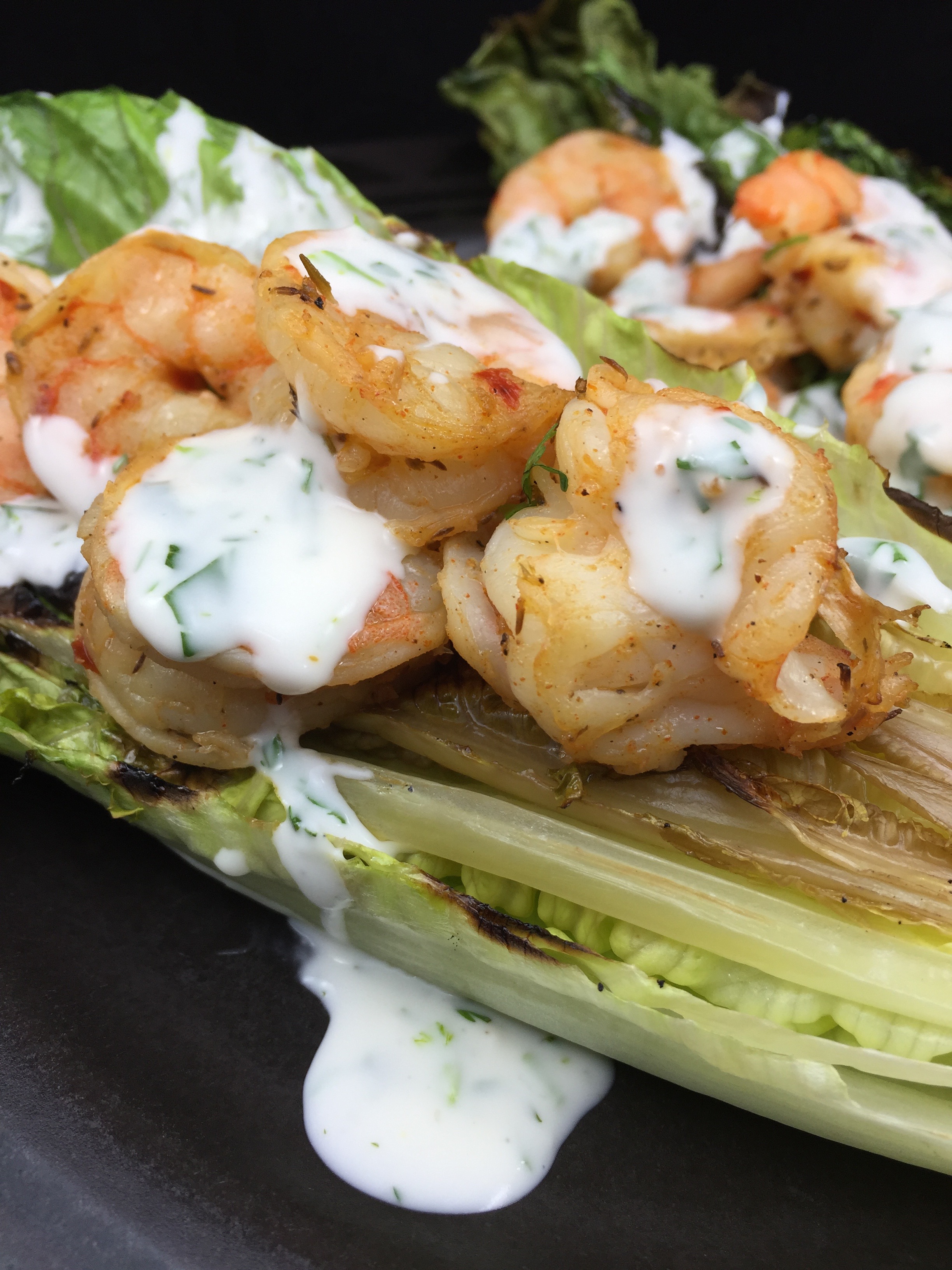 Trying to figure out what to eat during the heat of summer can be challenging.  Hot food seems too heavy.  You don't want to cook anything that will heat up your house, and you are starting to get a little tired of cold sandwiches and sliced fruit.  If you haven't tried grilled lettuce, now's the time to do it.  It's a fast, easy way to transform your same old salad into something new and fun.
You can grill any kind of lettuce.  Radicchio, endive and romaine are all good choices.  Grill iceberg and make a grilled wedge salad with blue cheese, diced tomato, and crumbled bacon.   A grilled, chilled veg can be just what you're looking for on a hot summer day.
You can grill other vegetables and add them to your salad, or just keep it simple and stick to the grilled lettuce.  This is a great way to make a meal out of leftover meat.  Top grilled lettuce with slices of chicken, pork, or beef and get creative with what you have in your fridge.  If you don't have leftovers this is also a good way to make a quick meal out of rotisserie chicken or precooked shrimp.  Drizzle with any salad dressing you like or take a shortcut and use a bottled dressing.  Add shredded or shaved cheese, croutons, a handful of chopped or toasted nuts…  you get the idea.  This is a dinner no-brainer.
Leftover grilled lettuce makes a great lunch.  You can either top it with cooked meat or fish and eat it just the same as you did last night, or you can slice it or chop it and add it to the fresh greens in your salad.
Here's a quick recipe for a grilled salad you can make for dinner tonight.  I took spices from the Shrimp and Sausage Skewers and borrowed the Lime Crema from the Roasted Cauliflower recipe I posted earlier and paired them with grilled romaine to make something new and interesting.  Dinner couldn't be easier.
Grilled Romaine Salad with Spanish Shrimp
1/4 cup olive oil
2 cloves garlic, peeled and smashed
1/2 teaspoon dried, crushed red pepper flakes
1/2 teaspoon sea salt
freshly ground black pepper
juice from 1/2 lemon
4 teaspoons smoked paprika
1 pound peeled, deveined shrimp
1 package Romaine lettuce – 3 heads
2 tablespoons olive oil
Lime Crema
3 tablespoons Vegenaise
juice of 1 lime
3 tablespoons chopped fresh cilantro
Combine olive oil, garlic, red pepper flakes, sea salt, pepper, lemon and paprika in large zip-top bag.  Add shrimp and shake bag to coat evenly.  Transfer to refrigerator and let marinate for one hour if time allows, or let stand at room temperature.
Put Vegenaise, lime juice, and cilantro in a small bowl and stir to combine.
Rinse romaine, cut lengthwise, and transfer to large sheet pan.   Brush the cut side of each half lightly with olive oil and sprinkle with a bit of salt, if desired.
Transfer shrimp to a lightly oiled, perforated, grill tray or preheated cast iron pan.  Grill for approximately 5 minutes, flipping shrimp as they char.  Put romaine halves cut side down around outer sides of grill and cook for a minute or two to get a char.
Plate grilled romaine and top with shrimp.  Drizzle with lime crema and serve.