Grilled Cheesy Loaded Potatoes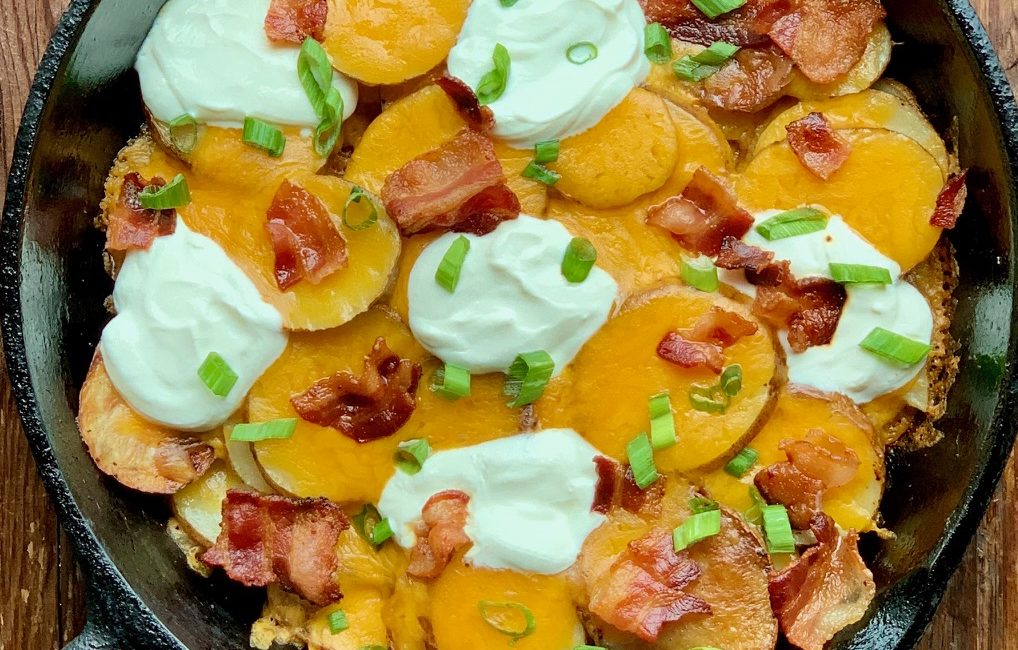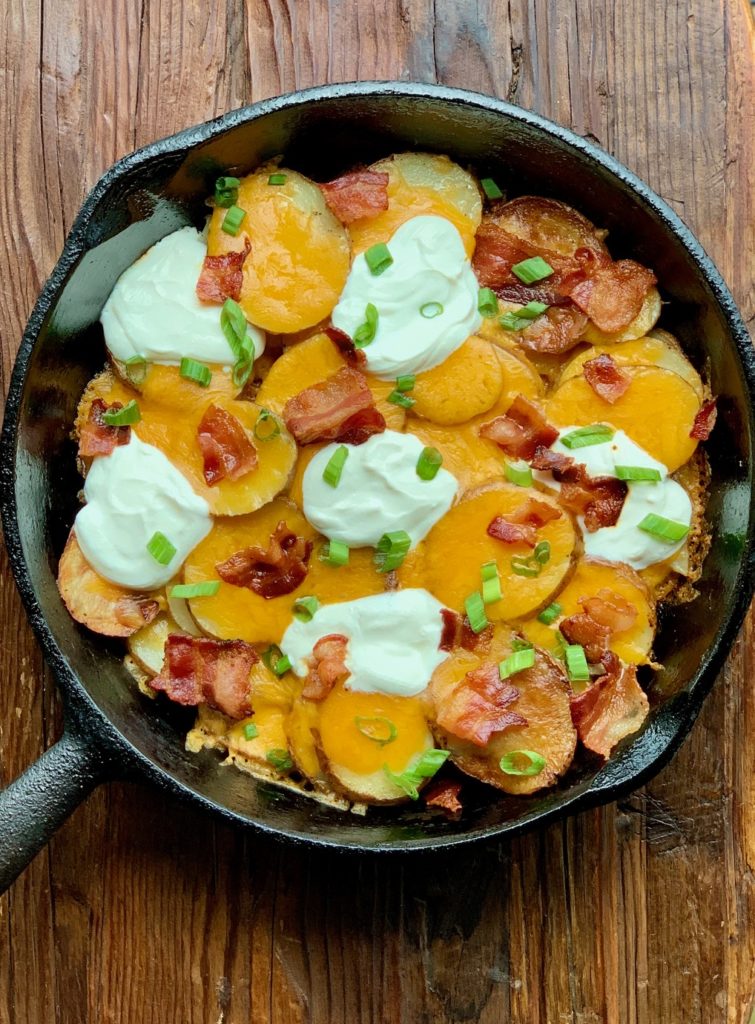 Celebrate dad's day with a special dinner. Let him pick the main dish and have his choice of dessert. You fill in the blanks with sides and a really good salad. Whatever else you happen to be cooking, here's what to serve with it. 
Start with a big wedge salad topped with thick, chunky blue cheese dressing, just like the kind you get at a steak house. You can make individual serving plates or arrange the wedges on a platter and serve this family style. Sprinkled with cracked black pepper, bacon and halved grape tomatoes, it's a perfect start to his meal.
For a side, serve Grilled Cheesy Loaded Potatoes. Topped with sour cream, melted cheese, and bacon, they are just like his favorite fully loaded potato, but cooked outdoors on the grill. Everything cooks in one skillet, so there's only one dish to wash, and the recipe is incredibly easy, so you can enjoy dad's day, too. There are instructions below for both gas and charcoal grills, but if you are new to grilling or unsure about the specifics, consult your grill's manufacturer's guide for best results.  After the potatoes cooked, I used a lid and drained off the extra bacon grease before adding the cheese. You can make this on the stove top as well, but taking it outdoors means there's no kitchen clean up!
With herbs at their flavorful best right now, chimichurri is a great accompaniment. It's a healthy way to give zingy, bright flavor and color to beef, chicken, or fish and again, it's quick and easy to do. If he's a steak guy, consider a flat iron or flank steak. The flat iron steak is the second most tender cut of beef, after the petit filet mignon — and it's a lot less expensive. Make your chimichurri a day ahead. Store it in a covered bowl and let it sit in the fridge overnight to fully develop the flavors. Take it out ahead of time and let it warm to room temperature before serving. Offer it alongside whatever you are grilling and let everyone spoon on as much as they'd like, or slice your meat and pour a generous ribbon of chimichurri directly over the top.  
Honor all the men in your life, whether it's your own wonderful dad, your devoted husband, a doting uncle, beloved grandfather, or those special men who have been like a dad. Happy Father's Day!
Steak House Wedge 
8 slices bacon (thick-cut, if desired)
Thick and Chunky Blue Cheese Dressing (recipe follows)
1 large head iceberg lettuce, cut into 8 wedges
or 2 small heads, cut into 4 wedges each
1 cup grape tomatoes, halved
chopped fresh chives and blue cheese crumbles, for garnish
Cook bacon, using any method you like, until crisp. This can be done a day ahead and kept covered and refrigerated.
Make blue cheese dressing following recipe below.
Rinse iceberg lettuce well and cut into 8 wedges. Arrange wedges onto individual serving dishes or in a large rectangular baking dish or serving plate.  
Drizzle dressing by generous spoonfuls over lettuce wedges. Top with bacon pieces and diced tomato. Garnish with additional chopped fresh chives and blue cheese crumbles.
Thick and Chunky Blue Cheese Dressing 
Lea Ann Brown
1/2 cup sour cream
1/2 cup mayonnaise
1/4 cup milk (or half and half)
1 Tablespoon fresh lemon juice
1/4 teaspoon Worcestershire sauce
1/8 teaspoon garlic powder
1/2 teaspoon sugar
1/8 teaspoon apple cider vinegar
sea salt and freshly ground black pepper to taste
1 cup crumbled blue cheese
Combine all ingredients, except blue cheese, in a bowl and whisk together until blended. Add crumbled blue cheese and fold in with a spatula to mix well. 
Grilled Cheesy Loaded Potatoes
8 slices bacon, cut into 1-inch pieces
3 russet potatoes, thinly sliced
kosher salt and freshly ground black pepper
8 ounces Cheddar, grated
2 Tablespoons sour cream

 

3 scallions, sliced
Prepare grill for direct and indirect heat. For gas grills (with 3 or more burners), turn all burners to medium-high heat. After about 15 minutes, turn off one side burner, then turn remaining burners down to medium. For charcoal grills, bank one chimney starter-full of lit and ashed-over charcoal briquettes to one side of the grill. Set up a drip pan on the other side to avoid flare-ups.
Heat a 10-inch cast iron skillet over direct heat and add bacon. Cook, stirring often, until bacon is crispy, about 5 minutes. Remove bacon with a slotted spoon and transfer to a paper towel lined plate; set aside.
Add potatoes to pan and sprinkle with salt and pepper. Stir to coat potatoes with bacon fat, then move pan to indirect heat and cover grill. Cook, uncovering grill and stirring every 5 minutes, until potatoes are tender, about 20 minutes.
Sprinkle with Cheddar then move back to direct heat. Cook, uncovered, until potato bottoms are golden and cheese is melted, about 10 minutes, depending on the heat of your grill. Let cool 10 minutes. Add dollops of sour cream, sprinkle with scallions and reserved bacon and serve.
Chimichurri
1/4 cup chopped fresh parsley
2 Tablespoons red wine vinegar
3 cloves garlic, minced
2 Tablespoons finely diced shallots
1 Tablespoon chopped fresh oregano leaves (or 1 teaspoon dried oregano)
1 1/2 teaspoons chili flakes
1 lemon zested
1/2 lemon, juiced
1/4 cup extra virgin olive oil
1 1/2 teaspoons kosher salt
1 1/2 teaspoons freshly ground black pepper
Combine all ingredients in a small bowl and mix. Cover and let sit in the refrigerator overnight to fully develop flavors. Return to room temperature before serving. 
–recipe by Matt Abdoo