Gingerbread Truffles, Bacardi Rum Balls and Gramercy Spiced Nuts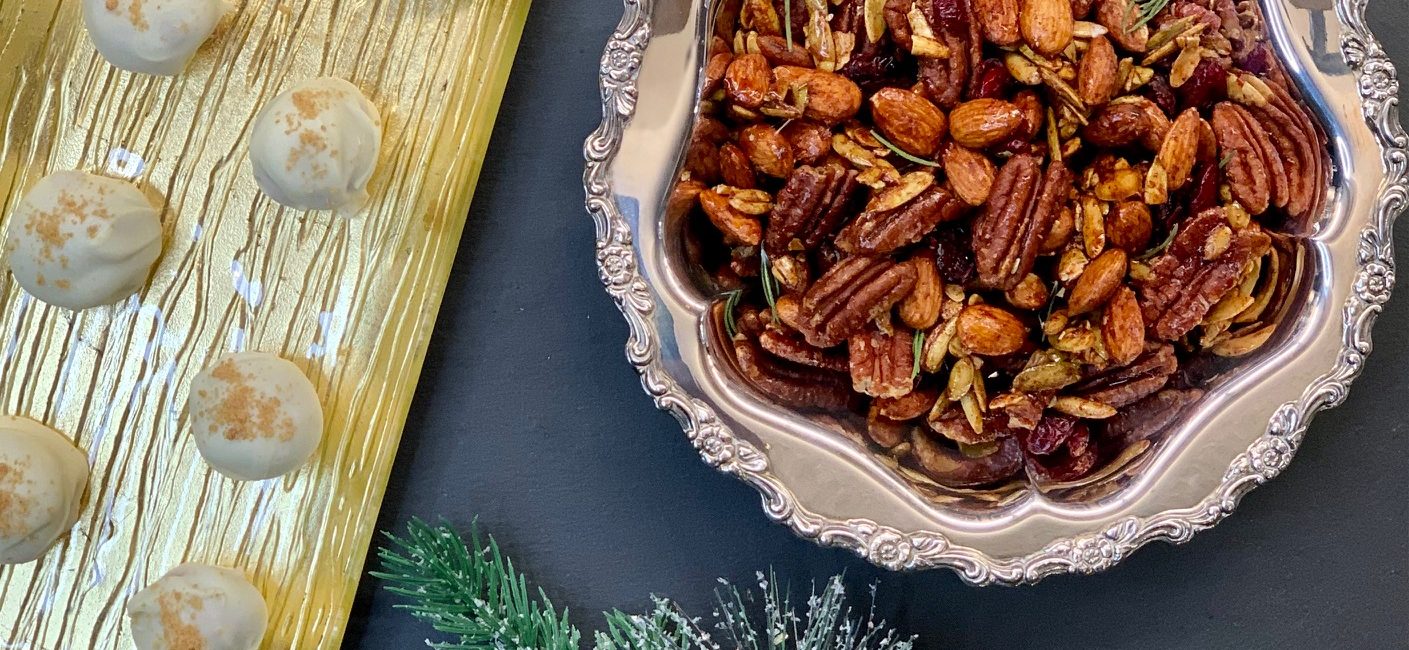 There was an older couple who lived across the street when I was growing up. They didn't have any children, but they did have a big friendly dog, an antique phone they didn't mind if I played with, and a mantle clock with moving parts that fascinated me. I loved visiting them because they we so nice and also because they always had homemade Chex mix and fudge that was made in a styrofoam egg tray.  
Holiday gatherings are all the more merry when you have seasonal offerings that guests can just help themselves to. Small bowls of spiced nuts and tiny treats that can be enjoyed anytime are the little things that make the holidays special. Station them on your coffee table, sideboard, or kitchen island, strategically located where people may sit or stop so they can help themselves. Keep them full and keep them varied. Your family will enjoy this, too. 
Nothing says holiday quite like gingerbread. Sure eggnog and peppermint have their merits, but if you want a warm fuzzy feeling, it's gingerbread all the way. Gingerbread Truffles are tiny bites of holiday bliss. The dense, moist filling is made from vanilla sandwich cookies, molasses and pumpkin pie spice. Enrobed in white chocolate with ginger snap sprinkles, they're a bite-sized way to enjoy gingerbread. You can make this recipe entirely in your food processor, or you can just use your rolling pin to smash the cookies into crumbs, then use a spoon to stir everything else together. I made this gluten-free by using gluten-free varieties of vanilla sandwich and ginger snap cookies and used Ghirardelli classic white chips for the white chocolate coating. 
Next, make a batch of rum balls. It just wouldn't be the holidays without these homemade treats and you can't go wrong with a batch or two of these. This Bacardi Rum Ball recipe is from my Bacardi recipe book, circa 1980. You could also make these with bourbon or whiskey, your choice. Easy and delicious, they are always a hit.
Spiced nuts are an especially nice thing to have on hand all through the holidays and Gramercy Tavern's Maple-Spiced Nuts are a great way to brighten your offerings. Almonds, pecans, and pumpkin seeds get the seasonal treatment with fragrant rosemary and dried cranberries. Lightly sweetened with a bit of maple syrup, there's a little warmth from the Aleppo pepper. They're easy to make but big on flavor. 
Use your microwave to make the glaze. It speeds your prep and eliminates some of the cleanup. Measure the maple syrup into a glass liquid measuring cup, then add the brown sugar, grape seed oil and kosher salt. Stir to combine and microwave on high heat until the mixture boils. Aleppo pepper has an earthy, slightly sweet flavor profile but can be hard to find. You can mimic its distinctive flavor by mixing 4 parts paprika to 1 part cayenne pepper, which will also let you control the amount of heat, depending on how much cayenne you add.
Have treats on hand and keep everyone, including yourself, merry.
Gingerbread Truffles
15 vanilla cream-filled sandwich cookies
2 oz. cream cheese, softened
1 Tablespoon molasses
1/2 Tablespoon pumpkin pie spice*
1 cup white chocolate morsels
1/2 teaspoon canola oil
1/4 cup ginger snap cookies, finely crushed
Break vanilla cream-filled sandwich cookies in half, then process in a food processor or blender to form very fine crumbs. Add softened cream cheese, molasses, and pumpkin pie spice and process until a dough forms. Scoop dough into small balls; roll until smooth, then place onto a parchment-lined sheet pan. Transfer pan to freezer and chill for 15 minutes.
Combine white chocolate morsels and canola oil in a small microwave-safe bowl. Microwave on high for 1 1/2 minutes, stirring every 30 seconds. Cool slightly, then dip dough balls one at a time into chocolate, placing truffles back onto pan as you go. Sprinkle with crushed ginger snap cookies, then allow to set. Store covered and refrigerated.
*pumpkin pie spice: 3 Tablespoons ground cinnamon, 2 teaspoons ground ginger, 1 1/2 teaspoons ground nutmeg, 1 teaspoon ground cloves, 1 teaspoon ground allspice.
Bacardi Rum Balls
1 1/2 cups vanilla wafer crumbs
1/4 cup Bacardi amber rum
1/4 cup honey
2 cups ground walnuts
confectioners' sugar
Combine all ingredients except sugar in a medium bowl. Shape into 1-inch balls. Roll in sugar. Store in tightly covered container. Makes 2 1/2 dozen.
Gramercy Tavern's Maple-Spiced Nuts
1 3/4 cup whole almonds, natural and skin-on
1 3/4 cup pecan halves
1/8 cup pumpkin seeds
1/4 cup maple syrup
1 Tablespoon dark brown sugar
2 teaspoons grape seed oil
1 teaspoon kosher salt
2 teaspoons Aleppo pepper powder
1 teaspoon rosemary leaves, finely minced
1/4 cup dried cranberries
Preheat oven to 325º F for 15 minutes. Combine almonds and pecans, spreading them evenly onto a parchment-lined large sheet tray. Toast nuts for 5 minutes, until heated through and fragrant. Keep warm.
While nuts are toasting, bring maple syrup, brown sugar, grapeseed oil, and kosher salt to a boil in a saucepan. Combine Aleppo pepper and rosemary in a small bowl, then set aside.
Transfer warm nuts to a large mixing bowl, add pumpkin seeds, then pour hot syrup over. Toss to mix evenly. Spread mixture back onto sheet tray and bake until nuts are slightly caramelized and candied, about 10 to 12 minutes. Remove from oven and transfer back into bowl. Add spice mix and cranberries, then toss well to combine. Spread back onto sheet trays and allow to completely cool. Once cool, pack into airtight containers to store. 
-chef Miro Uskokovic, Gramercy Tavern, tastecooking.com