Ginger-Lime Grilled Chicken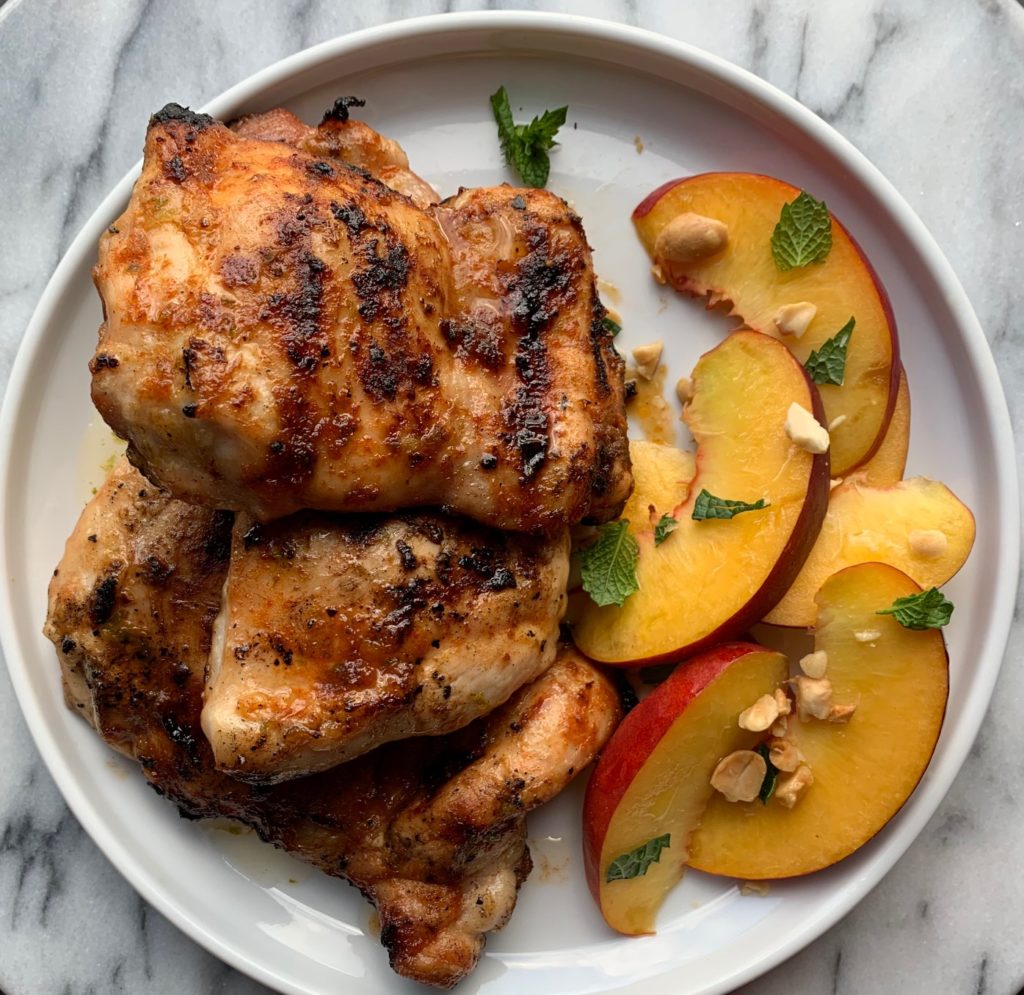 Somewhere between all the tomatoes you can eat and trying to manage all that zucchini, you may find yourself wondering what to do about dinner. Don't heat your house up and don't make a mess. Anytime you can grill, you should do it! Don't waste one more minute cooking than you need to. 
Make something good in a hurry with this Ginger-Lime Grilled Chicken. A flash marinade of ginger, fish sauce, fresh lime juice and chili-garlic sauce gives chicken thighs all the fun flavor of your favorite Thai take-out. Pair them with sweet, sliced nectarines, fresh mint and chopped peanuts for an easy, make at home meal with no fuss. Add something extra: some noodles, rice, or a cucumber salad, or just eat it as is. It's a delicious dinner you can make in no time. 
Omit the fish sauce like I do, if you're not a fan. I used skinless chicken thighs, but you could also use drumsticks, chicken breasts or tenderloins in this recipe. Use any chili-garlic sauce you like or whatever you may happen to have on hand. I am a big fan of Thai Red Curry Paste. You can add it to soups or marinades and get fast flavor. Keep a bottle on hand in your fridge so you can make curry in a hurry.
You can make the dressing as directed below and toss it together with the nectarines, or make it in a small bowl and spoon it over at the end. Plate your chicken and nectarines, then add dressing, mint and peanuts to keep your nectarines from getting bruised.
It will be fall faster than you can say pumpkin spice latte. Don't let the summer get away from you. Enjoy every sunshine moment while it's here. 
Ginger-Lime Grilled Chicken
8 skin-on, boneless chicken thighs (about 2 1/2 pounds)
Kosher salt and freshly ground black pepper
1 teaspoon grated peeled fresh ginger

 

1 Tablespoon fish sauce
1 teaspoon brown sugar
1 teaspoon lime zest
1 teaspoon lime juice
1 teaspoon chili-garlic sauce
dressing:
2 Tablespoons water
1 Tablespoon fish sauce
2 teaspoons brown sugar
1 teaspoon lime zest
2 teaspoons lime juice
1/2 teaspoon chili-garlic sauce
2 Tablespoons vegetable oil
4 firm nectarines (about 1 1/2 pounds), thinly sliced
1/2 cup torn fresh mint
1/4 cup salted roasted peanuts, chopped
1/4 teaspoon salt

 
Using tongs, place chicken thighs on a large sheet pan; season with salt and pepper. Combine ginger, fish sauce, brown sugar, lime zest, lime juice and chili-garlic sauce in a small bowl and whisk together. Brush over top of chicken. 
Heat grill to medium high. Place chicken on grill; cover and cook, flipping occasionally, until charred and crisp and a thermometer inserted into the thickest part registers 165º F.  Transfer cooked chicken to a clean sheet pan or plate. 
While chicken is cooking, make dressing. Combine water, fish sauce, brown sugar, lime zest, lime juice and chili-garlic sauce in a large bowl. Whisk in vegetable oil. Add nectarines, mint, peanuts and salt to the bowl and toss lightly with the dressing. Divide chicken and nectarine salad among plates.  
– recipe adapted from Food Network Magazine