Garden Ginger Highball and Seedlip Mary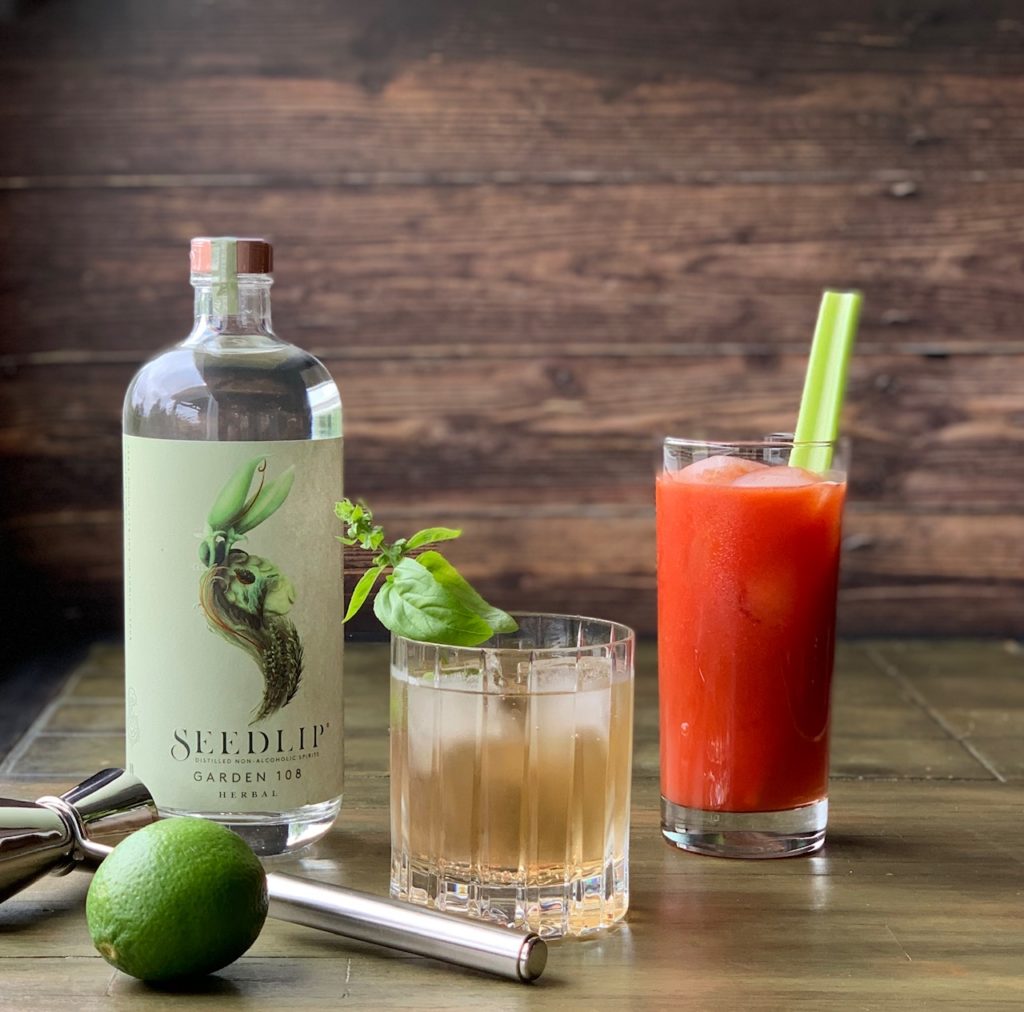 Beverages are an important part of how we mingle. Non-alcoholic options are getting better, but for many years your only choice was something pink and syrupy sweet that came with an umbrella. Whether you're trying to support friends who don't drink, or if you aren't drinking for whatever reason, there is now a grown-up option that treats you like an adult. 
Launched in 2015, Seedlip is the world's first distilled non-alcoholic spirit. Originally available in the UK only, it has been embraced by the world's best bars, restaurants, hotels and retailers across the globe. It is now in 40 countries and is the world's best selling non-alcoholic spirit. Seedlip lets you make captivating cocktails that have complexity and character quickly and with little effort.  
The story begins 300 years ago, when it was common for physicians to distill herbal remedies using copper stills, harnessing the power of nature & alchemy to solve medical maladies. One such physician, John French, published The Art of Distillation in 1651, to document these non-alcoholic recipes. This is where founder Ben Branson got his inspiration. 
I first heard about Seedlip shortly after its launch and was so intrigued I spent the next four years trying unsuccessfully to order it every time we went out. Once it became available, I had a bottle shipped from the UK, so I could finally try it. I was especially excited when they started stocking it at select stores in the US, and you can find it locally at BevMo and Total Wine & More. 
This past week, I joined an online Seedlip Master Class led by Ben Branson. He described the six-week process that involves bespoke maceration, copper pot distillation, and blending and filtration for each individual ingredient before it is blended & bottled in England. The resulting beverage gets its name from the basket used by farmers to hand sow seeds, a 'seedlip'. There was a lively demo and discussion from non-alcoholic drink expert Bjorn Taylor. I couldn't wait to start experimenting with Seedlip to make summery drinks.
There are three different flavor profiles of Seedlip. Garden 108 is a complex, herbal blend of individually copper pot distilled peas, hay and traditional English herbs. Spice 94 is a blend of aromatic Jamaican Allspice berry & Cardamom distillates with two barks & a bright citrus finish. And Grove 42, a sophisticated, bright, citrus blend of Mediterranean Orange, Lemon Peel, Lemongrass and Ginger with a dry finish. The numerical portion of each name represents something significant to that variety. For Garden 108, it refers to the 108 days to sow, grow and harvest the English peas.  
Seedlip is sugar-free and sweetener-free and is also allergen free for the standard allergens. You can keep it sugar-free by mixing it with sparkling water, or you can use natural alternatives like honey or agave, or fruit juices such as pineapple, orange, or apple mixed with sparkling water to control the sweetness. Seedlip should always be mixed, with tonic, seltzer, ginger ale, or as the base in cocktails, rather than sipped neat. Served over lots of ice, it's a flavorful, sophisticated option.
This truly unique beverage lets you create distinctive cocktails that complement the food and the occasion as well as the company. Seedlip varieties also lend themselves to the season. You can match the flavor profile of your Seedlip with locally sourced ingredients that play well with it. For summer, I like Garden 108 and Grove 42. 
Most cocktails call for 2 ounces of Seedlip, but you can use more or less, depending on your taste. You can also batch Seedlip and make pitchers of your desired beverage for a crowd pleasing option.  Although it is non-alcoholic, you could certainly add alcohol to your Seedlip beverages. Thinking ahead to fall, you could make a very interesting drink with pumpkin hard cider and Seedlip Spice, or keep it non-alcoholic with apple or cherry cider. Seedlip can be mixed with other ingredients and frozen to make granita, sorbet or slushies, but you shouldn't put the sealed bottle in the freezer because gas can build up. Once opened, Seedlip does not need to be refrigerated. Store in a cool place out of direct sunlight and enjoy your bottle within the recommended six months.
Elevate your experience and make a great cocktail that doesn't happen to contain alcohol. Enjoy and share a delicious beverage. Cheers!
Seedlip Mary
Seedlip Garden 108: 2 oz
tomato juice: 4 oz
lemon juice 1/2 oz
Worcestershire sauce: 1/2 oz
Tabasco: 4 dashes, or to taste
garnish: celery stick

 
Place all ingredients into a cocktail shaker and top with ice. Gently pour cocktail from small tin into large tin, doing this a few times until drink is mixed well. Pour into serving glass, top with ice and garnish. 
Garden Ginger Highball
Seedlip Garden 108: 2 oz
ginger ale: top
garnish: rosemary or basil sprig
Method: build over ice
Garden and Tonic
Seedlip Garden 108: 2 oz
Indian tonic: 4 oz
garnish: sugar snap pea
Method: build over ice
Garden Party
Seedlip Garden 108: 2oz
Seedlip Grove 42: 1/2 oz
agave syrup: 1/2 oz
fresh lime: 3/4 oz
saline: 2 drops
garnish: lemon wheel, mint leaf
Method: shake all ingredients. Strain over ice. 
Garden Booch
Seedlip Garden 108: 1 1/2 oz
passion fruit kombucha
garnish: mint
method: build over ice, topping Seedlip with kombucha.
– seedlipdrinks.com