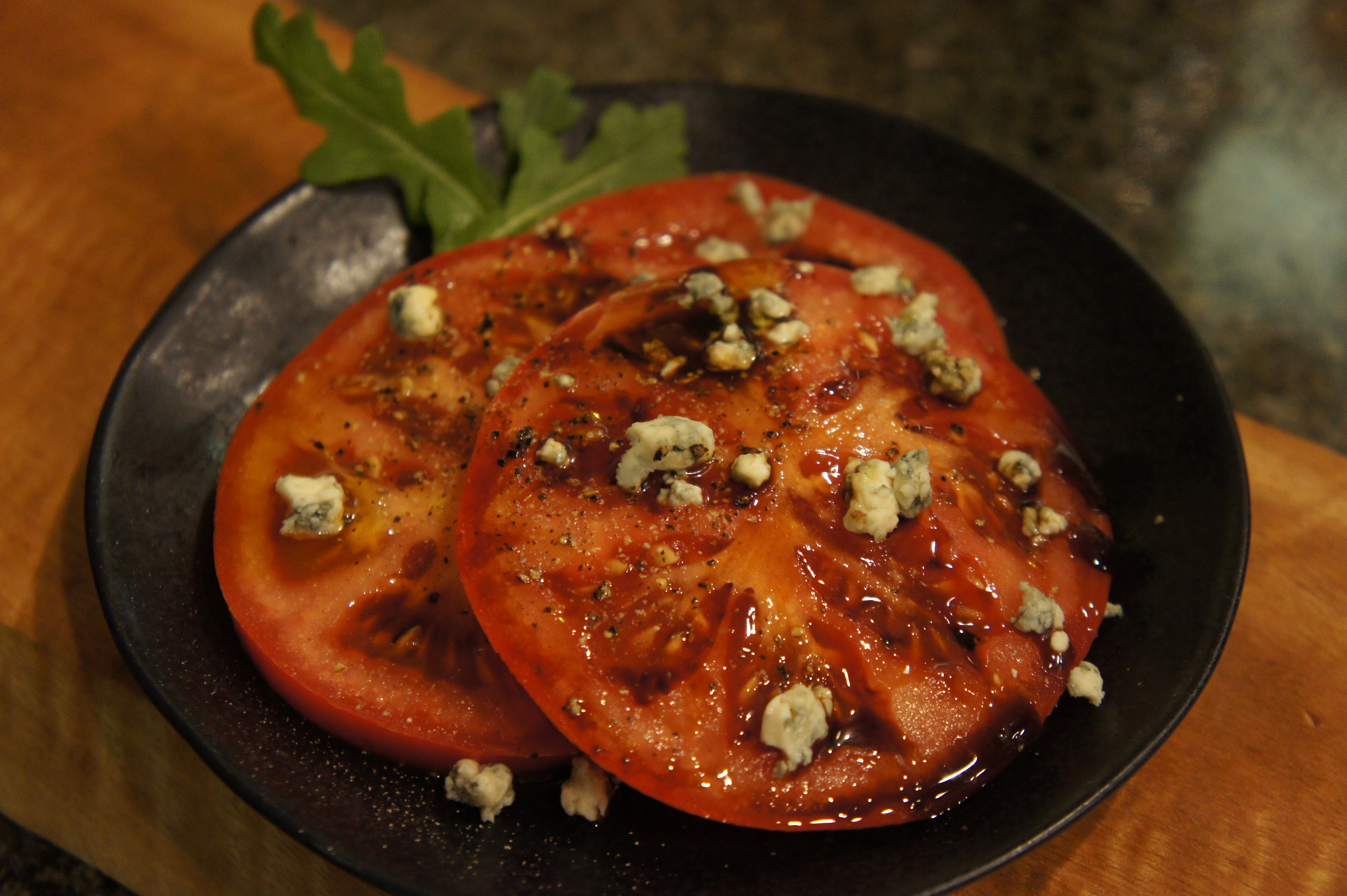 We did our first trip of the season through the Vancouver Farmer's Market on Saturday.  There were quite a few of the usual vendors, and a nice selection of produce from our local farms.  I saw lots of greens – kale, swiss chard, broccolini – as well as some fancy Romanesco and cauliflower.  There were apples (my personal favorite), and some strawberries (maybe a little too soon, but you see for yourself!).
Found these big, beautiful tomatoes at a stall near the entrance.  I am guessing they were beefsteak tomatoes, but I didn't ask, as we were pretty intent on finishing our shopping before it rained.  One tomato was enough to make two salads and making something at home doesn't get faster or easier than this.  You can put this with whatever you are making for dinner tonight and bring a little of our local farms to your table.
Fresh Tomato Salad
1 large tomato
Extra virgin olive oil
Balsamic vinegar
Blue Cheese
Sea Salt
Freshly ground black pepper
Rinse tomatoes and slice to 1/4 inch slices.  Arrange in overlapping slices on plate.  Top with a small bit of blue cheese crumbles, then drizzle with olive oil and balsamic vinegar.  Finish with a pinch of sea salt and some freshly ground pepper.
The Market also had lots of interesting things from our local artists.   I found these fun little garden markers made from silver spoons and was happy to see my friend, Honna Sheffield, displaying a nice selection of her beautiful, made in the Northwest, pottery.  There were also some interesting cheese puffs (also made in the Northwest) that we sampled.
It was a perfect Saturday.  We started with breakfast at Dulin's, and enjoyed their daily special omelette.  Had not been there since they relocated, and their new spot is really nice.   It seemed a logical next move to do a quick stroll through Old Glory Antiques across the street, and then we went to the Market.   We finished with some fresh flowers to take home.  It is always fun to visit the market and we are already looking forward to what the summer will bring.