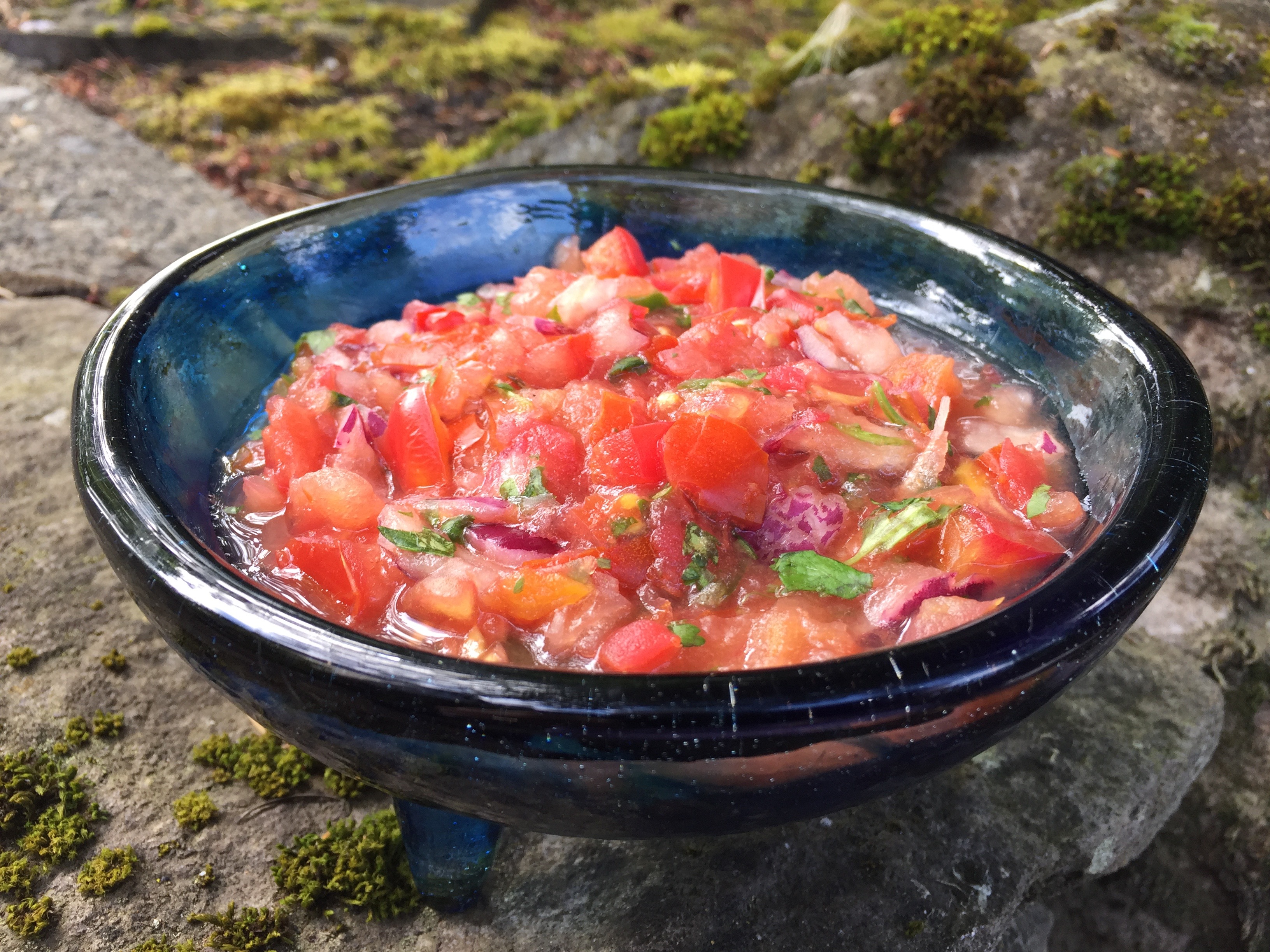 Don't look now, but the summer is slipping away from you.  School supplies, a few turning leaves here and there, and the first sighting of grasshoppers…  The warning signs are everywhere.
Don't just stand there wallowing in your tomatoes!  Grab your blender and make some salsa.  Fresh home made salsa is so easy, it hardly requires any more effort than opening that jar.  Here is a quick recipe for fresh salsa. You can chop everything by hand, or toss what you have into a blender or food processor.
I am a big fan of using what you have.  The tomatoes can be from your garden, the farm, or the grocery store.  You do not need to use Roma tomatoes.  I have sometimes thrown in some cherry tomatoes, used beefsteak, and even heirloom.  Just use what you have.   Anything goes with the onion, too.  Sometimes I use red, sometimes I use white or yellow.  You know how you have those leftover slices from the toppings you cut up for your hamburgers the other night?  Use those.  I have substituted Thai and Serrano chilis for the jalapeño, too, and both worked well.
Toss everything below, in the order listed, into your blender and pulse a few times.  Only put in half of the tomatoes to begin with.  Once you have everything in smallish chunks, add the remaining tomatoes and pulse until it reaches a consistency that you like.  Nice and easy!
Don't do it, people.  Don't let one minute of the summer pass you by.  We have plenty of time for blustery.  Let's soak up that sun.
Fresh Salsa
1/2 medium onion, peeled
1 jalapeño pepper
1/4 cup fresh cilantro leaves
1/2 lime, juiced
1/2 teaspoon salt
6 ripe Roma tomatoes, quartered, divided in half