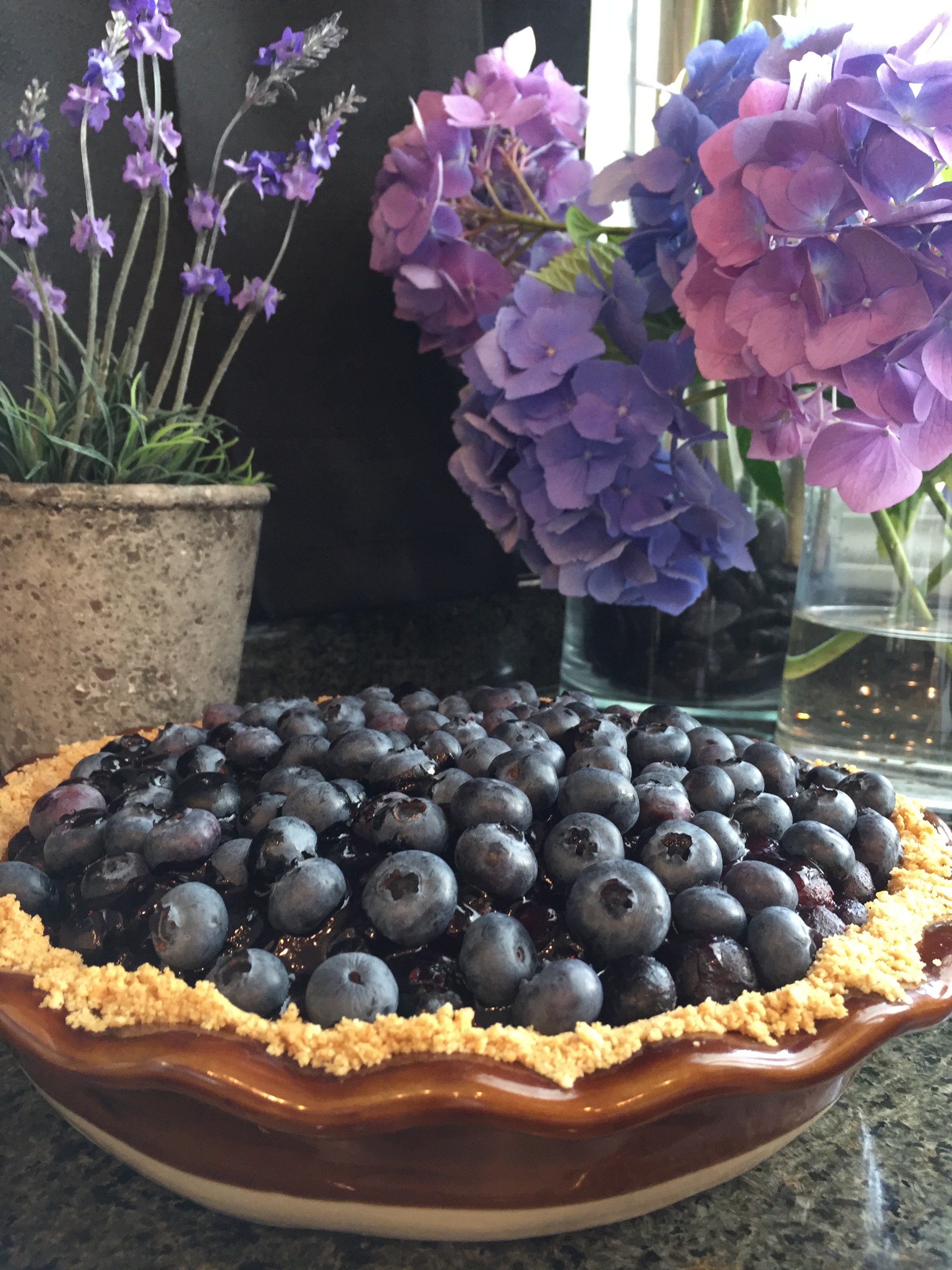 It's berry season!  Keeping up with our blueberry bushes has become a full-time job, and it's keeping me plenty busy.  The berries are prolific, their branches drooping with plump little orbs,  expectantly waiting for someone to tend to them.  I am quick to press a bowl into the hands of anyone who will help, and several times I've been working into the dark, holding a flashlight in my teeth attempting to keep up.
I have berries stashed everywhere.  Little bowls are tucked into any available space in the fridge, and I am freezing them by the bagful, as well.  Maybe you have too many berries, too.  Given the excessive heat, and the excessive berries, this recipe is just what you need right now.  It has a no-bake graham cracker crust, and the filling can be made ahead, early in the day, while your kitchen is still cool.  Fold your fresh berries into the cooled filling and tuck the finished pie into the fridge for a fresh slice of Northwest flavor.
This pie has a secret ingredient:  Cointreau, an orange-flavoured liqueur, which is undetectable in the finished pie, but delivers a wonderful, bright, summer flavor.  Curacao, Grand Marnier, and triple sec will all work, too, but the orange liqueur is what gives this recipe its unique flavor.  Coupled with the fresh blueberries, it makes this pie outshine the rest.  You can also make this recipe with mixed berries – raspberries, blackberries, and Marionberries in addition to the blueberries.
I am reposting this recipe because it's so darn good.  Also because I've been so darn busy. And also because I didn't read the directions and freeze my melon for the recipe I had planned.  It's ready now and waiting for what's up next:  something chilly to cool you off.  Summer only comes once a year, so soak it up.  Get out there and do what makes you smile.
Fresh Blueberry Pie
for the crust:
1 1/2 cups graham cracker crumbs, or 10 graham cracker sheets
3 tablespoons oil or melted butter
In a food processor or blender, process graham crackers into fine crumbles.  Add the oil or melted butter and process again to combine.  Pour crumb mixture into a pie pan and press down very firmly with a rubber spatula.  Transfer to freezer and let set while preparing filling.
for the filling:
4 – 6 cups fresh blueberries
3/4 cup sugar
1/2 cup water
2 tablespoons cornstarch
1 tablespoon butter
1 generous tablespoon Cointreau, or any orange liqueur
Combine 1 cup blueberries, sugar, and water in a medium saucepan.  Bring to a boil, stirring occasionally, until berries are soft and mixture thickens a bit, about 10 minutes.  Mix cornstarch with a little water in a small cup or bowl, stirring well to make a slurry.  Add to berry mixture and cook until thick, stirring constantly.  Remove from heat, add butter and cool.  Gently stir in remaining berries and Cointreau.  Pour into pie crust and refrigerate until serving.
Blueberries are so good for you. They are great eaten as is, tossed into your yogurt, oatmeal, salads, or smoothies.  They freeze well, too.  Rinse, let dry, and transfer to a zip top bag for a little bit of summer to enjoy all year round.