Freeform Chicken Meatballs with Carrots and Yogurt Sauce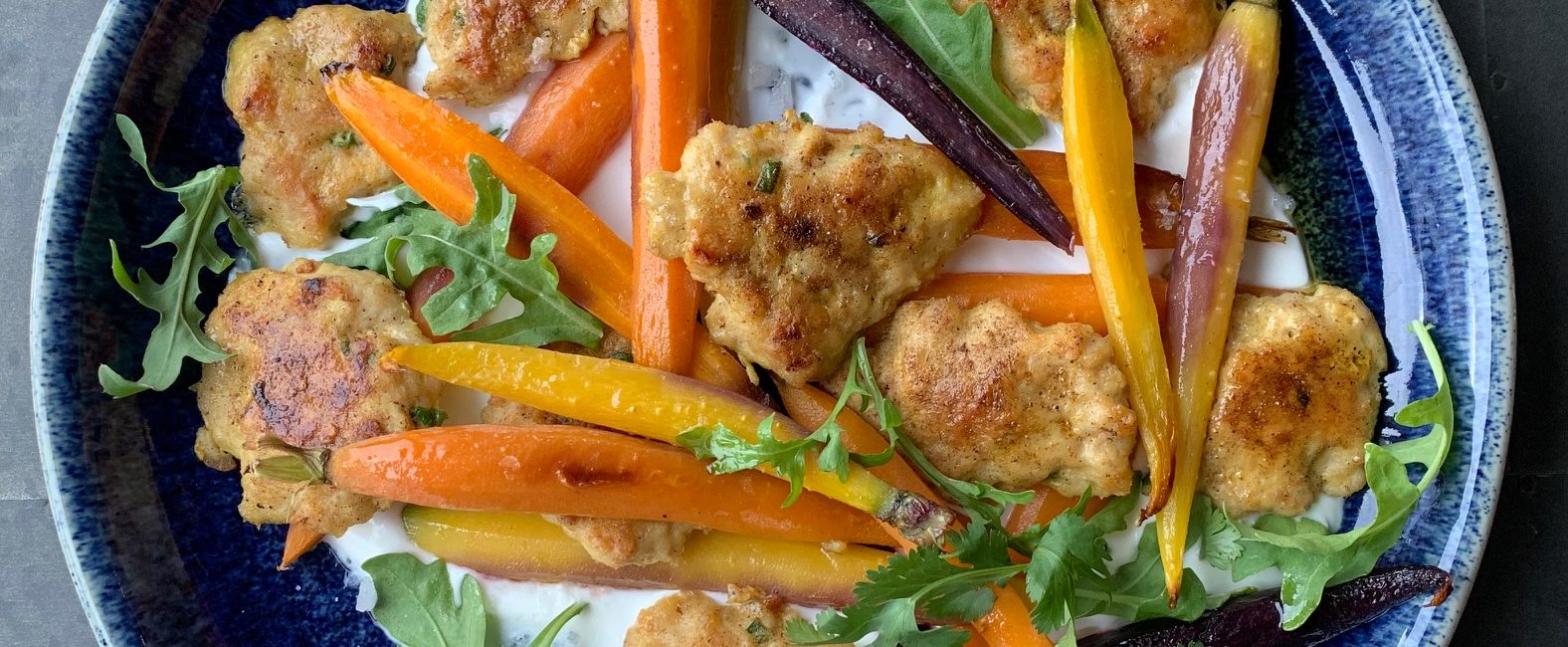 Drizzly days demand comfort food, all the better if it's quick to prepare. Freeform Chicken Meatballs with Carrots and Yogurt Sauce have the laid back vibe you need for a quick weeknight meal. The sheet pan prep makes this extra speedy, garam masala gives it exotic flavor. The carrots get a head start, roasting on their own while you prep the meatball mixture. Once the meatballs go in, you quickly make the yogurt sauce and before you know it you're plating and eating. 
This recipe is adaptable and very forgiving. It's ready to let you do as you like, and isn't that what cooking at home is all about? Don't care for yogurt? Mound everything over a puddle of hummus instead. Or make a tahini sauce, or use store bought tzatziki. Toss some chickpeas with olive oil and Garam Masala and roast those as well. Add another roasted veg to the mix. Do it your way. Go ahead and make meatballs if you like, but I find the freeform style very liberating and dare I say, fun, and who can't use a little timesaving on a weeknight?  
Garam Masala is the Indian equivalent of French herbes de Provence or Chinese five-spice powder. Widely used in Indian curries, lentil dishes and soups, the individual spice list for this blend varies from region to region. Save money by making your own. Use ground spices you already have on hand while they're still fragrant, so they don't go to waste. Store your spice mix in a small jar. Be sure to label with a date and put it someplace handy so that you can remember to use it when you need quick seasoning for grilling over the summer.  
I bought petite multicolor carrots that were peeled and trimmed to speed up the prep time. Halved lengthwise, they were ready to pop onto the baking sheet. Use a mix of white and dark meat ground chicken or turkey for the most flavorful results, or substitute a lean mix of ground beef. The recipe calls for 3 teaspoons of grated lemon zest, but to save time, I skipped measuring and just grated the peel from one lemon, which gave the meatballs bright, zesty flavor. Use a parchment lined baking sheet for the carrots, but don't line the baking sheet for the meatballs in order to help them brown. When you make your meatballs, crack your egg directly into the bowl. Use a fork to lightly beat your egg, then add the rest of the meatball ingredients so that you can mix all the seasonings uniformly. I skipped adding the 2 tablespoons of olive oil to my meatballs and opted to just mist them before baking instead.
I made two batches of these and both turned out delicious, but the sheet pan ones didn't brown as much as I'd like. I tried putting them under the broiler, but they still remained peaked. I ended up making a batch in a cast iron frying pan, which browned them nicely. Verdict: sheet pan wins for ease, and the clean up wasn't a big deal. But it it's browning you're after, go with the frying pan. 
As always, make more. Roast extra carrots, make extra meatballs. They reheat nicely and are perfect for lunches or another dinner, leaving you free to enjoy the sun when it's out. 
Freeform Chicken Meatballs with Carrots and Yogurt Sauce
1 1/2 lb. small carrots, scrubbed, tops trimmed to about 1/2", halved lengthwise
1/2 teaspoon crushed red pepper flakes
5 Tablespoons extra-virgin olive oil, divided, plus more for drizzling
2 1/4 teaspoons kosher salt, divided
1 large egg, beaten to blend
6 scallions, white and pale-green parts finely chopped
3 teaspoons finely grated lemon zest
2 teaspoons garam masala
1 pound ground chicken or ground turkey
2 Tablespoons plain bread crumbs
1 cup plain Greek-style yogurt, preferably full-fat
2 Tablespoons fresh lemon juice, plus more for serving
2 cups baby arugula or watercress
flaky sea salt
Arrange racks in upper and lower thirds of oven, then preheat to 425º F. Toss carrots, red pepper flakes, 2 tablespoons olive oil and 1/2 teaspoon of kosher salt on a rimmed baking sheet. Roast on lower rack of oven about 20-25 minutes, tossing once halfway through, until carrots are nicely browned and fork-tender. 
While carrots cook, combine egg, scallions, lemon zest, garam masala, 2 tablespoons oil and 1 1/2 teaspoons kosher salt in a large bowl and stir together. Add ground chicken, sprinkle with breadcrumbs and mix until just combined. 
Coat another rimmed baking sheet with 1 tablespoon oil. Scatter chicken mixture in small 2" rounds on baking sheet. Roast on upper rack until browned, crispy-edged and cooked through (165º F internal temp), about 15-20 minutes. 
Meanwhile, whisk yogurt, 2 tablespoons lemon juice, and remaining 1/4 teaspoon salt in a small bowl. Spoon sauce over a platter or divide among plates, swooshing with the back of a spoon. Arrange carrots and meatballs over yogurt sauce, then top with arugula. Drizzle with oil and lemon juice and season with flaky sea salt. 
– Anna Stockwell, epicurious.com
Garam Masala
1 tablespoon ground cumin
1 ½ teaspoons ground coriander
1 ½ teaspoons ground cardamom
1 ½ teaspoons ground black pepper
1 teaspoon ground cinnamon
½ teaspoon ground cloves
½ teaspoon ground nutmeg
Mix spices together in a small bowl.