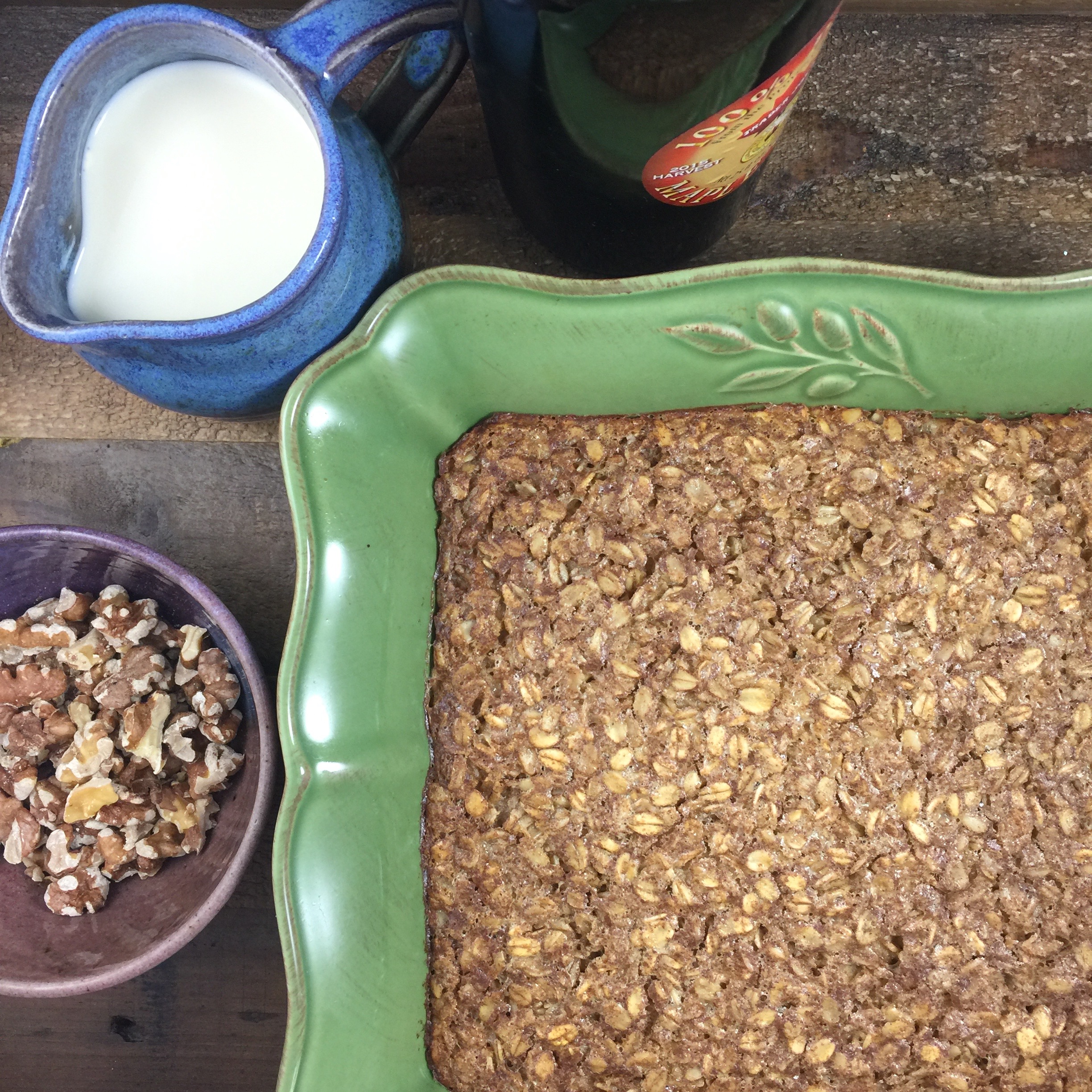 Need a little Christmas, right this very minute?  This is it now, the final crunch.  You might have houseguests already, kids on break, or college students back at home.  Or maybe you want something to make ahead for Christmas morning.  A fast holiday breakfast doesn't get any easier than this – and wait till you smell it warming up your house.  This Eggnog Baked Oatmeal just smells like Christmas.  You can pull it together quick, and you probably have everything you need right in your fridge and pantry.
I saw a recipe for Baked Oatmeal with Cranberries and Almonds in the November issue of Real Simple magazine.  Trying to make a quick breakfast for a still-sleeping houseguest, I thought I'd make it leaving the cranberries and almonds out, but then discovered we were almost out of milk.  I grabbed the eggnog and did it like I meant it.  I reduced the amount of butter by half, skipped the maple syrup, and snuck in a dash of nutmeg.
Feel free to use any variety of milk (almond, coconut, or soy) or eggnog you have on hand.  Also, it is okay to play with the milk to eggnog ratio, depending on how much eggnog flavor you want.  Serve the maple syrup warmed alongside, with the toasted walnuts, and additional eggnog (or milk) so that everyone can use as much or as little as they like.  If you do want to add maple syrup before baking, use 1/3 cup.
Eggnog Baked Oatmeal
2 tablespoons melted butter, slightly cooled
2 cups old-fashioned rolled oats
1 teaspoon ground cinnamon
1/2 teaspoon salt 
1 cup milk 
3/4 cup lowfat eggnog
2 large eggs, beaten
1 teaspoon vanilla extract
maple syrup
eggnog or milk
3/4 cup toasted walnuts 
Heat oven to 350 degrees F.  Combine oats, cinnamon, and salt in a large bowl.  Combine milk, eggnog, eggs, vanilla and almost all of the butter in another bowl.  Use the small bit of reserved melted butter to lightly grease a 2-quart baking dish.  Combine oats and eggnog mixture, stirring well, and spread evenly in the prepared baking dish.
Bake 35 to 45 minutes, until golden and center is firm.  Serve warm with maple syrup, eggnog, and toasted nuts.