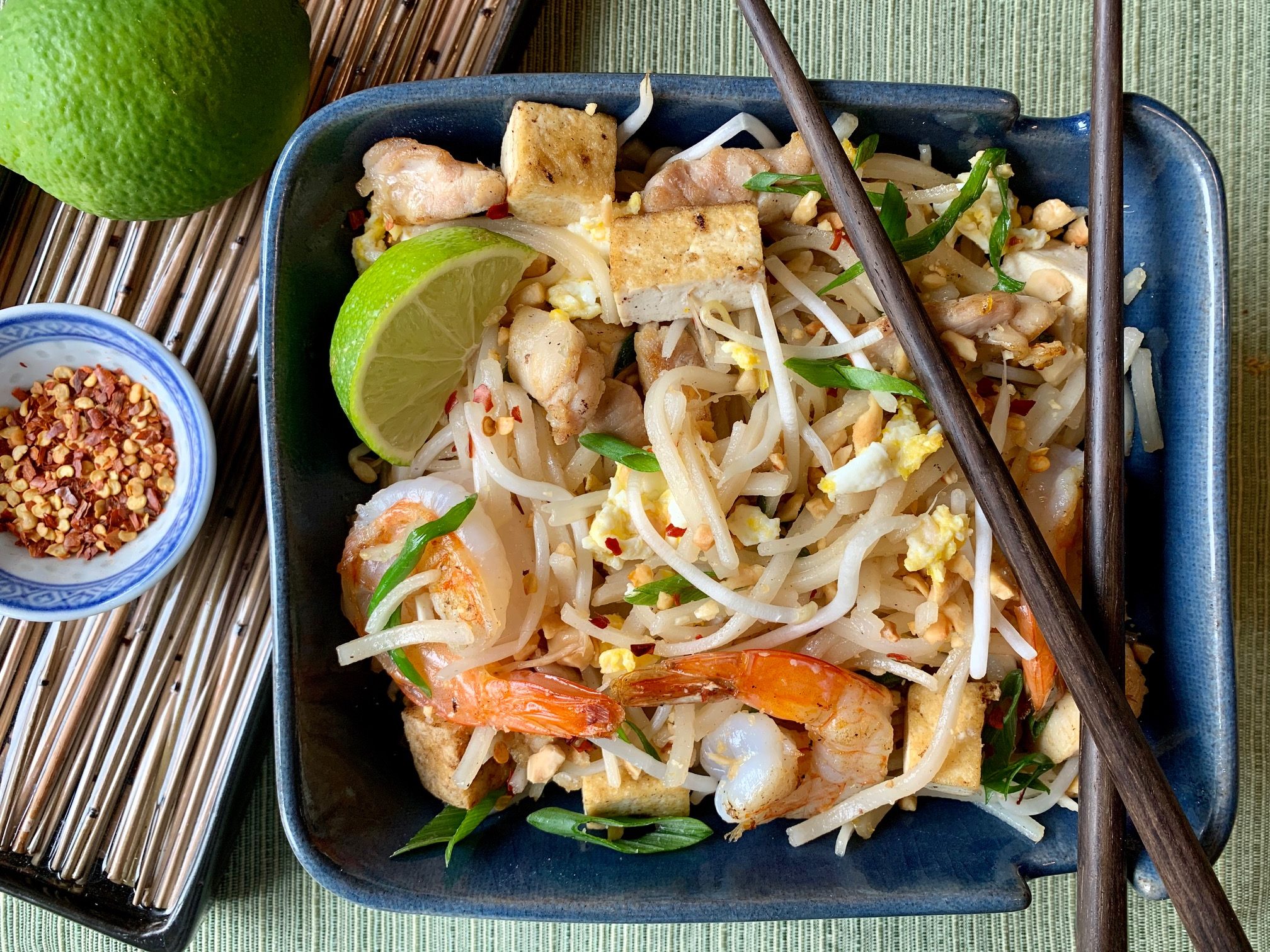 There are good odds you have at least one pair of chopsticks lurking in a kitchen drawer, a clever souvenir you conscientiously recycled from a past take-out. Now is your chance to use them, because February 6 is National Chopsticks Day and what better way to celebrate than a Pad Thai recipe you can make right at home?  
Thai food is seriously popular in the Northwest and with several Pad Thai lovers in our household, being able to recreate this restaurant favorite had me more than a little interested.  Shared on Food52 from Night + Market chef Kris Yenbamroong, it will have you eating delicious Pad Thai in your very own kitchen in a matter of minutes. 
Restaurant Pad Thai is an amazing dish, a tangled fusion of flavors, all neatly woven into a bed of rice noodles. Salty-sweet and pungent – shrimp, tofu, and bits of chicken – it arrives on a steaming plate at your table, often delivered via full sprint by your server. 
This Pad Thai recipe is so unbelievably easy and inexpensive, you can feed your whole family at under the cost of one entree. It contains chicken, shrimp and tofu, but you can omit any of the three and make this to your liking. Yes, you can source palm sugar and tamarind, but you can, and will, get remarkably the same results using the white vinegar and sugar that you have on hand. It's how Kris's grandma does it, and I am not about to argue with anyone's grandma. 
Start by soaking the rice noodles in warm water for a full 30 minutes, which will yield perfectly cooked noodles for the finished dish. Use an 8 x 8 square pan and place the noodles on a diagonal so that you don't dirty 3 other trial dishes like I did. You can make the noodles ahead, or make extra for tomorrow, just be sure to drain and keep them in the refrigerator. 
Like your tofu crispy? Fry it first, then remove and set aside. Add it back in at the end with the bean sprouts and green onions. Don't have a wok? Make this in a well-seasoned cast iron frying pan. It works great! Substitute red chili flakes for the roasted chile powder, unless you happen to have some on hand. 
This recipe is easy enough for beginners. Fast and flavorful, it's a fun way to bring those restaurant vibes to a table under your own roof. 
Easy Pad Thai
4 ounces dried rick stick noodles (1/8 to 1/3 inch wide)

 

2 Tablespoons sugar
2 Tablespoons fish sauce
2 Tablespoons distilled white vinegar

 

3 Tablespoons vegetable oil
1/4 pound chicken thighs, cut into bite-size pieces
1/2 cup cubed, extra-firm tofu, well drained

 

6 large, raw, peeled shrimp
1 egg
1 cup bean sprouts
2 green onions, cut thinly on an angle into 2-inch long slices
2 tablespoons crushed roasted peanuts
1 teaspoon roasted chile powder
1 lime wedge
Soak the noodles in warm water for 30 minutes, then drain. In a small bowl, combine sugar, fish sauce, and vinegar and stir well.
Heat an empty wok over high heat until it begins to smoke, then add oil. Once oil shimmers, add chicken and stir fry until opaque, about a minute. Add tofu and shrimp, if using, and continue to cook and stir, until shrimp is just barely cooked. Add noodles and sauce, constantly stirring, until noodles absorb the sauce, about one minute more. 
Push noodles to the outer sides of wok, leaving an empty space in the center. Crack egg into center of wok, letting it cook about 15-20 seconds before breaking it up and scrambling it. Toss egg back into the noodles while it's still soft, continuing to stir. When egg looks cooked, remove from heat and add bean sprouts and green onions, tossing to thoroughly combine. Transfer to plate, garnishing with peanuts, chile powder, and lime wedge.
– recipe by Kris Yenbamroong, as seen on Food52