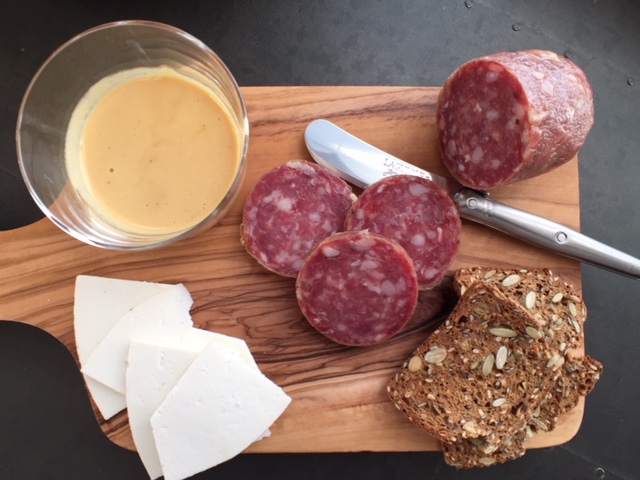 Want to add a little something to your charcuterie board, or looking for a nice little gift to bring?  Think mustard.  A little dish sitting alongside your holiday ham, put out with your cold cut plate, or perhaps accompanying a hostess gift of some locally made sausages (think Olympia Provisions) is the world's quickest way to make something special.  Gents, I am talking to you here.  Don't just show up with a bottle.  Show up with this.
It couldn't be any easier.   Mix equal parts dry mustard and water.  Let stand for at least 10 minutes.  Got it?  It seems wrong that something this good should be so easy, but it is.  The only thing you have to do is add Colman's Mustard to your grocery list so you're ready to go.
Colman's is made in the UK and has been around since 1812.  Because the powdered mustard only contains mustard flour, which is not flour but rather ground mustard seeds, it is gluten-free, especially nice for anyone who has to eliminate wheat.  One tiny, yellow tin makes a lot of mustard, but while you're at it, buy two.  Give one to your hostess, so she can make more.
If you make home made mustard, I would love to hear from you.  Please share your recipe with me.